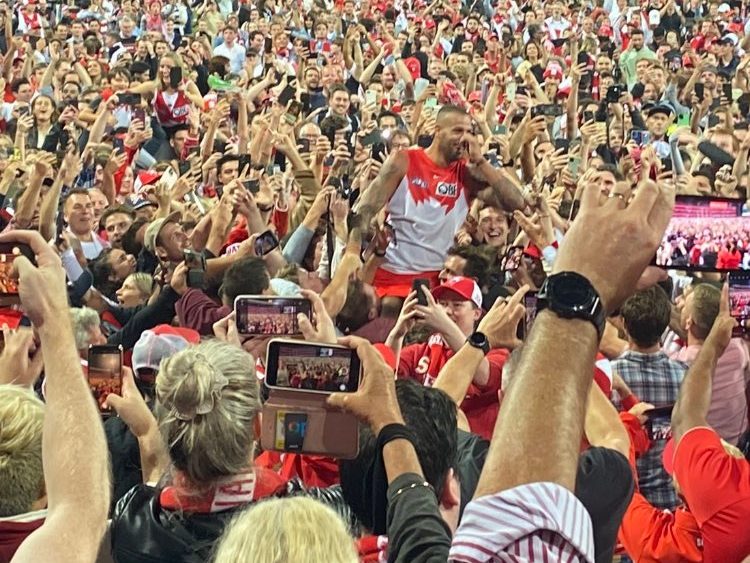 (If you don't like football, skip down to the paragraph after the three tweets. If you're only reading this for the footy, stop there.)
Lance Franklin kicked his 1000th AFL goal on Friday night. The response from the home crowd was spectacular and appropriate.
A moment we will never forget.
Fans race onto the hallowed @scg turf to celebrate with @Buddy_Franklin. Thank you to the 36,578 fans who came along and joined the party 🎉. #Buddy1000 #LoveOurSCG pic.twitter.com/IewRdMPGhm

— Sydney Cricket Ground (@scg) March 25, 2022
Good on him. Buddy is a brilliant footballer and his record is a testament to his skill, hard work and perseverance. A player kicking 100 goals for the season was pretty common back in the day but rare in modern football. 1000 goals though, well he's only the sixth player to do it.
I love the unspoken tradition that the crowd runs onto the field to congratulate the footballer and nearly crushes him to death for his troubles, and I love that Buddy relished it.
The Sydney Swans are on the hunt for the lucky fan who caught the ball from AFL star Lance Franklin's historic 1000th goal last night.

The Swans have offered a rare opportunity to meet 'Buddy' in exchange for a safe return of the ball. #9News

MORE: https://t.co/tbxFgAiY7e pic.twitter.com/RKYjsLhHeO

— 9News Australia (@9NewsAUS) March 26, 2022
Don't think I've ever seen a full blown pitch invasion *in the middle of a game* before – let alone one as good-natured as this.

Sydney Swans fans invade the Sydney Cricket Ground as legend Lance 'Buddy' Franklin scores his 1000th career goal in AFL. pic.twitter.com/9Zt6mgTyXM

— Gavan Reilly (@gavreilly) March 25, 2022
Woke up still in awe of this moment #Buddy1000 @Buddy_Franklin 🤍❤️ pic.twitter.com/Hd7KAszP3d

— Andrew Clark (@frankdrebin33) March 25, 2022
Okay, what does all this mean?
These are amazing scenes, a reminder of Old Australia, ie what Australia used to be before it was turned gay, brown, and power was given to the fat lesbians in the OH&S Department. You're not supposed to run onto the oval when the sportsballers are playing anymore. It used to happen. If you were lucky a naked female stripper would run on at just the right moment in the third quarter to stop Richmond's momentum dead in its tracks. Premierships could be decided on such things. Call it audience participation. The fat lesbians in the Musicology Department love that sort of thing.
At some point though the fat lesbians in the OH&S department weaponised the phrase "duty of care" and started fining people $10,000 for running on the ground. They even banned kids from kicking the footy on the field at the end of the match.
But even the fat lesbians knew they couldn't stop tens of thousands of Aussies from running onto the SCG when Buddy kicked 1000. There was no code of conduct, no memo, no official email that said the fans were allowed to do it. It's just that Aussies still remember that that's what you do when a footballer kicks 1000 goals.
Fat lesbians hate that sort of thing, but there is nothing they can do about it – which is precisely why they hate it. They're used to people cowering and saying sorry if they disagree with them because Australia's police are anal sex enforcing faggots.
Sadly, scenes like this may never happen in Australia again, not because nobody will kick 1000 goals again, but because in 20 or 30 years time when it does happen, "Australians" will be too gay, brown and emaciated to remember what a great place Australia used to be, who our people were and what our traditions were.
So I loved what happened last night, because it poked the busybodies in the eye. It felt good. What I love most however are the overhead shots:
You won't see this anywhere else. Buddy Franklin is an incredible player. pic.twitter.com/JcfcAGTiq9

— Damo (@DamolegendAU) March 25, 2022
Kinda reminds me of something:
Anti-lockdown protests turned violent in Melbourne today. In Richmond, police had to deploy capsicum spray and many demonstrators were arrested on the spot | @NatYoannidis pic.twitter.com/Zr4c20ArT2

— 10 News First Melbourne (@10NewsFirstMelb) September 18, 2021
Peaceful protesters break police lines in #Melbourne. pic.twitter.com/laragQz1NB

— XYZ (@itsyourxyz) August 21, 2021
As much as I love the SCG footage, it fills me with the same tinge of regret I had when watching this footage.
One might suggest that the protesters are running in the wrong direction. pic.twitter.com/fmEqpppjZL

— XYZ (@itsyourxyz) August 21, 2021
Parliament House was the other way you gits.
After all they've done to us, after everything they took from us, after everything they made us do, all people wanted was the opportunity to run onto the ground when Buddy kicked 1000.
Footy is a drug. You can get 100,000 people at the MCG, but when a police station raises the communist flag of a foreign nation to celebrate the victory of a communist army, only a handful of the brave stand up.
It is worth repeating, in a healthy Australia, sport would be a reflection of who we are as a people and something we do for fun on the weekend. In globohomo Australia it is the opiate of the masses.
We had a quarter of a million in Melbourne late last year.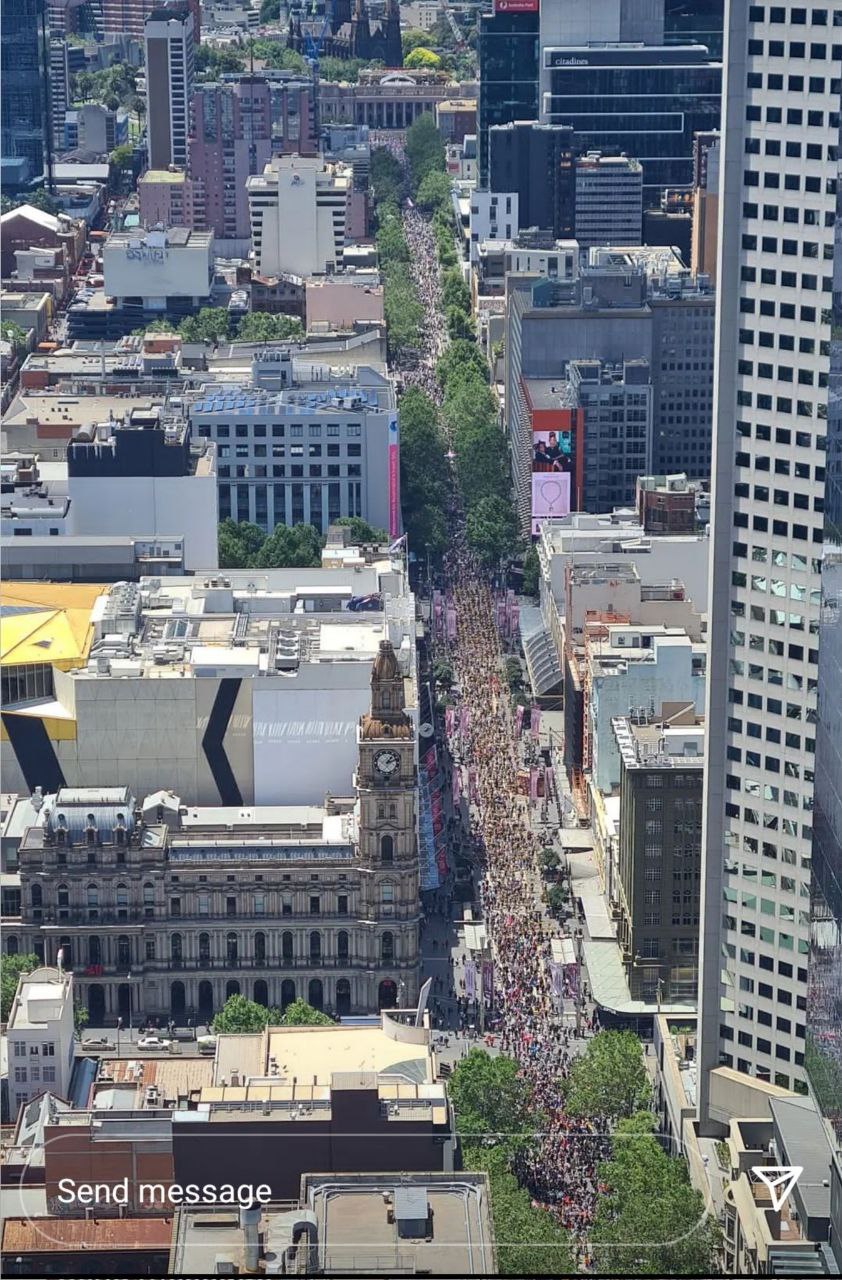 Now look again at what happens when a mere 20,000 Aussies, and trust me, 99% of them were real, Anglo Aussies, charge at the same point at once.
Even if you're not a Swans fan you can appreciate the amazing achievement of 1000 goals by Buddy Franklin pic.twitter.com/UkCDNqv6DP

— Kylie Sibley (@KylieSibley16) March 25, 2022
Nothing can stop us. Think about it.