The XYZ has obtained exclusive footage of yesterday's brutal slaughter of dozens of NSW Police horses by savage anti-lockdown conspiracy theorists in Sydney.
Okay we lied. Here is the real footage.
Agree Maureen, I'm sympathetic for the protestors as a whole then guys like this come along and wreck it.. for the majority of the protestors. but wait there's more.. from a different angle, it seems it wasn't a punch at all, the policeman rode the horse into him, no? pic.twitter.com/EVP4HtsMM7

— Timjbo 🇦🇺 🇺🇸 🇹🇭💧☔ (@Tim_jbo) July 24, 2021
Here is a longer reel, demonstrating that mounted police were intimidating protesters on foot with multiple horses.
That bloke in the yellow shirt didn't even punch the horse… Police appear to be aggressors pic.twitter.com/jJHKnzmL5t

— 🇦🇺We Are Maximus🇺🇸 (@meridius1776) July 24, 2021
A horse is a big animal. A lot of horses in a small space is a little hairy to say the least, especially when you are not flanked by your brothers and you're all holding pikes. Putting out a hand to fend off a horse with the same force with which you would swat a fly is perfectly reasonable.
Yet this did not prevent NSW Police from publishing this image out of context, nor did it prevent NSW Police from deliberately lying about the image: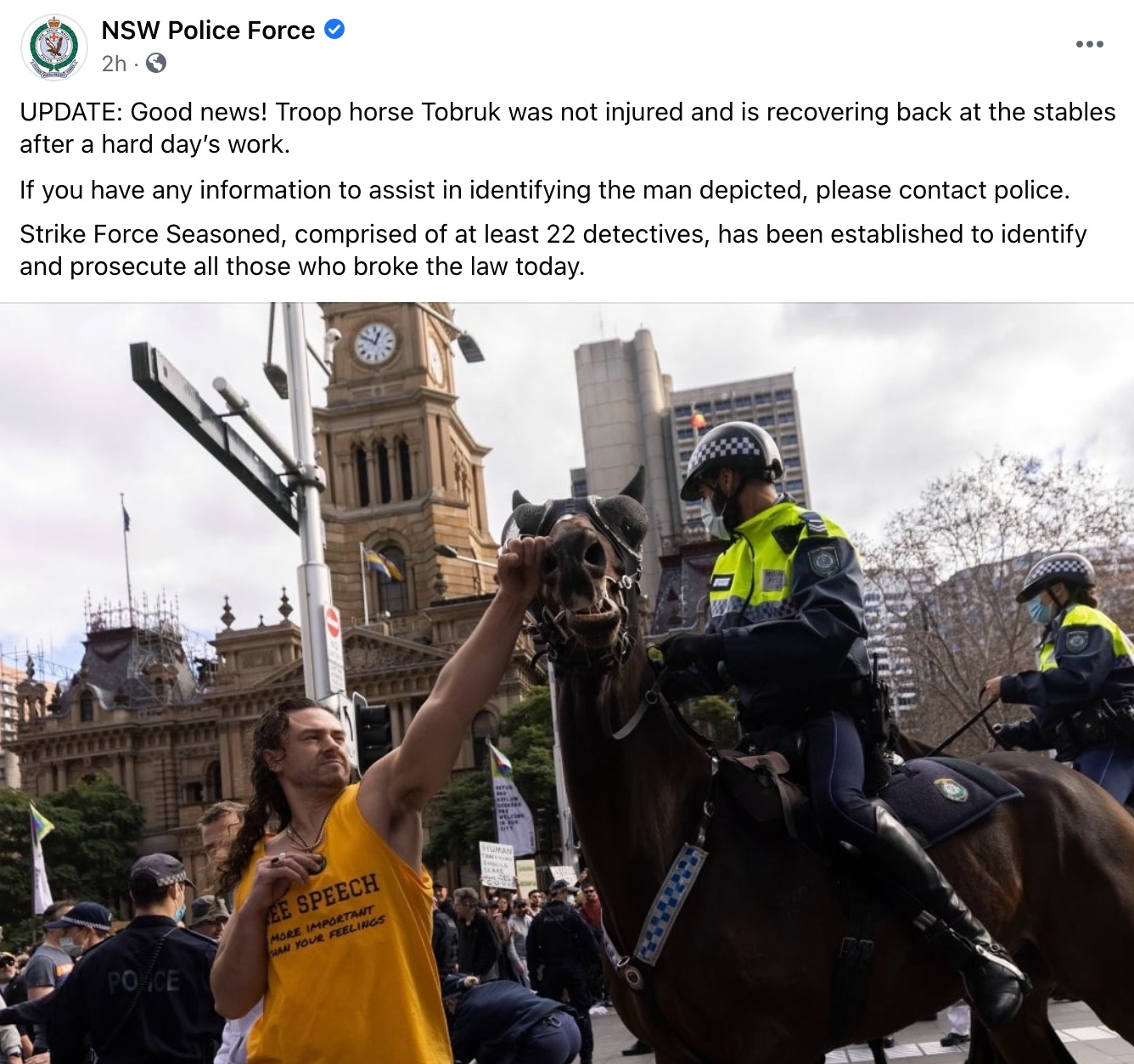 The XYZ understands that Dvir Abramovich has also accused the man of gassing 6 million jews.
Take note, this is the institution trusted with protecting NSW citizens deliberately intimidating NSW citizens, then deliberately lying about a NSW citizen's action and slandering him to the entire world. I believe the word for this is defamation. Another word which comes to mind is tyranny.
Caldron Pool provided an excellent summary of the story yesterday:
NSW Police have posted a photograph to social media which appears to show a protester at Saturday's freedom rally punching a police horse in the face.
The image was posted to the force's official Facebook page with the caption: "We are working on getting an update on the horse's condition."
"Good news!" a later update read. "Troop horse Tobruk was not injured and is recovering back at the stables after a hard day's work."
A follow-up post from the Mounted Unit said: "Our beautiful brave Tobruk safe and uninjured after his awful encounter today. Thank you again everyone for your words of support."
Within minutes the image went viral, with numerous high-profile figures and influencers sharing the photo across social media, as users dubbed the man pictured "the most hated man in Australia."
While the picture looks awful indeed, users on social media have said video of the incident reveals another story.
"He did not punch the horse," one user said. "It's fake news. He pushed it away as it was about to trample him."
"No punch to the horse at all," another said. "Fake news."
"The man put his arm up in defence," said another. "It's not a straight jab or punch as the media and Police have made it out to be. Fake news."
Many others are countering this fake news on the internet.
So… here is the footage of the supposed 'horse punch' at the Sydney rally today, another case of "what the media tells you vs. what actually happened" pic.twitter.com/V7o1Yfqlt1

— speakfreely (@databased_01) July 24, 2021
However, Victoria Police and the Lying Press have today doubled down on this lie, arresting two men and accusing them of animal cruelty.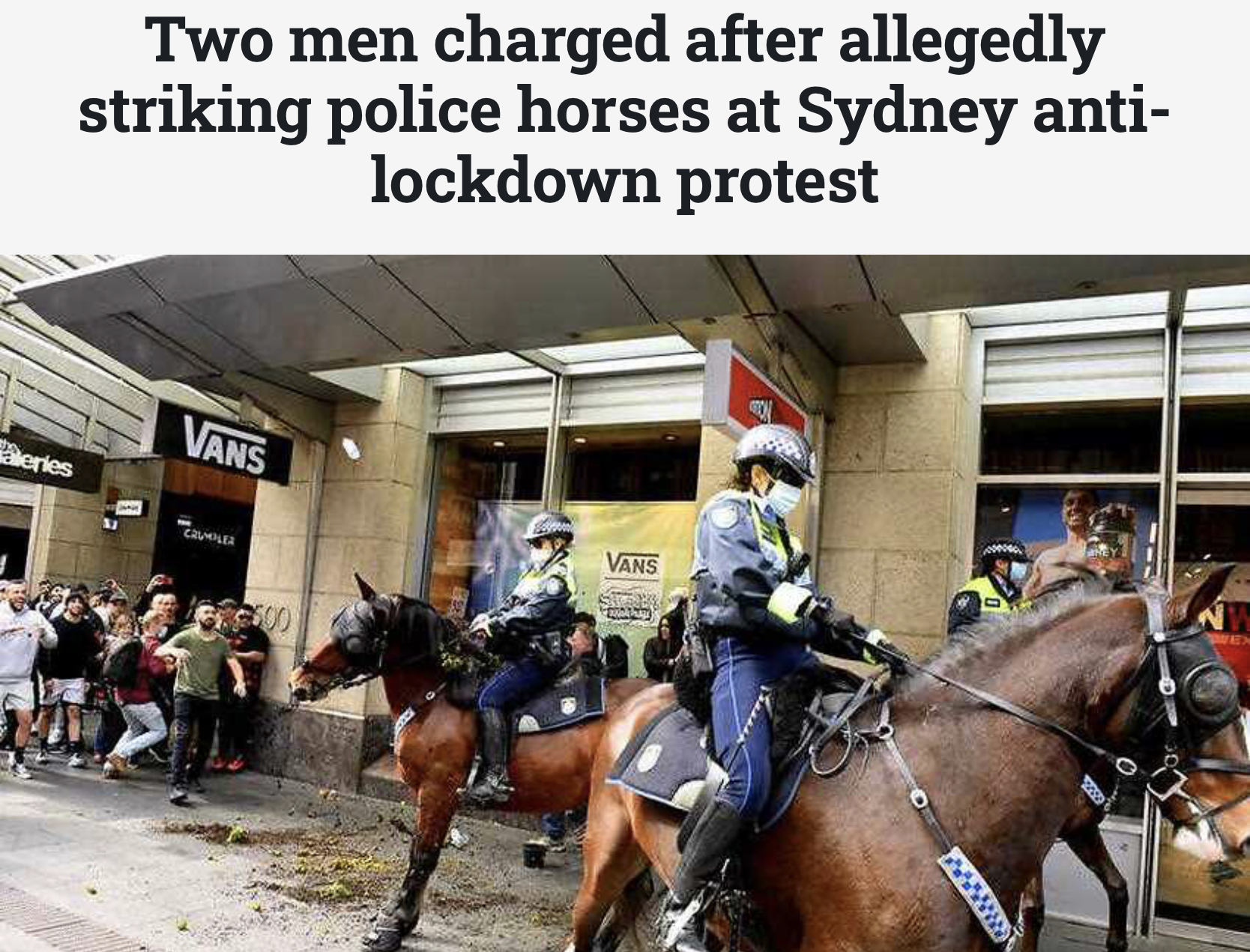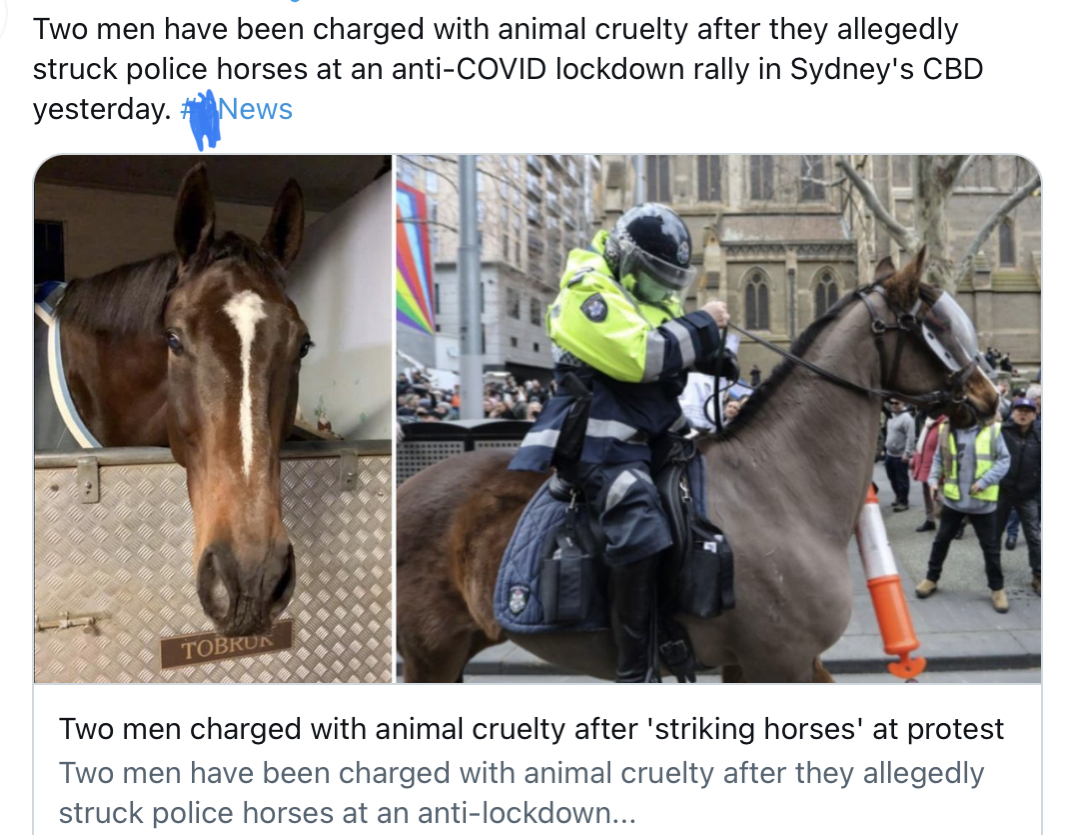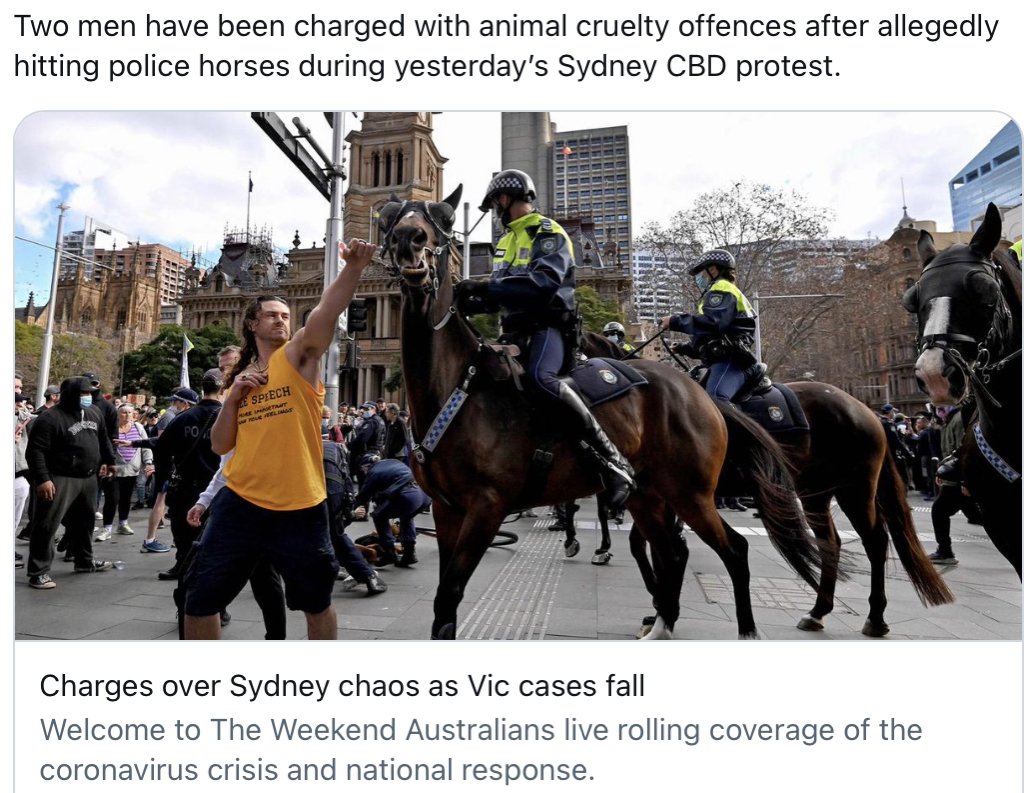 When this finally gets to court and video evidence demonstrates the full context of the incident, the man should be acquitted. He will have every right to sue for defamation againt the police and the Lying Press who spread this lie.
In the period from now until the eventual court date, there is every likelihood that the NSW "justice" system will find a way to keep this man imprisoned. The Lying Press will not retract its false allegation of animal cruelty, and it will bury the story on page 17 when the incident is settled.
This whole incident is designed to intimidate everybody who opposes the system. If you take reasonable action to avoid being trampled by the cavalry, you will be labelled the most hated man in Australia and your life will be ruined for the next two years.
As Stephen Wells has stated, we have to jail these liars for life. I believe Matty's Modern Life has other punishments in mind.