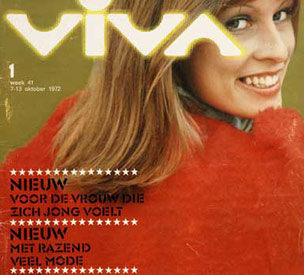 This week I learned that a long running Dutch womyn's magazine had ceased publication after almost fifty years of publication. I had never heard of the magazine but I felt confident that it had probably gone woke and suffered the consequences.
Nope. Silly me. It was woke from the start.
Publishing group DPG Media is axing ground-breaking young women's magazine VIVA after almost half a century because sales have fallen sharply. The final issue will be on the shelves on July 20 and its associated titles VIVAMama, VIVA.nl and VIVA Forum will also disappear.
VIVA started life in 1972 and became known for tackling feminist issues, like the glass ceiling and body image as well as running tests on sex toys. It famously featured a section called Anybody where ordinary women stripped off to challenge perceptions about female beauty.
In other words, VIVA was a socialist propaganda tool designed to rot the minds of young women with the seductive siren calls of feminism, having lots of stuff and consequence free sex. How refreshing then to discover that the young Dutch women of today have no use for this poison.
The socialists attempt to put a positive spin on this, however.
'That discussion is now being conducted by young women in a different way and the number of subscriptions has been falling dramatically in the last few years. We are left with no other choice than to stop,' magazines director Joyce Nieuwenhuijs told the Telegraaf.
Just how this discussion continues in a different way is not explained. Most probably because it is not happening to an extent that it can be made profitable. I have had some interactions with Dutch women of the 18-24 year range and I have been struck in my conversations with them at how much they both welcome any type of anti-woke talk and utterly reject the prevailing feminist mantras. It seems that they want to get married, raise families and work for their husbands rather than a corporation. How revolutionary.
DPG Media will keep Margriet, a title aimed at women over 50 which has been in circulation since 1938, Flair for younger women and Tina for girls.
Which means that they still have hopes of trapping the younger generations, while the Boomers are unsurprisingly still their number one meal ticket. But generation Zyklon is off the cards for them. Well done, young Dutch women. Now get off the pill and get back to church.
Originally published at Pushing Rubber Downhill. You can purchase Adam's books here.