So, you institute a lockdown on the pretext of saving grandma and grandpa from the Chinese Diversity Flu. Then when grandma and grandpa say they're fine and they don't really want the lockdown, they get arrested.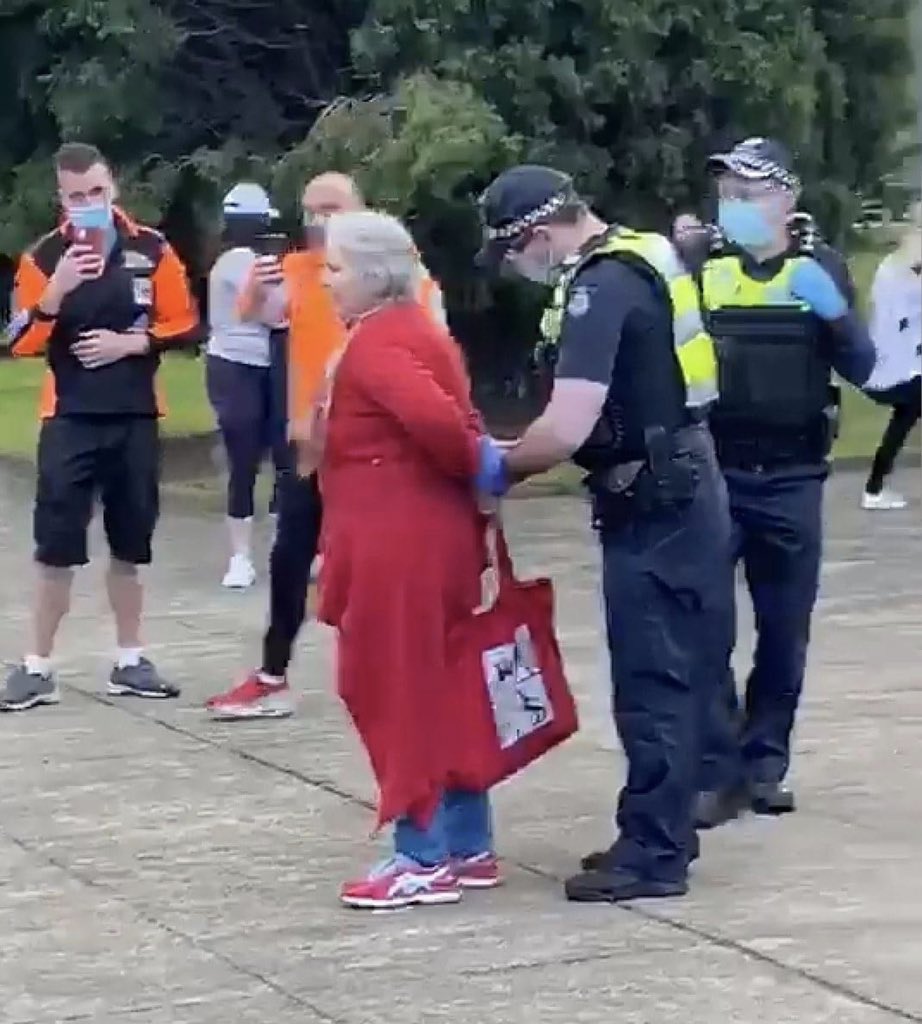 The bill for false arrest compensation in Victoria is going to be enormous…… https://t.co/wdh4nH9BOj

— PoliBard (@PoliBard) September 12, 2020
Victoria Police in action – what are your thoughts.
Source: https://t.co/aLEgWiUz1c
3aw HeraldSun #Melbourne #COVID19Vic @DailyMailAU
park, elderly women on park bench, snatching phone COVID
Video – @3AW693 pic.twitter.com/vdwGzTspMZ

— 👁‍🗨Z Crime News🇦🇺 (@ozcrimenews) September 8, 2020
A rumour had been circulating that the PM was visiting Melbourne to speak to the Victorian Governor, amid claims that the curfew was invalid, and in the context of two key officials, the Chief Health Officer and the Police Chief Commissioner publicly distancing themselves from the lockdown decision.
So far it seems just a rumour. Check out the police presence at today's attempted anti-lockdown protest in Melbourne: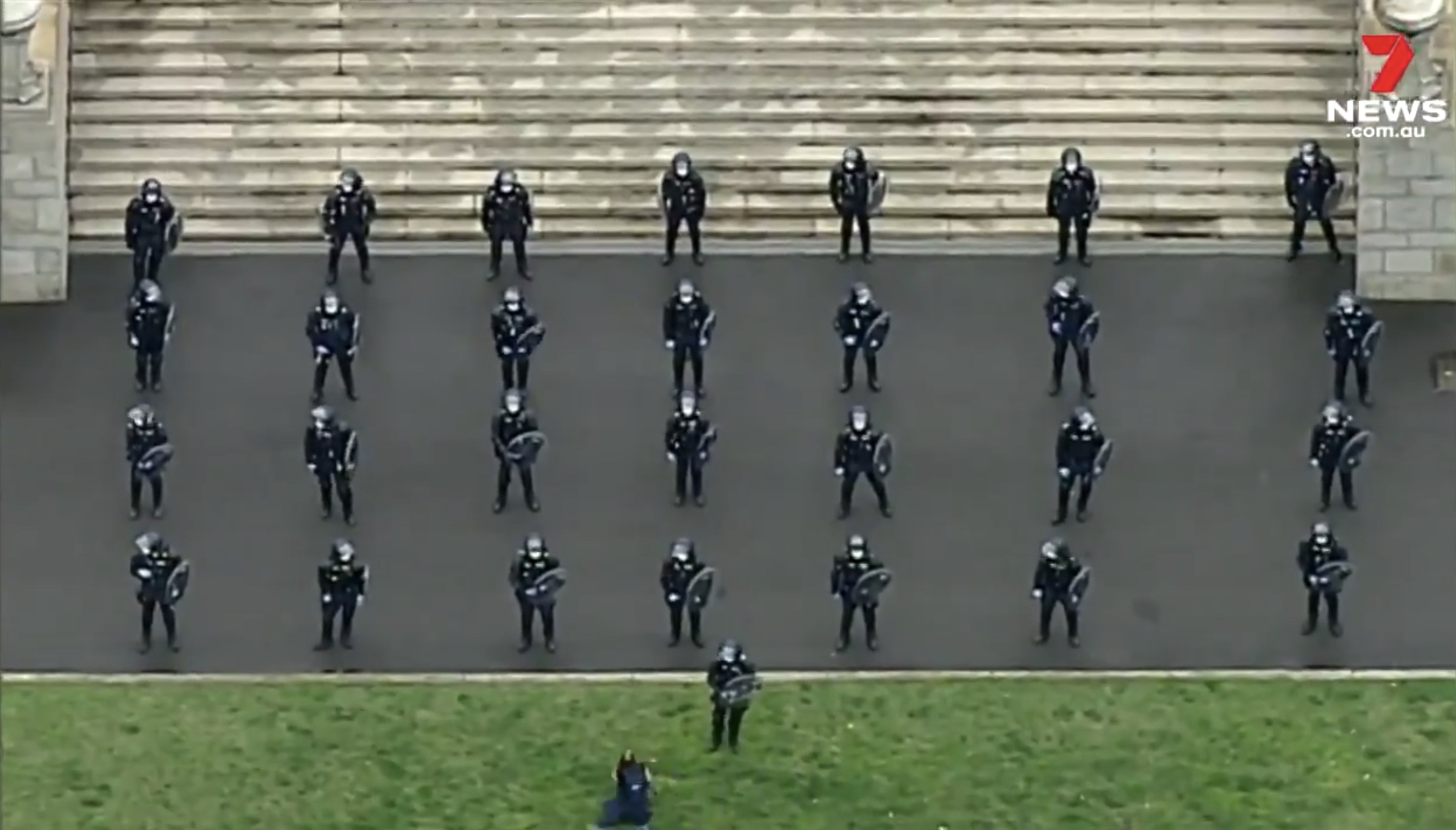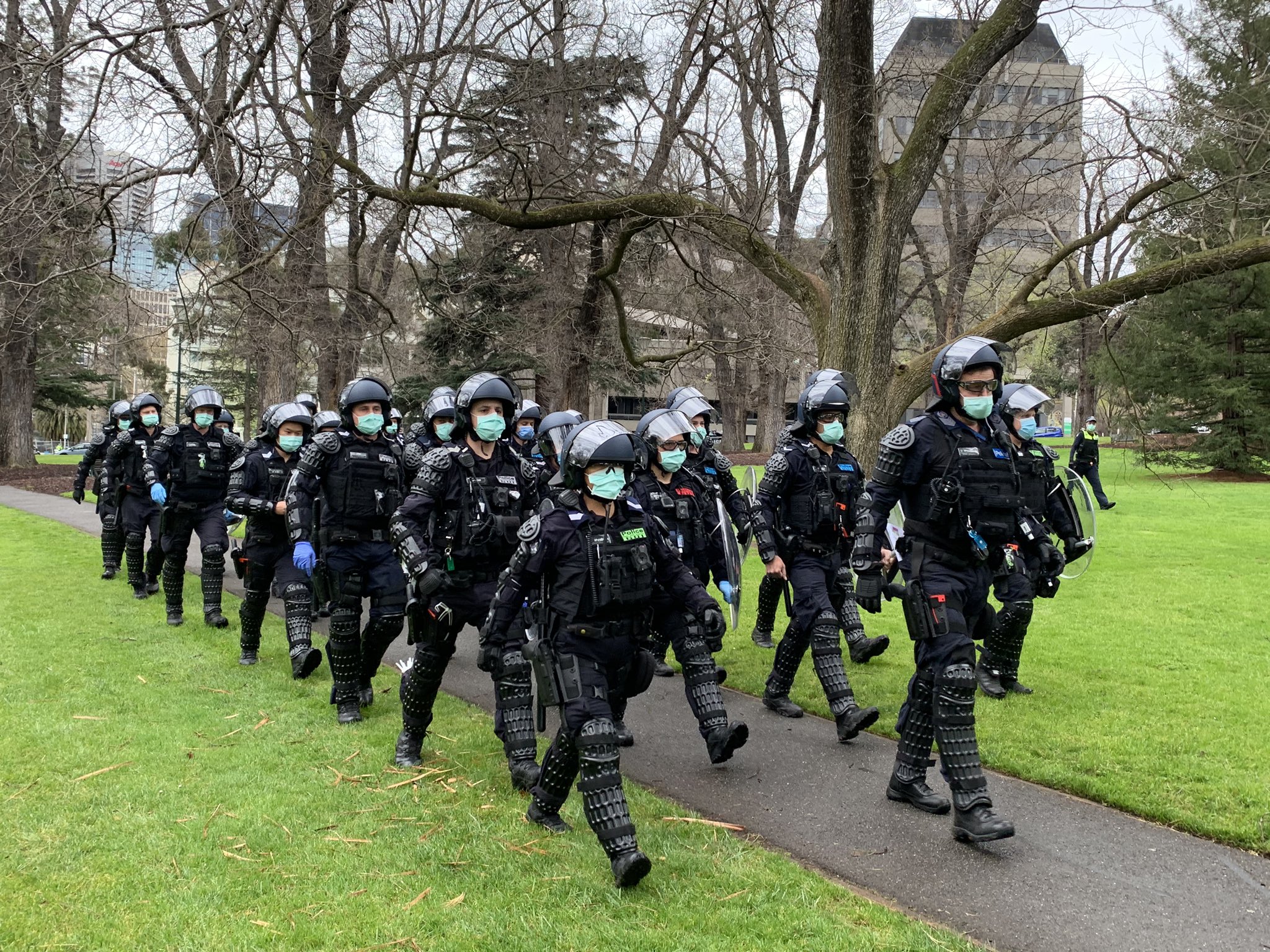 In recent days a pregnant lady was questioned for sitting on a park bench, and a man was harassed for putting the bins out without a mask.
38-weeks pregnant & told she can't rest on a park bench during the 1-hour per day she's allowed out of the house. Victoria's draconian lockdown is bordering on insane. pic.twitter.com/P3XohcRMjH

— Rita Panahi (@RitaPanahi) September 10, 2020
If you step one foot outside your door in Melbourne, THIS is the type of interrogation people can expect from police waiting in their street.

The Australian Prime Minister @ScottMorrisonMP has no objections to these intimidation tactics!#MartialLaw #DictatorDan #springst pic.twitter.com/XBdsMvpyhh

— BeachMilk (@YellowCube7) September 11, 2020
The police state is alive and well in Victoria. Spain likes the look of it too.
Police officers in #Spain's Madrid force woman into police car and hit her head on the vehicle as they arrest her for not wearing a mask, during protests on Saturday. pic.twitter.com/oIX9DguaOh

— EHA News (@eha_news) September 8, 2020
Lucky he wasn't on Fentanyl. Olive Lives Don't Matter. The Poms are going back into lockdown. Even the Yids. The globalists have been fine tuning their methods, their optics, their buzzwords, gauging our reaction, seeing how long we'll take it, testing how much intimidation is necessary to nip resistance in the bud. Now the Melbourne Model is being exported to the rest of the world.
Don't get too attached to the #DictatorDan hashtag. Whether he stays or goes is irrelevant. Scott Morrison and State premiers are playing a good cop bad cop routine. The reason it is one of the oldest tricks in the book is because it keeps working.
If Andrews falls, ScoMo will be able to present himself as the friendly face of the global depopulation program via the vaccine which he has generously brought to the Australian people.
Understand that this is merely the latest phase in a war that is centuries old.