Antifa hates you and want you dead. Our "leaders" hate you and want you dead. They're all satanist pedos, so this makes me very happy.
How is launching fireworks directly at a residential building—where they could easily injure innocent people—not a blatantly criminal act?

Why weren't those endangering lives immediately arrested? https://t.co/WlCT69ncKj

— Ted Cruz (@tedcruz) September 1, 2020
Setting off fireworks outside Ted Wheeler, Portland Mayor's home. And fires.
Antifa rioters have grown the fire outside @tedwheeler's condo in NW Portland. There is black smoke everywhere on the street. Meanwhile, they are still shining lights into people's homes. #PortlandRiots pic.twitter.com/MCv6H7Blbf

— Andy Ngô (@MrAndyNgo) September 1, 2020
They made the guy move home.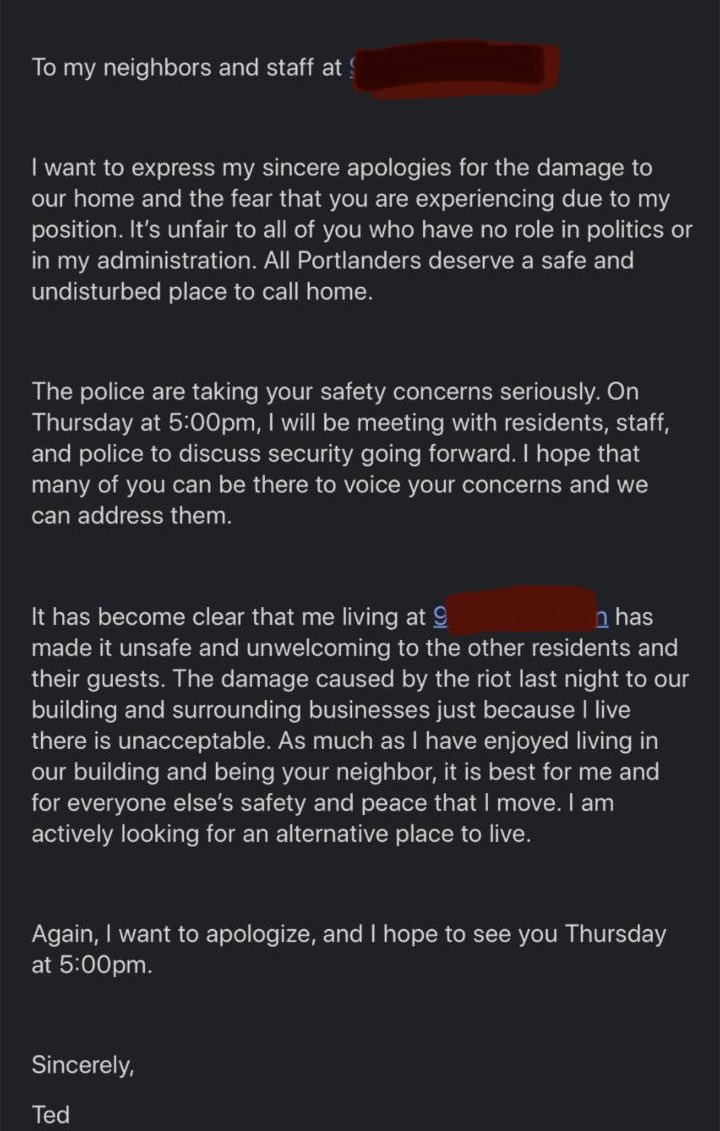 They have vandalised the San Jose mayor's home too.
Over the weekend, around a hundred #BLM rioters went to San Jose, Cal. Mayor @sliccardo's home and vandalized it. They also burned a US & pro-police flag at the scene. pic.twitter.com/LKRGGtboTH

— Andy Ngô (@MrAndyNgo) September 2, 2020
The chaos, it's beautiful. Thanks to our banker masters and their Marxist minions, our homes are no longer safe. In America if you try to defend your property the police will take your guns and charge you.
Even before the coronavirus lockdown homes in Australia, particularly Melbourne, were far from safe thanks to African Gangs. In Queensland a man who sponsored the Daily Stormer, which dares to report on the migrant crime waves hitting the West, had his home repeatedly raided by police.
Now with Melbourne in prison status they send three police cars to follow up your Facebook posts.
ENOUGH! Australian police are now harassing citizens at their homes about their social media posts. RT to get this out please. This tyrrany and power over people is disgusting. Video in 2 parts. #WWG1WGAWORLWIDE
1/2 pic.twitter.com/GPyOzikGYh

— ⭐️⭐️⭐️Awake in Australia🇦🇺🇺🇸 (@awakeinaus_) August 28, 2020
In Ballarat they arrested a pregnant woman for her Facebook post.
This was never about a virus with a 99.6% survival rate. Welcome to the new global order. https://t.co/0CvxyiB8al

— Way of the World (@wayotworld) September 2, 2020
They sent police to Sam Newman's home for a Facebook post.
Efficient and personable x 2. Dan sent them in the van, to advise against 'protesting', which I assured them wasn't happening, and was never going to. Really. #victorialockdown pic.twitter.com/oelElZN3zI

— Sam Newman (@Origsmartassam) September 2, 2020
People are noticing though. I always like The Dark Knight Rises.
It's coming.