Even before the Chinese Diversity Flu hit, Australia was not a free country. Melbourne has the diversity, and the diversity flu, now we really do have the China.
From 7news:
Essential workers in Melbourne will now be required to carry a permit under the state's tightened Stage 4 lockdown restrictions from 11.59pm on Wednesday.
Premier Daniel Andrews announced a swathe of sweeping workplace shutdowns on Monday, effectively closing down a number of sectors.
Residents who are still allowed to work will now have to show a piece of paper, signed by both the worker and employer, when travelling to and from work.
Some workers – like police officers and nurses – will be able to use their official identification, while those in the private sector will have to apply for a permit online.
The paperwork is now available on the Department of Justice and Community Service website – which crashed on Wednesday morning.
Crashed. Never saw it coming.
It is also available on the Department of Health and Human Services website.
From 11.59pm on Wednesday, any employers who require staff to attend a worksite must issue them with a permit under the new permitted worker scheme.
This is the employer's responsibility.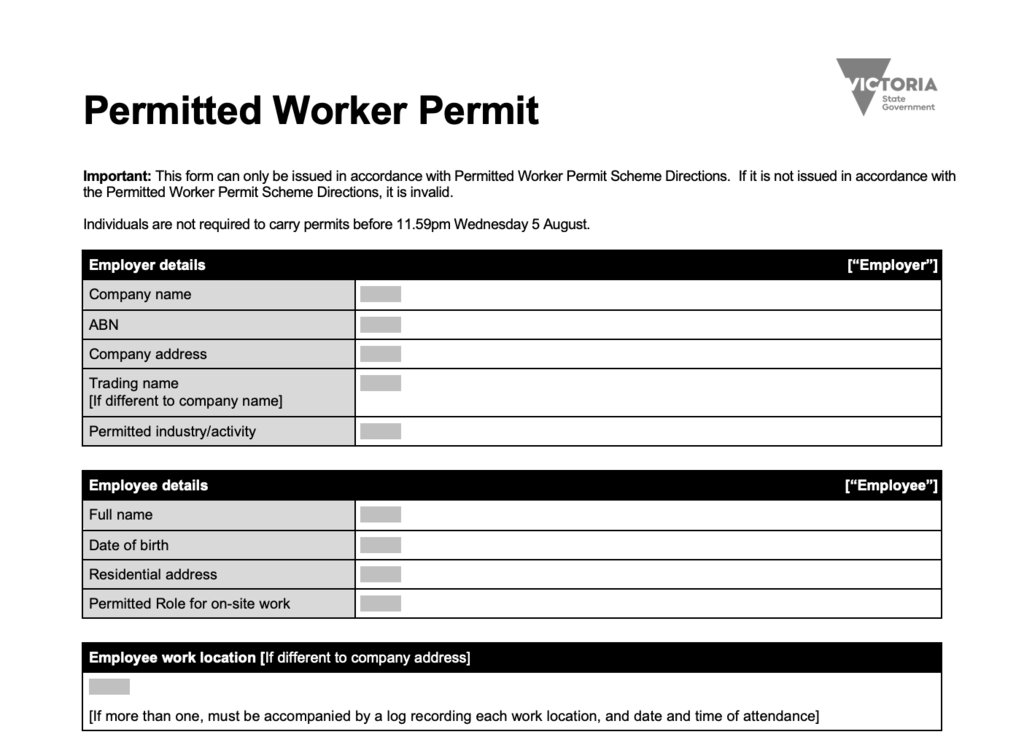 "Permitted Worker permit". We're not making this up. They are seriously calling this thing the "permitted worker permit". Each day I become more and more convinced our leaders get the inspiration for their ideas by reading The XYZ satire archives. I want to know who was in the room when it was decided to call this thing the "permitted worker permit" and get them all to say it 100 times really fast.
Any employer that is on the list of permitted activities, or any employee who is working in an approved category for on-site work and cannot work from home must carry a permit.
Each employee required to be on-site must receive an individual worker permit.
Breaching the requirements carries a penalty of up to $19,826 for individuals and $99,132 for businesses, or on the spot fines of up to $1,652 for individuals and up to $9,913 for businesses.
To issue a worker permit, employers will need:
name, ABN, company address and trading name
the name and date of birth of the employee
the employee's regular hours and place of work
to meet all eligibility criteria, including that the business is a permitted activity
to meet all relevant legal obligations
to have a COVID-19 safe plan in place
to authorise a person or people to issue the worker permit.
Welcome to life under Communitarianism. Victoria Police are now the NKVD. The XYZ has obtained exclusive footage of Victoria Police checking people's permitted worker permits.
It's actually not funny.  The Victorian NKVD is smashing car windows to pull people out of their cars if they don't give officers their details.
Just remember, democracy never works.
It's your XYZ.