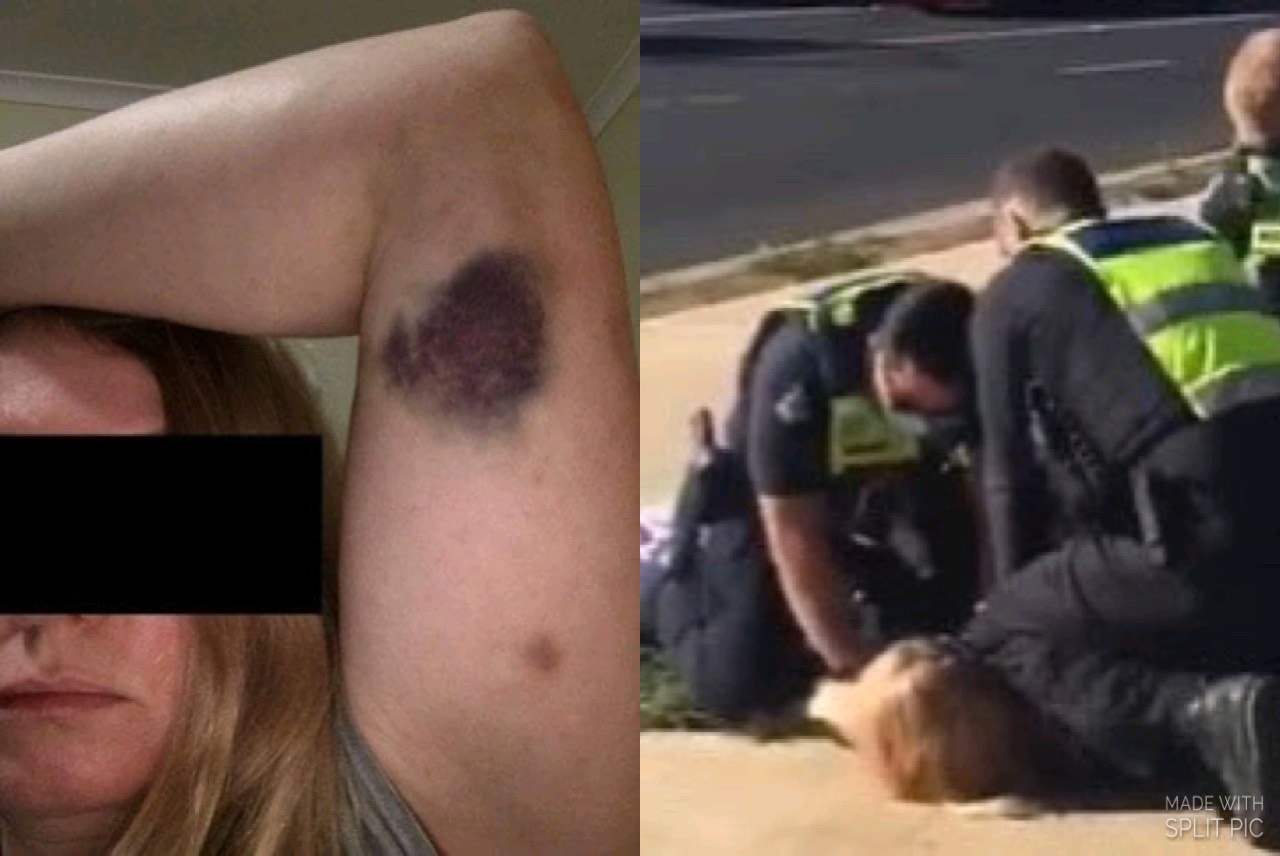 Poor Russian lady can't breathe.
Dramatic footage of a Melbourne woman being arrested for allegedly breaching COVID rules has surfaced online. In the video, her daughter can be heard screaming "she's in pain" before arguing with police.

Read more: https://t.co/SLzIBEsDdM pic.twitter.com/5gbhmnzx5U

— news.com.au (@newscomauHQ) August 6, 2020
The Russian lady and her daughter were holding placards about Russian politics or something in Melbourne, so the Victorian NKVD gave them the Soviet treatment.
From nEwS.cOm:
Footage has emerged of a Melbourne mother being pinned to the ground by three police officers after she allegedly broke lockdown restrictions.
The woman's daughter filmed during the incident at Hoppers Crossing in Melbourne's southwest on Saturday — when Melbourne was still in stage three coronavirus restrictions.
The footage shows the woman screaming as the officers hold her face down on the footpath and handcuff her arms behind her back. Her daughter can be heard shouting "she's in pain".
A friend of women circulated the video and pictures of the woman's bruised arms on Facebook.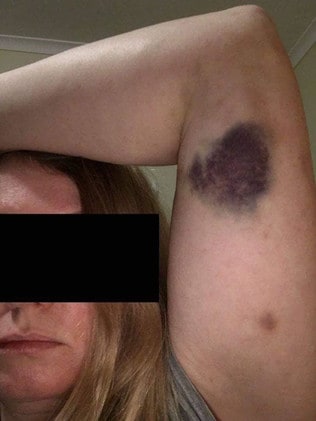 Translation: Footage of police brutality against a European woman was going viral, gathering sympathy for the victim and encouraging too many people to question the narrative. Who knows, there could have even been a White Lives Matter protest. So we had to reframe the story in the trusted source that is nEwS.cOm so that it is just another example of selfish people putting everybody in danger.
She claimed they had been standing in public "with a poster about Russian politics" when police approached them. She said both women were issued a $1652 fine for breaching coronavirus restrictions.
Going by the accents and bad grammar they're not Aussie, ie Anglo. Anyway, this is where we're at. Anything but approved activity in public and a tonne of bricks lands on your head.
In the video the woman's daughter can be heard being questioned by officers. A female officer is then heard asking for her to show her ID.
"You need to take this seriously," the officer says. "You won't be arrested if I can confirm your ID."
The daughter argues that she is not doing anything wrong. She says she's just going for a walk.
"You are doing something wrong, you are out in contravention of the COVID restrictions," the officer says.
Victoria Police confirmed two women holding placards were arrested.
"The two females were requested to state their names and address, and produce identification as they were in breach of the chief health officer's directions," a police spokesperson said.
"After numerous attempts from police to have the females provide their details which was refused, they were both arrested.
Hang on, why do they keep assuming their gender?
"One of the females resisted arrest, and had to be taken to ground during the incident.
Both females were issued with a $1,652 fine each for breaching the chief health officer's directions and were released pending enquiries on further charges."
How did they figure they needed the extra two bucks? They couldn't just round it off to the nearest decimal. Bureaucratic tyranny is the worst type of tyranny. I guarantee you there is some flog who actually thought about that and made a decision to keep the extra two bucks. These people are that banal.
Here are some more examples of activities which are verboten:
Victoria Police have handed out 176 fines for breaching coronavirus directions in the past 24 hours – including one man who was busted on a 2.30am convenience store snack run.
A total of 51 of those fines were handed out to Victorians who weren't wearing face coverings.
Aside the from the man who was feeling peckish at 2.30am, police have given a few examples of the behaviour they encountered yesterday.
They said one man was out walking in Bayswater North without a face mask and did not have one in his possession. He was more than 5km from home.
Police also found three men and one woman breaching curfew while sitting on a footpath eating McDonald's.
The horror. The examples being made of people are having the desired effect:
Victoria's work permit scheme has now begun, with fines of $100,000 for businesses and $20,000 for workers who try to cheat the system under harsh stage 4 coronavirus lockdown.
Workers are "terrified" about going out because of the harsh new rules, Australian Industry Group chief executive Innes Willox said.
The fines apply to employers who issue permits to employees who don't meet the requirements of the scheme or otherwise flout the rules. Workers who are caught travelling to or from work without their papers face on-the-spot fines of up to $1652.
Stephen Lunn in the Australian has picked up on this too:
"Permitted workers" must carry around a written document. If they need to put their child in care, they need another.
Those who dare venture out for one of the few "permitted activit­ies" studiously stay out of each other's way. Interactions at the supermarket, chemist or post office­ are perfunctory, words muffled­ through mandatory face masks. Eyebrows have become the go-to form of communication.
Welcome to day one of stage-four lockdown, Melbourne-style. No one is smiling, not that you can tell. The nation's most cosmopol­it­an city has lost its swagger. ­Instead it is cowering under the sheets as it stays home and looks to ride out a COVID second wave infecting hundreds of people each day.
People are genuinely fearful as they wait by the TV or radio for Premier Daniel Andrews to announc­e "the number". They are looking for the start of a downward trend, and with it some hope.
Hope feels a long way away.
Think about it. If you wanted to turn a part of Australia into a totalitarian police state, how would you go about it?
You would prohibit ordinary human contact and make people "terrified" to break the rules. Make it impossible for people to gather in number either in public or in private.
There is no longer any way of organising even a localised resistance movement to what is going on without doing something that is technically illegal and giving the state the excuse to quash opposition at the embryonic stage. You can talk to your neighbour over the back fence but you cannot enter their house, turn off all electronic devices and talk in private. You certainly cannot meet a group of your friends in private, even if you are all within a five kilometre radius of each other. Any kind of organisation that occurs must therefore be done electronically, which means it can be monitored.
The Soviets could not have imagined a better system of control.
If the coronavirus pandemic is not being deliberately used by government as a means of enforcing a police state, why do the policies now being enforced look so clearly like those of a police state?