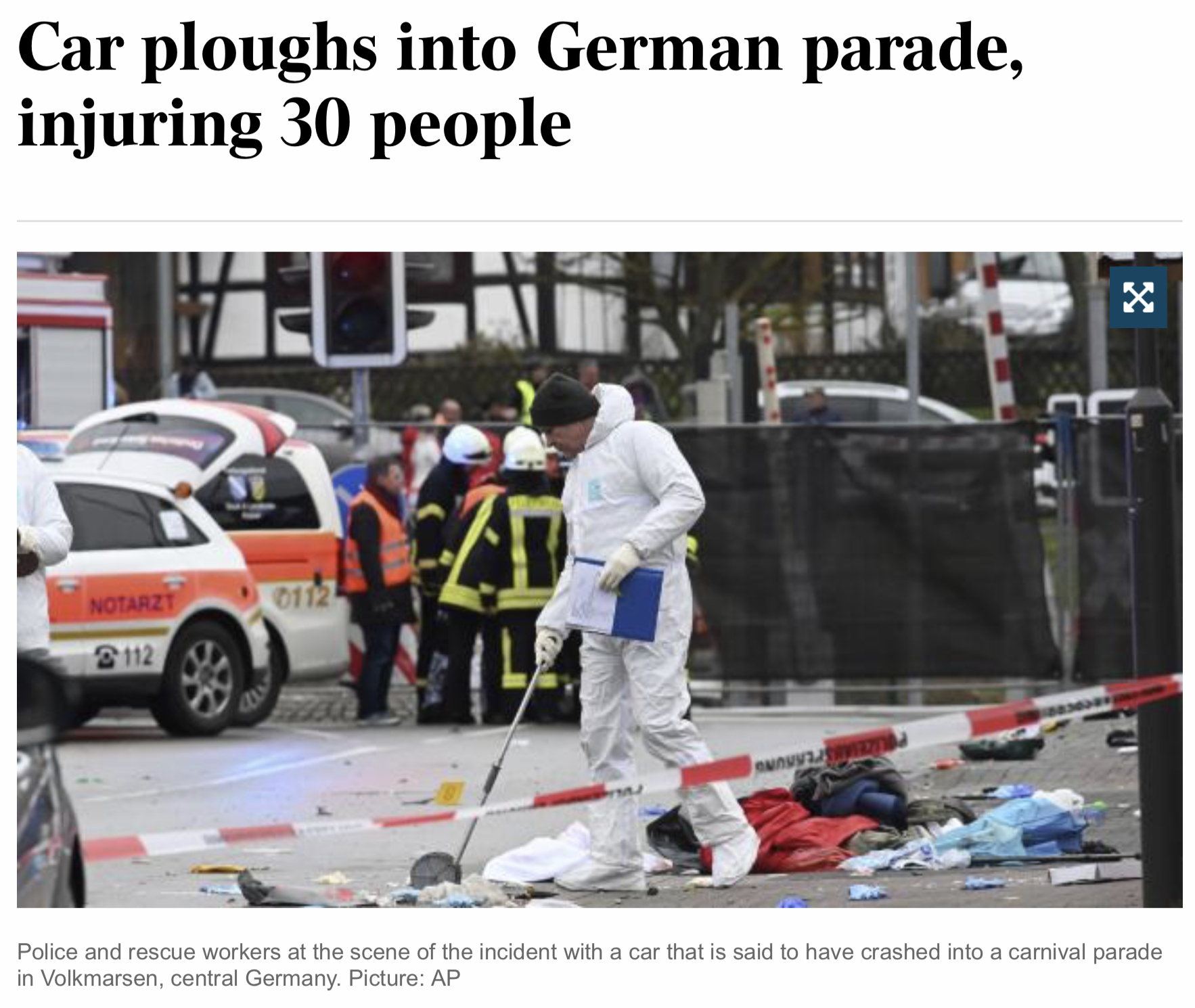 The following article regarding a car attack on a German parade which injured 30 does not say anything about the motives of the driver. In fact it makes this clear in the very first paragraph. This is precisely how we can be 100 percent sure that it was a Muslim who did it.
From the Australian:
Some 30 people including children were injured when a car ploughed into a carnival procession in the small German town of Volkmarsen, with police arresting the driver but declining to speculate on a motive.
Prosecutors in Frankfurt said the 29-year-old suspect was a German national [sic] who faces charges of attempted homicide over the incident in the western state of Hesse.
The investigation was continuing "in all directions", they said in a statement, after police stopped short of calling the incident an attack.
The drama came as Germany remains on high alert following a shooting spree by a far-right gunman in the city of Hanau, also in Hesse, last Wednesday, who killed 10 people.
Eyewitness reports at the carnival parade described the driver ploughing through a barrier in a silver car and driving straight through the crowd at high speed.
"It appears to have been an intentional act," a local police spokesman told reporters, but said the incident was not being classified as an attack until investigators had more information.
Around 30 people were injured, some of them seriously, the Frankfurt prosecutors said. Children were among those hurt.
The driver was also injured and was receiving medical care, prosecutors added. Citing sources close to the investigation, Spiegel weekly said the driver had apparently "consumed a high level of alcohol".
Chancellor Angela Merkel said her thoughts are with family of the victims, as she wished them "a speedy and complete recovery", according to her spokeswoman on Twitter.
Hesse state premier Volker Bouffier said he was "shocked at the terrible act". But he added: "The circumstances surrounding this act remain unclear and I urge you not to speculate about possible motives."
As in many parts of the country, residents in Volkmarsen were celebrating Rose Monday, a highlight of annual carnival festivities that sees adults and children dress up and attend parades where people play music and throw candies from floats.
Here is a video on the Rosenmontag festival from a few years ago. It's ethnic German af.
So a car ploughs through a German ethnic festival, just days after a German shot dead 9 foreigners in the same state, but police and politicians are desperate not to "speculate" on the motives.
It has revenge attack written all over it.
Of course, let's compare how the media reported on the incident involving the native German.
From the Australian:
A German who shot and killed nine people of foreign background in a rampage that began at a hookah bar frequented by immigrants had posted an online rant calling for the "complete extermination" of many "races or cultures in our midst", authorities said on Friday.
German Chancellor Angela Merkel said Thursday's attack exposed the "poison" of racism in the country.
The gunman, Tobias Rathjen, 43, was found dead at his home along with his mother, and authorities were treating the rampage as an act of domestic terrorism.
They shove "terrorist" down your throat from the very first sentence. The double standard is as obvious as it is rank.
Pivoting to back home to here in Australia, many of us have found the following headline quite amusing: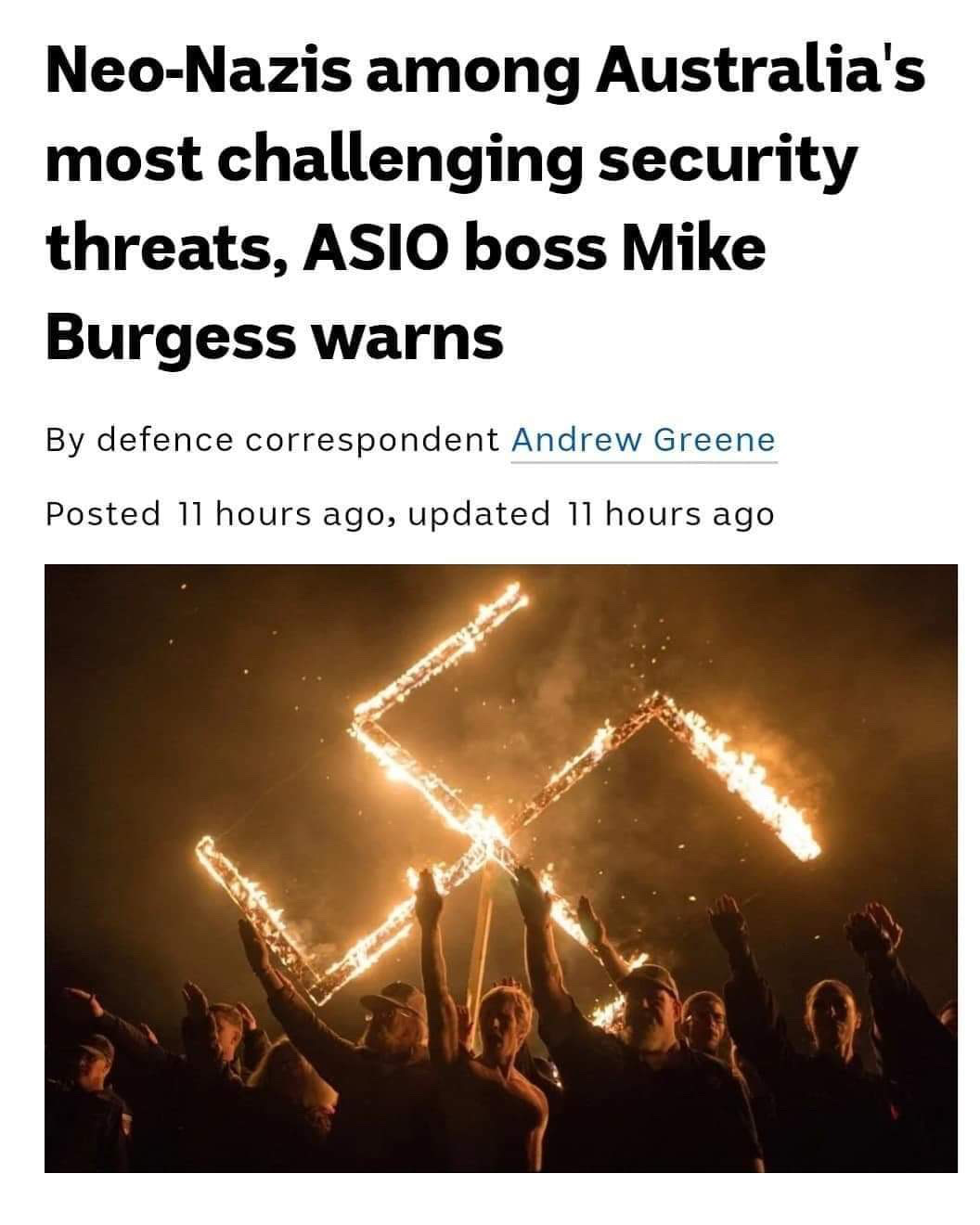 You don't need to read the article. We already know what it is going to say. It is going to pretend that the double standard does not exist. It will say something along the lines of "in addition to the threat from jihadist groups, authorities now consider right wing extremists to be as significant a terrorist threat". Rather than exploring the possibility that the former is a logical response to the latter, the article will lump the two together in the same "extremist" basket.
Oh what the hell, I can't resist.
From the Guardian:
Burgess said while violent Islamist fundamentalism remained Asio's primary concern, the threat of rightwing extremism – of the type espoused by the Australian-born Christchurch killer – was "real and growing".
"In suburbs around Australia, small cells regularly meet to salute Nazi flags, inspect weapons, train in combat and share their hateful ideology."
Picked it like a dirty nose.
There is a reason why authorities refuse to speculate on the motives of terrorists when they are muslims but jump all over the opportunity to wail about so-called "right-wing extremism" every time a white guy loses it. It is the same reason we are seeing such a sharp rise in concern from our so-called intelligence agencies about the idea that white guys might want to get together to train and share memes, and work peacefully to secure the existence of our people by building strong families and community bonds.
The traitors who rule us are comfortable with the idea that the foreign invaders they traffic into our homelands in order to prop up GDP will, from time to time, massacre the native Europeans whom they are supposed to represent. They want to replace us anyway, and such massacres do not threaten their power or the stability of the system.
What makes them uneasy is when the occasional white person recognises this pattern and retaliates in kind, because it can lead to a cycle of retaliation which can lead to all out civil war. We here at The XYZ have been warning about this for years, but the cycle has now been unleashed by Brenton Tarrant and there is nothing any of us can do about it.