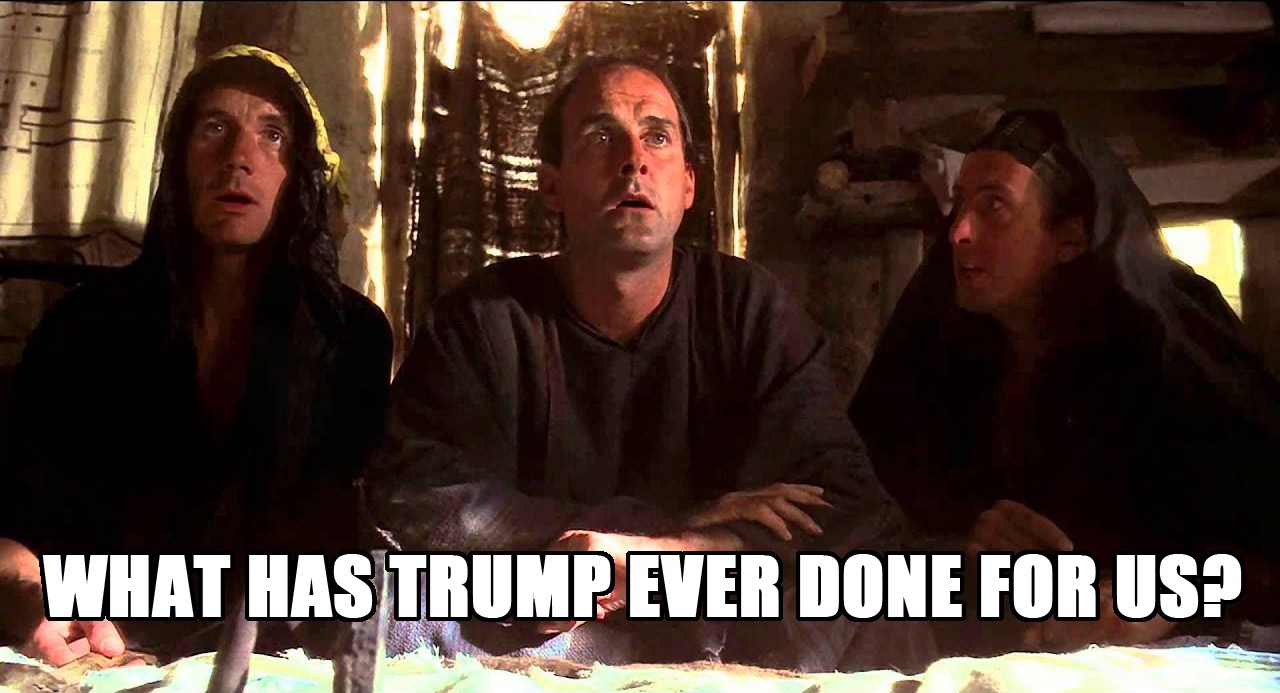 Following on from a previous Food For Thought, President Donald Trump has come out swinging at a subversive demographic of America whom he has done more for than probably any other group (even though they make up a mere 2-3% of the U.S. population):

Associated Press reports:
Showing a fresh willingness to play politics along religious and racial lines, President Donald Trump said Tuesday that American Jewish people who vote for Democrats show "either a total lack of knowledge or great disloyalty."
Trump's claim triggered a quick uproar from critics who said the president was trading in anti-Semitic stereotypes. It came amid his ongoing feud with Democratic congresswomen Ilhan Omar of Minnesota and Rashida Tlaib of Michigan, both Muslim.
Trump has closely aligned himself with Israel, including its conservative prime minister Benjamin Netanyahu, while the Muslim lawmakers have been outspoken critics of Israel's treatment of the Palestinians. Tlaib is a U.S.-born Palestinian American, while Omar was born in Somalia.
"Where has the Democratic Party gone? Where have they gone where they are defending these two people over the state of Israel?" Trump told reporters in the Oval Office. "I think any Jewish people that vote for a Democrat, I think it shows either a total lack of knowledge or great disloyalty."
I can absolutely guarantee it is 100% organised disloyalty and subversion President Trump:

VICE reports:
According to organizers and faith leaders within the movement, the Jewish community's fight for immigrant rights is too personal to watch from the sidelines, and not just for Latinx Jews and others directly affected by current anti-immigrant policies.
"The stakes are very, very high," said Audrey Sasson, Executive Director at JFREJ. "We see ourselves as Jews having a stake in this, the rise of white nationalism being a threat to all of us."
In addition to a collective history of the very worst that can happen when persecution based on identity goes unchallenged, Jewish organizers against ICE believe that the current immigration crisis simply defies Jewish morals.
Hence why moonbats circulating Democrat tropes about Trump being an anti-Semite and a White Supremacist is about as crazy as InfoWars host Alex Jones telling us 'Chi-comms and Muslims' are the ones behind Jeffrey Epstein.
The idea that U.S. Immigration and Customs Enforcement (ICE) are being accused of running death camps by these a—holes contributing more than half of ALL donations to the Democrat party is precisely why the GOP should refrain from sycophantically making appeals to them.
The Jews are America's misfortune. The sooner Republicans drum this point home to the citizenry before the demographics turn too many red states blue the better.
Food For Thought.
To obtain your FREE copy of Trading HEMP for Hitler audiobook (as read by Political Pundit and Radical Agenda host Christopher Cantwell) or e-mail us at A481Designs_Publications@outlook.com.