Yesterday three Chinese warships steamed into Sydney harbor.
NSW Premier Gladys Berejiklian was not informed of the arrival of three Chinese warships until the vessels steamed into Sydney Harbour yesterday morning, with Labor challenging Scott Morrison to explain why he did not ­announce the visit.
Defence experts said it was ­important there was transparency about engagement with China, ­arguing the decision not to form­ally announce the arrival of the biggest Chinese naval taskforce to Australia in years was "a bad look".
It is indeed a bad look.
But not to worry for the premier of New South Wales as it turns out that plenty of local "citizens" knew that the sailors were popping in for some Peking duck.
Videos on Chinese social media platform WeChat showed members of the Chinese-Australian community coming out to greet the ships, with dozens of people lining the harbour.
The HMAS Melbourne visited China recently but I can guarantee you that no members of the "Australian-Chinese" community were invited onboard because China is not so stupid as to countenance any such community in the first place. That local Chinese citizens who also enjoy Australian citizenship knew about the visit before the premier of the state is beyond embarrassing; it is revealing.
China is rapidly purchasing critical infrastructure in Australia while at the same time giving permission for millions of its citizens to emigrate here with all of their money intact. China now feels so confident of its position that it steams into Sydney harbor with armed marines in flak jackets on the decks and then invites local model citizens on board while snubbing the local powers-at-be. Just what exactly does everyone think is going on here?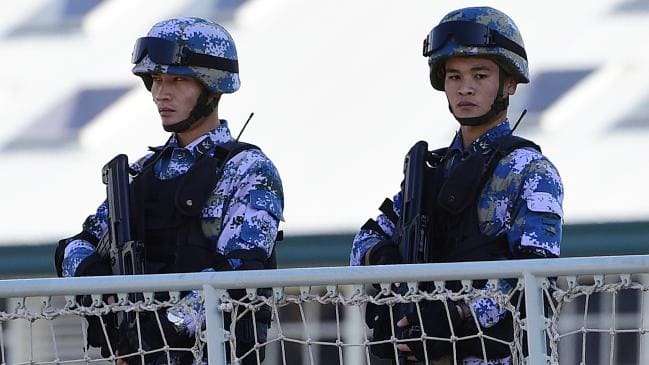 Actually, most people think that there's nothing to see, that it's all just a beat up. That's what the majority of the hundreds of comments on the linked piece declare. Here's a particularly stupid example:
"People born overseas will always have some affection for their roots, that's to be expected. How may poms with Australian citizenship support the UK sporting teams against the Australian sides?
"Its better not to be too paranoid."
Actually the opposite is true – it's better to be too paranoid. That's how you avoid waking up to discover that overnight you've got a new government and you had better learn Chinese quick smart.
This is a diplomatic visit of which the local diplomats didn't know was going on. On the same day there was another diplomatic visit overseas; Trump had his audience with the Royal Family and political leaders in London. In matters of diplomacy, nothing is coincidental. If the intention of the Chinese was to boldly declare that they are the new kids on the block and that they care not for old and crumbling alliances then they couldn't have done a better job.
But what am I saying? No need to think this way, comrades. It's better not to be too paranoid.
This article was originally published at https://pushingrubberdownhill.com/, where Adam Piggott publishes regularly and brilliantly. You can purchase Adam's books here.