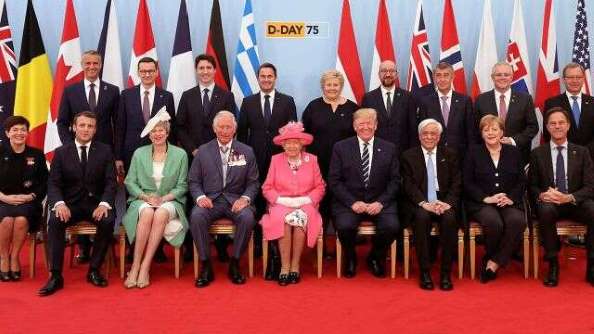 World leaders today attended an event to commemorate the 75th anniversary of the D-Day landings.
"Prime Minister Scott Morrison has signed an international declaration that acknowledges it is the shared responsibility of the 16 nations present at the D-Day ceremony to ensure the unimagineable horror of what happened 75 years ago will not be repeated.
"The nations who have signed the D-Day Declaration include Germany, US, UK, Australia, Belgium, Canada, Greece, Czech Republic, Holland, Norway, Poland and France. World leaders attending the D-day commemoration in additio. To Mr Morrison are French president Emmanuel Macron, prime minister of Canada Justin Trudeau, US President Donald Trump, prime minister Charles Michel from Belgium, the Czech Republic's prime minister Andrej Babis, president Prokopis Pavlopoulos from Greece, Germany's chancellor Angela Merkel, the prime minister of Luxembourg Xavier Bettel, the Dutch PM Mark Rutte, Norway's PM Erna Solberg, Poland's PM Mateusz Morawiecki and Slovakia's deputy prime minister Richard Rasi."
I notice that Russia has not been mentioned. It is a curious omission that one of the main Allies of the Second World War was not present at such a celebration. Russia was mentioned in the article but only obliquely.
"At that conference 76 years ago Winston Churchill, Franklin D Roosevelt, and Joseph Stalin discussed military strategy against Germany, and developed the D-Day plan, called Operation Overlord."
So why was Putin not present today? Well, it turns out that he was not invited.
"However, for the first time since 2004 (when the 60th anniversary of D-Day was commemorated), Russian President Vladimir Putin has not been invited, despite the fact that he did attend the 70th anniversary of D-Day in 2014, even after the occupation of Crimea and the start of Russia's aggression against Ukraine."
It's one thing not to invite the Russian leader to such an important diplomatic event. It is another matter entirely to then have the hubris to grandiosely sign a peace pledge in his absence. Not to mention the fact that any modern peace pledge is somewhat redundant when other countries such as China are glaring omissions. It's like a group of nuns signing a no sex pledge on the main brothel street in Kalgoorlie.
So why bother writing about this, I hear you wondering. Well, it's a curious constant of human history that whenever grandiose gestures such as this are undertaken with no practical adherence whatsoever and in the context of a somewhat remarkable reality bubble, that you can almost smell trouble brewing right around the corner. And I'm not talking little trouble either.
Gird your loins, friends. Gird your loins.
This article was originally published at https://pushingrubberdownhill.com/, where Adam Piggott publishes regularly and brilliantly. You can purchase Adam's books here.