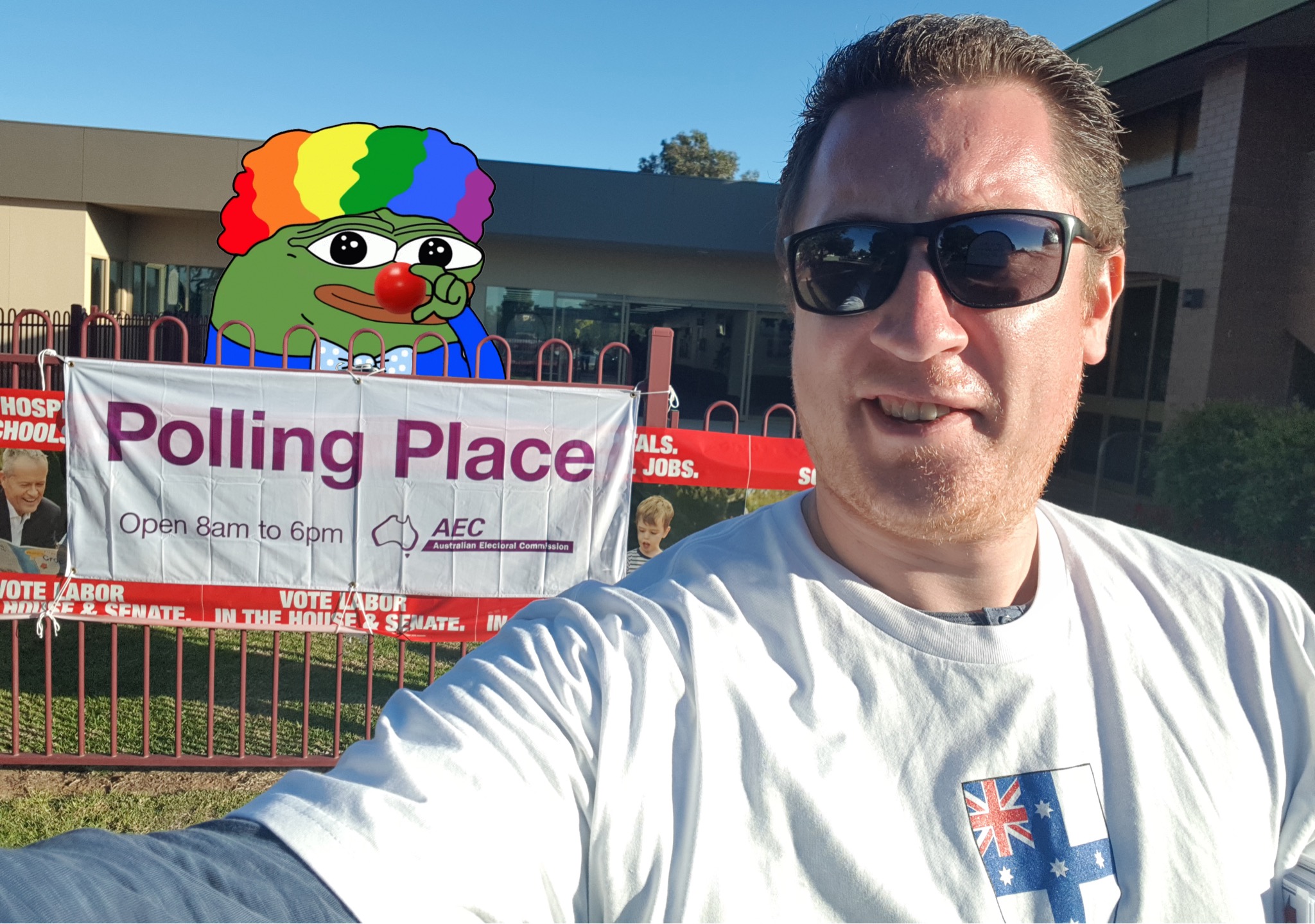 Not sure how XYZers went on Election Day 2019, but I managed to get a healthy sunburn while enjoying myself in the process. From 8am to 6pm on election day I was dishing out how-to-vote cards for Fraser Anning's Conservative National Party (FACNP) at the Keck Street polling station (that runs perpendicular to Race Street) in Flora Hill. I stayed back scrutineering till about 8:30pm.
Even though the other parties put FACNP last on the preferences, I still shouted some of their volunteers an Uber coffee run over a lengthy and cordial chat.
Meanwhile on the other side of the country, a One Nation volunteer in the Western Australian seat of Cowan (which has only narrowly been retained by Muslim Labor MP Anne Aly with a vote of 50.7%) was allegedly attacked by an assumedly Left-of-centre family of five yelling "White Dog" at the bloodied One Nation volunteer:

BREAKING | VOLUNTEER ATTACK

A @OneNationAus volunteer has been targeted in a random racist attack in #AnnAly's seat of #Cowan
He was allegedly called a "white dog" and attacked by a violent family of 5.

Police are at the scene. pic.twitter.com/rJgnoTLV7z

— Sen. Peter Georgiou 🇦🇺 (@SenatorGeorgiou) May 18, 2019
Sadly Senator Fraser Anning, leader of FACNP, is reportedly set to lose his Senate seat:

Meanwhile Clive Palmer's United Australia Party have failed to get a single seat after Clive's colossal cash splash on advertising:

Also Tony Abbott's loss to Independent Zali Steggall (42.2% to 57.8%, swing of +18.9%) comes as a bit of black-pill:

However it wasn't all bad news. My 2017 prediction that Bill Shorten will never be PM appears to have come true after Bill Shorten stepped down as Labor leader after Scott Morrison's Coalition victory for 'the quiet Australians':

While it was black-pilling to see the lack of electoral support for a Nationalist insurgency, it's at least some consolation knowing that Australia has averted another Stephen Conroy tier internet censorship attempt, as seen under the Rudd and Gillard Labor governments with 18C in their arsenal.
Food For Thought
To obtain your FREE copy of Trading HEMP for Hitler link to the audiobook (as read by Political Pundit and Radical Agenda host Christopher Cantwell) or e-mail us at A481Designs_Publications@outlook.com.