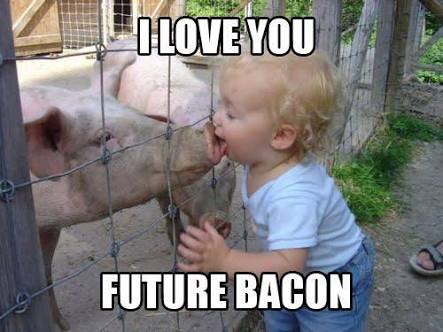 Micaiah
Israeli sociologists this week published dramatic findings linking bacon consumption to spontaneous combustion. Deliberate Spontaneous Combustions (DSCs) form the majority of all cases of spontaneous combustions, and have increased globally over the last 50 years. Experts are baffled by the phenomenon.
"While in most cases the chemistry of DSCs are known, the underlying causes are not known", explained Dr. Bar-Imlah, the leader of the research group. "Previous studies had focused on political, religious and cultural factors, and found absolutely no differences whatsoever. I would never have believed diet could have possibly been a determining factor. We weren't going to even include the question on our surveys, but a lab assistant added it as a prank, and we didn't notice until it was too late to change it back. These findings are a significant step forward in our understanding of the causes of DSCs, and although bacon deficiency may not be the causative agent, we do expect that these findings will point the field in an entirely new direction."
Other scientists have expressed scepticism towards the findings on the grounds that bacon consumption is not equal across all geographical areas, cultures, and religions, and that the findings of this study may be a backdoor means to the racist conclusion that some cultures are more prone than others to spontaneous combustion.
However, Dr. Bar-Imlah strenuously denied such a claim. "The finding that religion has absolutely no links to DSCs has been repeated by numerous studies, and is not under question, and for others to suggest otherwise is quite frankly dishonest."
The XYZ does not support conclusions that are in any way racist or xenophobic. Studies such as this one are reported on only for the purposes of informing our readers, and XYZ assumes absolutely no responsibility for the deplorable conclusions its readers may draw as a result.
The paper can be found in its entirety here.