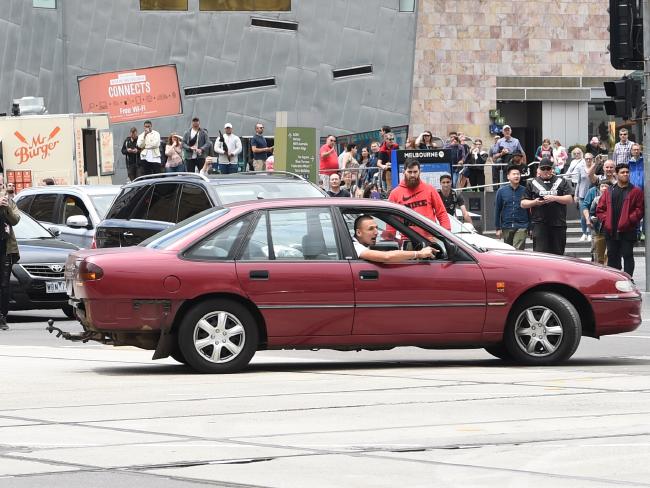 A 26-year-old man has deliberately rammed a car into pedestrians in Melbourne's CBD today. Three people are confirmed dead, and at least twenty injured, including children. The alleged offender has been arrested and shot by police, and the incident is over.
What we know is that he did donuts at the corner of Flinders Street and Swanston Street, one of the busiest intersections in Melbourne, drove up Swanston Street, before turning down Bourke Street Mall. He was eventually stopped and arrested by police on Bourke Street, somewhere near William Street.
Some media are reporting that the alleged offender is of Greek descent, although they acknowledge that this is not confirmed. Police have said that the incident is related to an earlier stabbing in Windsor. A police spokesman said that the incident is not terrorism-related, and that the alleged offender has a history of family violence, drug abuse and mental health issues.
In the following video from New Zealand website Newshub, a man who claims to be an eyewitness claims, at approximately 3:30, that Middle Eastern music was blaring from the car, and the man was yelling "Allahu Akbar".
https://m.facebook.com/story.php?story_fbid=10155059050818606&id=97548423605&_rdr
My own reputation, and the reputation of the news organisation I represent, The XYZ, is of one whom spares no time in pointing the finger at Islamic terrorism, and rightly so. But as of yet, I am unprepared to call it. The M.O. of Islamic terrorists is to not waste time, to provide no warning, to attack suddenly and decisively. Instead, the driver did burnouts in the middle of an intersection full of people, with people crowding around providing perfect targets, before, admittedly, deliberately ramming other pedestrians with his car.
There are hundreds, if not thousands, of witnesses to this. More evidence will come out. There were a lot of people at that intersection. If you want to get the real story, don't watch the MSM. Real people are talking to real people on the internet, and they are bypassing the MSM filter.
It's your XYZ.