Children's toy company Mattel have announced the latest incarnation of Barbie, who despite ongoing spurious charges of sexism and other leftist pet 'isms', is in actual fact the most diverse and successful character in the history of toys.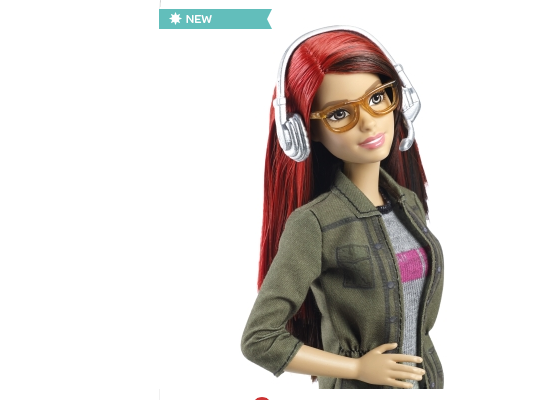 The latest Barbie sees the doll go full geek in what has been named "Game Developer Barbie."
Described as "career of the year" on Mattel's website, "young techies can play out the creative fun of this exciting profession."
"Barbie doll looks casually cool in an industry-inspired outfit. Her t-shirt breaks the fashion code with a hip graphic; faded denim pants are tech trendy; a green jacket is fashion-forward with sleeves rolled up; and white sneakers.  Vibrant red hair and bright matching glasses complete the authentic look. A laptop (with real game code graphics), tablet (with the game she is working on) and silvery headset expand the storytelling possibilities and career opportunities. Inspire young gamers with this doll who is at the top of her game!"
It is believed that a talking doll version features Game Developer Barbie asking if you have played Dragon's Blood 6, then when you say yes, she says she can't believe you would play that when Dragon's Blood 5 was so much better, because although the new one has better graphics, the story line and manoeuvrability sux since the new story developer came on board. She then explains the factory process used to construct the new VR headset. Seriously, the sound byte literally goes for, like, 12 minutes.
A dinner party set is included where one uncle asks Game Developer Barbie, "so how is that admin job going?" and another asks her "so how do you support yourself these days?"
Women-in-gaming experts [I didn't even realise there was such a thing] have praised the new computer geek Barbie as it will help to break down barriers for women in what is still a male dominated profession.
Curtin University's Dr Kate Raynes-Goldie stated to the ABC that "We have a real problem where right now 50 per cent of gamers worldwide are women, but only 10 to 15 per cent of those who make the video games are women."
A limited edition box set comes with an IT blogger Ken featuring bruises all over his body, from where Game Developer Barbie has punched him for not gushing enough about her game in his latest article.
Barbie, the champion of progress notches up another victory for equality. But stay tuned for next year's launch of Caitlyn Jenner 'transgender' Barbie, and Australian Greens Larissa Waters Barbie.
I can't wait.
XYZ
This just in… Mattel promise that if you call in the next 20 minutes, they will send a slab of diet coke, a can of blue hair dye, and a box of cheezels to your house.