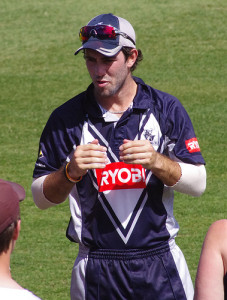 Today's water-cooler conversation around Australia has to be that Glenn Maxwell's return to the Australian Test team will occur sooner rather than later. Maxwell appears determined, both in word and deed, to shed his image as a big ego, trick-shooting one-day cricket specialist, in order to perform again at the highest level.
Chasing 296 for victory against India at the MCG last night, Maxwell came in at 3 for 150, and steered Australia home to score 96 from 83 balls. He lost his wicket trying to hit the winning runs, which was left to James Faulkner.  The inningss secured not only the match, but an unassailable 3-0 lead in the 5 match One Day series between Australia and India.
While containing his signature big hits and switch hits, and at a strike rate of over 100, the innings was noteworthy for the fact that he showed true grit and concentration under intense pressure and against good bowling to score crucial runs for Australia when it really needed him. India really pressed Australia in this match. Its fast bowlers Ishant Sharma and Umesh Yadav were bowling with pace and venom, while its spinners were extracting some turn from an admittedly flat drop-in pitch. Had Maxwell fell, Australia could well have failed to reach another massive Indian total.
As such, the quality of the innings and the character exhibited was different to some of Maxwell's other notable innings, such as his astounding, record breaking 102 from 51 balls against England in Sydney last year. What Maxwell demonstrated was that he possesses the temperament and mental strength to bat successfully in Test cricket.
Moreover, Maxwell has made it explicit that this is what he intends to do, going so far as to attempt to distance himself from his nickname – "the Big Show." Interviewed after the match, Maxwell stated "It's going to be a long process to show that I'm ready for the longer version and hopefully in the next few years I can find a way back to that Test team," noting that he hopes a few more innings like the one he played last night can "change a lot of people's perceptions." So Maxwell understands that it will take a weight of runs, made in a range of conditions, to break back into the squad. You might say then, that even before last night's innings, he has taken the first step.
Two notable instances in the recent decades of batsmen who showed brilliance in the one day arena but failed to capitalise in Test cricket spring to mind – Michael Bevan and Andrew Symonds. Although both perhaps lacked something in technique, the mindset required for Test cricket appeared to be their undoing – without a licence to attack ruthlessly, or the need to chase down a target, both appeared stuck in no-man's land at the crease.
But Maxwell's fate is not tied to theirs.  He averages 41 in first-class cricket overall, and is averaging 50 this year for Victoria. All signs suggest that he has learned from his past failures, is wary of the potential pitfalls of past greats, and is determined to forge his own path in the Test arena. I believe he should be given this chance as soon as possible.
Photo by NAPARAZZI