The shock beheading of a crocodile has been reported to the Australian Federal Police this week after a crocodile's body was discovered by park rangers under a bridge on the Arnhem Highway.
Evidence from an AFP forensic investigation suggests the crocodile was first shot with a gun an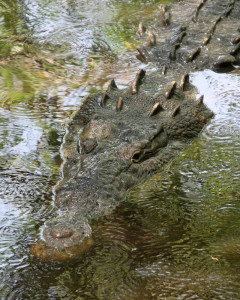 d then beheaded.
A spokesman for the Federal Police stated that "any attack on animals is not tolerated, but to have someone attack a protected species like a crocodile in one of our national parks in this manner is sickening."
Under Australia's Environment Protection and Biodiversity Conservation Act, killing a native species carries a penalty of up to two years' imprisonment, a fine of $180,000, or both, ABC news reported today.
Meanwhile in the Middle East, humans are being beheaded or having limbs removed on a daily basis.
This is not satire.
The XYZ.