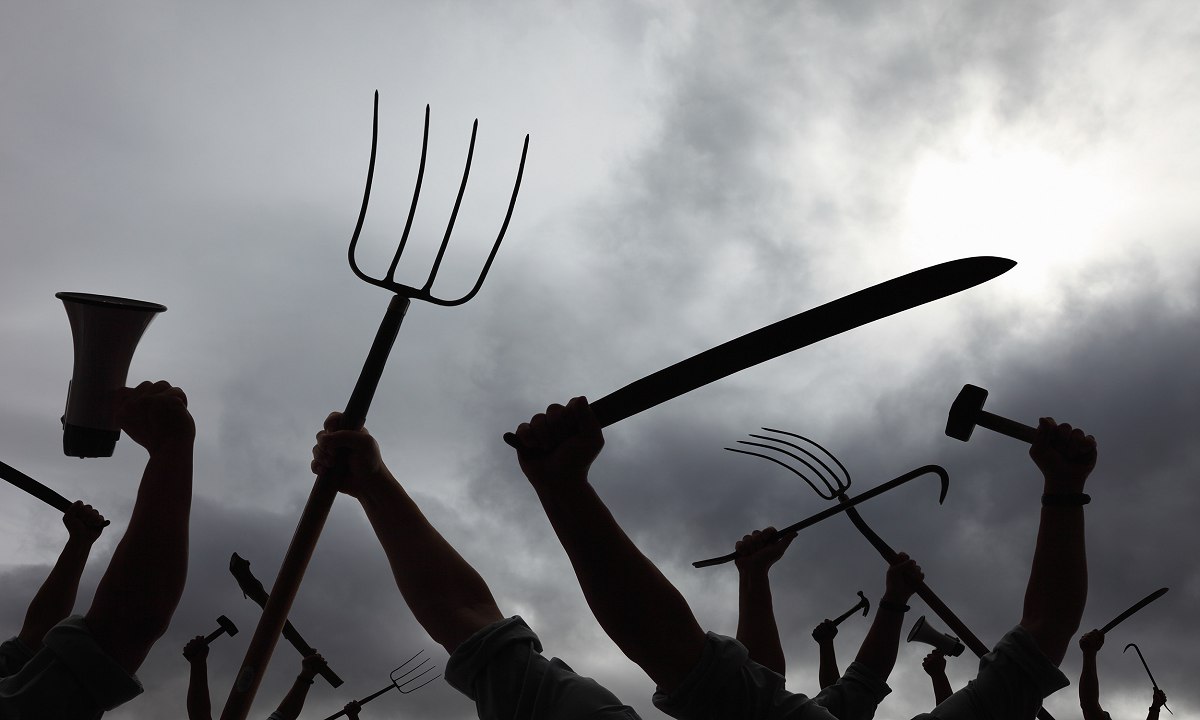 From MacroBusiness.
Leith van Onselen
Big Australia was – is – an undemocratic project. Rocket-fuelled after a year of Albanese Labor.
The people might never get a say. Could anything else ever disrupt the project?

Over 2005-06, John Howard near-doubled net migration. His opponent Kim Beazley caved.
Australia's come-n-get-it mining boom was perfect cover, for a migration boom. Scout's honour, they wouldn't forget local training. Unless they did. Anthony Albanese updates the bedtime story:
Albanese to focus on skilling up Australian workers instead of relying on migration.
Howard's Choice has now percolated through six prime ministers. Six federal elections. Never consulting voters. Pauline Hanson tried. The Senate jeered.
Once in power, Albanese fabricated an immigration "consensus" via last September's Job and Skills summiteers. His democracy-of-stakeholders.
Come December, I rated his immigration deluge virtually unstoppable. Named five contributory factors – all intensified now.
The Big Australia silo is stronger than ever.
Political donors and stakeholders, overlapping with the graduate classes, revel in overpopulation.
Silo defectors are rare. Easily neutralised. Parliament's a rubber stamp. Backing overpopulation is a no-brainer for party pre-selection.
At Budget-in-Reply, Peter Dutton linked the extreme rental crisis to all-time high immigration. This common sense set off noisy klaxons.
Incredibly grubby, shrieked The Guardian, referring to Dutton – not the downtrodden homeless. Comfortably-housed pundits volleyed the so-called dog whistle all round Australia.
Seventeen million voters aren't in the loop.
The "Big Australia" of the Coalition Government and Rudd-Gillard was onerous enough. Albanese "Huge Australia" leaves it in the dust.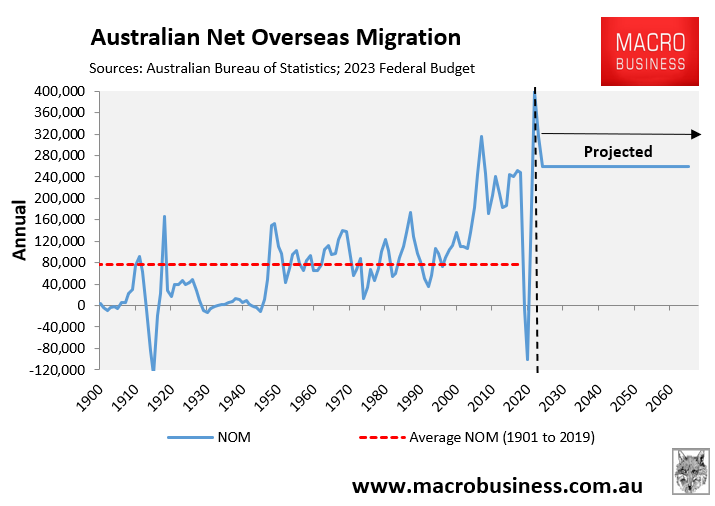 He just won British accolades from The Economist. Apparently, endless quantitative-peopling is best practice, for predatory rich-world nations. Shucks, Jeff Bezos can source us a Planet B.
Too bad, if a sizeable Australian-voter survey wants low migration. Naturally, Clare O'Neil's ex-Treasury migration reviewer preferred that suss Scanlon Foundation survey.
Tech CEO Matt Barrie lambasted Huge Australia at a Sydney 2050 population-booster summit. Media disappeared him. Except for a News.Com outlier, in whose poll punters disliked Huge Australia.
Fun fact, even the Guardian Essential poll sniffs the voter breeze, with 59% wanting an immigration cap until we have sufficient affordable housing.
In Guardian-speak, what means a "cap"? 235,000? Definitely not 75,000. Or zero.
Affordable housing? Earth to Guardian – that pony's gone for petfood.
The population-environment gulf has never been wider.
Since United Nations net zero emissions debuted, over 2015-18, population policy has jumped the shark.
Enthralling net-zero aspirations don't fix age-old problems, nor this fragile continent's crashing environment and constrained carrying capacity.
Treasury, not Tanya Plibersek, is our ecosystem czar. Their October Budget included "boutique" environment measures.
Never mind mass migration, land-clearing, habitat destruction, species crashes, water insecurity, over-reliance on extractive revenues. She'll be right, bloke.
Now, we have deceptive climate "law" and a dubious net zero "authority". Scientifically, our rocketing population-growth and ecosystem-overshoot stymie "net zero".
The May Budget published bigger environment measures and bigger population/climate boasts: "net zero industries" and "renewable energy superpower". Part industry policy, part cargo cult.
As usual, mass migration trumps wages and welfare.
Albanese's "million extra in new homes before 2030 is nixed by the near certainty of 1.5 million extra in net migration".
That was December. Before our Marrickville Militant flambeed Australia's education/training standards for bro Narendra Modi.
Capacious Extremis, we're to have virtually no-limit immigration from the world's most populous nation.
Universities? Counting the overseas-student loot. Unions? They're a bit quiet.
Contrast this with the Bob Hawke era. Our inveterate punter backed migration – but also training. He inaugurated traineeships for Young Australians. Anyone remember who they are?
Wealth and inequality are thrashing labour.
Courtesy of Big Australia, we've had our worst productivity growth for decades.
Crude GDP growth, yes. But per-capita GDP and real wages are going backwards. Rental affordability is plummeting, alongside urban amenity. Energy shocks are also worsening.
Way to go, Treasurer. Whispers the top 10%. Amen. Chip in the Future Fundguardians.
The immigration hogwash keeps on escalating.
After December, the immigration numbers soared. The hogwash keeps up. Sadly, the homeless can't.
As early as 2020, the usual suspects concocted that "recovering lost migrants" yarn. Now, Treasury is fibbing our "smaller and older" population, gaslighting voters.
Treasurer swerved. From 235,000 to 300,000 net migration. To a record 350,000. Possibly even 400,000. Media snoozed.

Adapting Josh Frydenberg's abortive 2019 targets, Albanese had the best yarn. In his twist, the all-time migration is "much lower than it would have been and was predicted by the former government".
Treasury and Guardian gloss these humungous numbers as a "temporary surge".
Meantime, O'Neil clutches another "Yes Minister" report, supposedly addressing the grotesque immigration exploitations.
First, crank immigration visas sky high. Tough cop cases the crime scene. Cue crocodile-tears from Scanlon supported "think" tank. Finally, bring on next rort.
Good government starts today, eh? The beltway journalists endorse Albanese for cautious activism and shrewd management. On selected fronts, maybe. On population, environment, equality? He's at war with the people. 
The homeless are camping out, including his electorate. "Competition" Minister Andrew Leigh PhD goes on state television to diss them. What of Albanese's promised mature immigration debate? Must have wagged school that day.
My sober view? Voter Democracy is not in the race, up against a proven Group One stayer:
Huge Australia – harnessing power, groupthink, corruption, intimidation, and lying. 
So, what else might avail? See my despondent list of potential disrupters.
Stakeholder insurgency.
Stakeholders rule, OK? They egged Howard on.
These stakeholders are unlikely to flip: Treasury, Reserve Bank, political parties, state/city governments, developers, industry and media, "think" tanks or "environment" groups, universities and unions, organised religions.
Ironically, News Corp Australia isn't totally wedded to Huge Australia.
At long odds, others might defect: a political party or industry magnate, a renegade state, isolated media, rare "think" tank, sprinkling of academics or unions. Not really a critical mass.
Escalating disasters.
Had we but crafty and caring leaders, fire, flood, plus COVID was their window to quietly reverse overpopulation. Instead, blokes Morrison and Albanese doubled down.
Could their game unravel as global conflicts and "natural" disasters motor on? Could Treasury deity – population and GDP "growth"- become unbearable to contemplate? Even amongst the elite?
Exceptional leader.
John Curtin cared. Gave up his life. A third of Perth stepped out for his farewell.
His wartime 1940s featured near-zero immigration. UN and GDP were scarcely a thing. Even had they been, he would've kept his own people in mind.
Post-war, Robert Menzies liked migration – also manufacturing.
Paul Keating piloted neoliberal economic "reform" to let the "market" decide. Now, manufacturing is shot. Earthly booty still dominates our tradeable sector. Along with fake education "exports".
Could future Australia ever locate another national leader? To put voter welfare and living standards ahead of raw population and GDP? Hell of an ask.
Most future leaders will already be university-trained. Routinely, they are well-heeled professionals or lifelong apparatchiks.
Heck, I'd about take Detective Senior Constable Dutton. If he staked his career on sub six-figure immigration. He won't. Can't.
Civil unrest.
Aussies used to be rambunctious rioters in miner/union heydays. Sometimes, 'twas racist. Still can be – Cronulla riots.
Since federation, inclusive institutions plus earthly loot have cocooned us.
The dismissal of Whitlam attracted little violence. Even now, Leigh is foisting King Charles onto my small change. In London, Albanese tugged the forelock. Jolly respectful, recalling how Prince Charles rogered Labor.
Even reclusive me, I attended the women's #March4Justice. Environmental agitation's another biggie. Like the Franklin River blockade, or logging protests, this can help.
But woolly "climate action" protest is dispiriting. Australia has diverse vectors of environmental stress and decline. Compared with reversing emissions, low population growth is simple and effective.
Resentment over Huge Australia won't go away. Not yet do I foresee our gilets jaunes storming town hall for the attractive ethics of us not being an Immigration Raptor.
International pressure.
Stop laughing already.
Australians have infiltrated Forestry Stewardship Council, pressuring our "sustainable" logging.
The world applied pressure over the heritage listing at the Reef.
The European Union threatened Ministries Morrison, with carbon border taxes.
But Albanese climate-speak soothes. Canadian bro, Justin Trudeau, hyped our hero's "ambitious climate action". Some of that is promising – renewable energy, electrification. Less so "net zero".
The world is less informed or caring, as regards our post-1788 war. Upon indigenous peoples and incredible biodiversity is our big population and big bulldozers.
It's hard to imagine the EU or USA exploring the unhelpful connections. Between Australia's carbon and population fetishes, and world environment. Or, justice for women in developing nations.
Why should other rich nations seek just desserts for Australian voters? It's our lookout.
From MacroBusiness.