London Police have confirmed reports that environmental activist group Just Stop Oil has damaged priceless works of modern art in a "puerile" overnight raid on the Tate Modern. The group has previously defaced a Picasso, a wax statue of King Charles III and glued themselves to public thoroughfares.
XYZ News understands that in some rooms of the gallery, dildos were plastered over the entire surface area from floor to ceiling.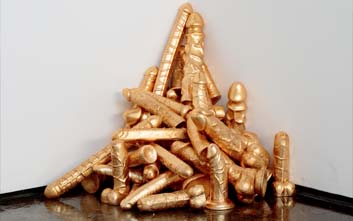 JSO activists also drew or panted explicit depictions of human genitalia over the walls, and in some instances painted their own schoolboy-tier depictions of sexual intercourse between humans or between humans and animals.
On other levels, public bins were emptied and the contents strewn over the floor, and investigators also found urine, menstrual blood and human faeces in place of what are assumed to be stolen artworks.
A spokesperson for the Tate Museum of Modern Art expressed xer concern over the cultural impact of the raid:
"Art is a method by which humanity can engage in rememberings representing the confluence of time and space, as well as transmitting the ideas, thoughts and notions which motivate a collection of individuals to interact with their environment. Such wanton destruction is thus an assault on our sense of being and beings."
We had no idea what xe was talking about so we asked the cleaner:
"Postwar artists have worked incredibly hard to deconstruct Western-centric notions of beauty, merit and value as a means of subverting Whiteness and ultimately overthrowing heteronormative patriarchy. Thus we can only view such an attack as reactionary and an attempt to instal some kind of Handmaid's Tale dystopia.
Experts believe the entire structure may need to be demolished, along with the artworks and employees contained within.
Subscribe to XYZ on Telegram, Bitchute, Twitter and Gab.