You're only ever one dose away from being unvaccinated.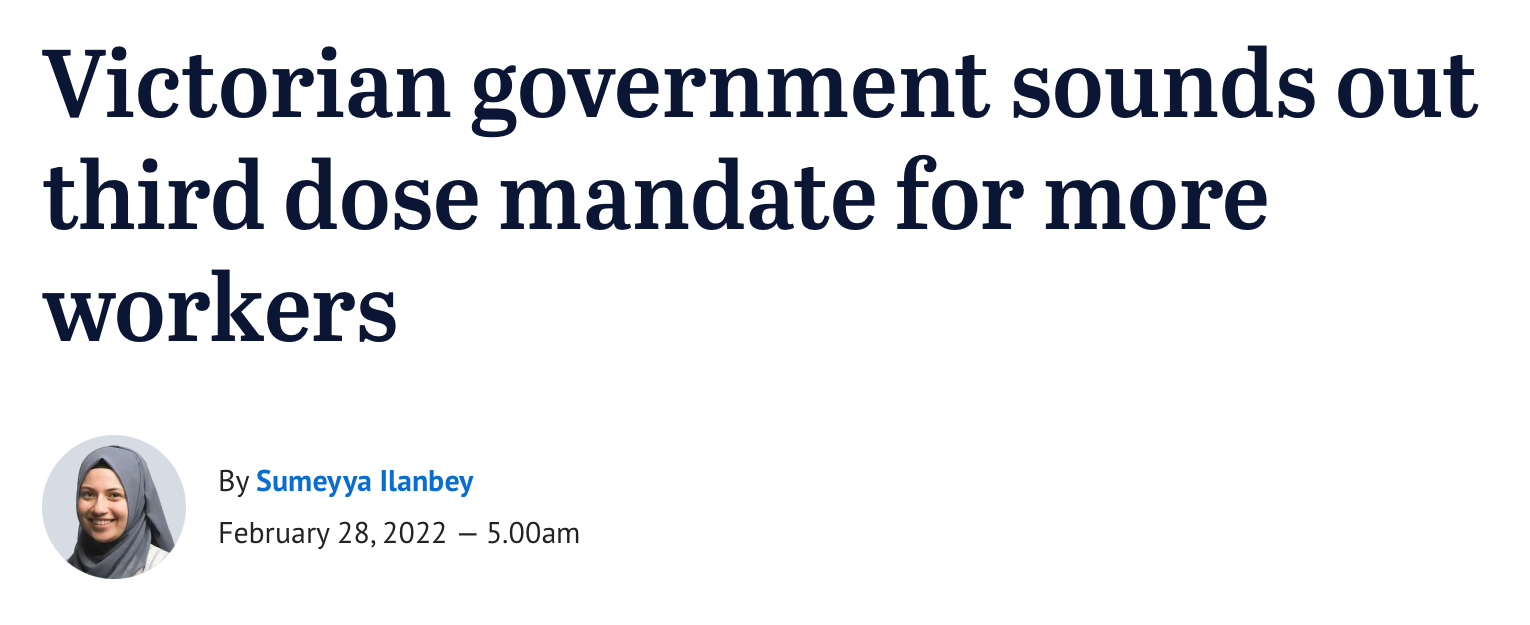 At least frumpy muslimas are finally getting the representation they deserve in the Australian Lying Press:
The Andrews government has been discussing with business groups the possibility of mandatory COVID-19 third vaccine doses for workers in a range of industries to protect against future waves of coronavirus infections.
The Franchise Council of Victoria, the Australian Retailers Association, and Restaurant and Catering Australia have confirmed the Department of Jobs, Precincts and Regions has been seeking feedback from industry groups on how making the COVID-19 booster mandatory may affect their staff.
Last week the Victorian government and its journalist lackeys happily proclaimed an end to mask mandates, yet face masks are still mandatory in multiple situations. Far more importantly, you cannot get a job in this state without being double jabbed with an untested, dangerous vaccine, and the Victorian government is showing no sign of retreat on this front.
The discussions are occurring as the government calls an end to $450 payments to Victorians who miss shifts while waiting for PCR test results, with Industry Support and Recovery Minister Martin Pakula saying PCR testing is not a major feature of the "new phase" of the pandemic.
On Friday, Health Minister Martin Foley confirmed the government was working with business groups on ways to increase third-dose vaccination rates in the workforce, and said while there were no immediate plans for further mandates, "we don't rule it out".
"Employers more than anyone else, particularly in the hospitality industry, recognise that if they want to stay open, they've got to work with their workforce to get those levels up as high as possible," Mr Foley said.
This could very well be a case of the government believing its own bulldust. Employers are struggling to find workers because the proportion of vaccinated Victorians is likely far lower than claimed in official figures. The British government has already been forced to admit that it bumped up its own vaccination rates by counting second doses as first doses. Do you really trust the Andrews government to not play similar games?
A well-placed health source who was not authorised to speak publicly, last week told The Age the mandate for workers was still being considered ahead of what could be a horror winter of COVID-19 and influenza infections.
It is mandatory for workers in healthcare, aged care, disability, emergency services, correctional facilities, quarantine accommodation and food processing and distribution to be "up to date" with their vaccination doses. Presently, this means they require a third dose to work on site, and must have it in a set time frame once they are eligible for it.
As recently as the past week, Department of Jobs officials, who regularly meet with business groups about restrictions, raised mandatory third doses and the impact they would have, in a sign government officials are still probing the prospect of third dose mandates and seeking feedback.
In much of the West, the war in Ukraine is being used as a distraction for governments to wind back the Covid Tyranny and hope that everybody is too scared of Russia to organise into rabid mobs and go a little 1789.
Here in Victoria, the War in the Ukraine appears to be an opportunity for the Andrews government to just keep the Covid Tyranny rolling.
Subscribe to XYZ on Telegram, Bitchute, Patreon, Twitter and Gab.