Russia did this near Kharkiv overnight:
Russian MLRS systems paving bombs at Kharkiv tonight, near the Ukrainian-Russian border.#Russia #RussiaUkraineConflict #russianinvasion pic.twitter.com/qFmhZ3laKq

— XYZ (@itsyourxyz) February 24, 2022
Meanwhile, the Australian government is still calling them names:
Peter Dutton has unloaded on China for refusing to exert its influence and encourage Russian President Vladimir Putin to stand down his forces.
Russian forces overnight captured the exclusion zone around the Chernobyl nuclear power plant as Mr Putin continues his assault on Ukraine.
Chernobyl is just on the other side of the lake from Kiev, Ukraine's capital.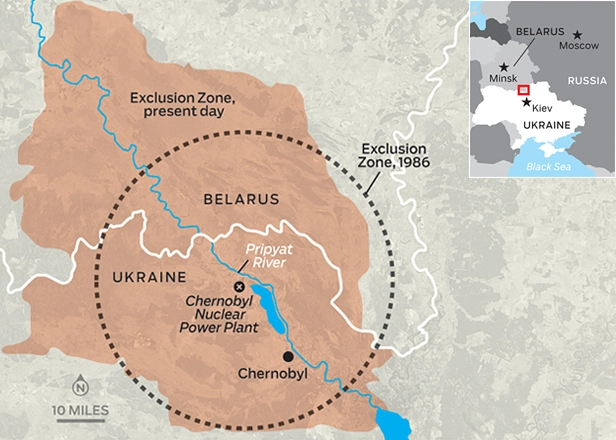 Speaking with Nine, the Defence Minister urged Beijing to join with the world in condemning the violence.
"There's one leader in the world frankly who can exert pressure on President Putin. That is President Xi," Mr Dutton said.
It's kinda like asking the Soviet Union to exert pressure to stop the invasion of Poland in 1939.
"China and Russia have entered into this frankly unholy alliance and President Xi has a lot of power he can exert over President Putin."
It is worth noting that Australia is in an unholy alliance with the WEF:
This is the Prime minister of Australia being congratulated by the WEF for introducing Digital ID by a using Coronavirus as an Excuse.

This was his priority not the virus #MyGovID

Look at disgusting smirk on his face! So proud making his Paymasters happypic.twitter.com/hjoUm3DsvI

— Syrian Girl 🇸🇾🎗 (@Partisangirl) January 22, 2022
"He has chosen not to do that. The world should observe that very closely."
Mr Dutton also denied the he had been caught off guard by the speed of Russia's advancement.
"This is exactly what the military planners predicted," Mr Dutton said.
So he's saying they expected Ukraine to get trounced. The following analysis of Russia's advance comes courtesy of Counter Intelligence Global on Telegram:
Igor Strelkov's summary of the first day of operations, published a few hours ago
The offensive was completely unexpected and the missile strikes established immediate Russian air and naval dominance.
There are four main theaters of ground operations.
1. Southern Front: Russians launched an offensive north out of Crimea. There was a naval landing at Genichensk, and helicopter landings at Kherson and Novaya Kakhovka. The Ukrainian front collapsed immediately, and now the enemy's army is not present in this area at all. Bridgeheads have been created across the Dnieper for further advances. Attempts by the Ukrainians to form a front are discouraged by airstrikes. Russians reached Melitopol during the night.
The main strike groups will continue their offensive along the Dnieper, to the cities of Zaporozhye and Dnepropetrovsk, towards Nikolaev, and in the rear of the army group in Donbass.
2. Donbass Front: The DPR is conducting a limited offensive towards Volnovakha, in order to threaten Mariupol and link up with the Southern Front. This has tied up thousands of Ukrainian troops.
The LPR offensives across the river have no real strategic objective besides tying up the Ukrainian forces to prevent them from being sent to Kharkov, and to keep them pinned down and encircled. They will continue heavy combat tomorrow to prevent the enemy from withdrawing.
3. The "Russian Front:" Sumy, Konotop, and almost the entire Sumy province were captured; the enemy either did not intend to resist, or had insufficient numbers. Progress is being made towarde Chernigov and Russian units continue to advance deeper and outflank the Ukrainians resisting at Kharkov. Russians cannot allow Kharkov to remain under enemy control, and battles will continue to capture it tomorrow.
4. The Kiev Front: The airborne operation to capture the Gostomel airbase was a complete surprise to Ukrainian command. Now, these forces must link up with those crossing the border at Chernobyl, in order to prevent Ukrainian counterattacks. If the connection is made soon, the fate of Kiev is clear.
In general: Simultaneous attacks in many directions have made the Ukrainian forces the weaker sider on every front. Thousands of them are sitting in Odessa, far away from any battlefield. Thousands more are deployed on the Belarusian border and not seeing any combat.
– Igor Strelkov
So, back to China. Given the West dithered into the War in Ukraine and has continued to dither, it will probably dither if China chooses to launch a full scale invasion of Taiwan too:
TAIPEI, Feb 24 (Reuters) – Taiwan's air force scrambled again on Thursday to warn away nine Chinese aircraft that entered its air defence zone, Taiwan's defence ministry said, on the same day that Russia invaded Ukraine, a crisis being watched closely in Taipei.
Taiwan, which China claims as its own territory, has complained of regular such missions by the Chinese air force over the last two years, though the aircraft do not get close to Taiwan itself.
The number of aircraft involved was well off the last large-scale incursion, 39 Chinese aircraft on Jan. 23, and since then, such fly-bys have been sporadic with far fewer aircraft.
The ministry said the latest mission involved eight Chinese J-16 fighters and one Y-8 reconnaissance aircraft, which flew over an area to the northeast of the Taiwan-controlled Pratas Islands at the top end of the South China Sea.
Taiwanese fighters were sent up to warn the Chinese aircraft and air defence missiles were deployed to "monitor the activities", the ministry said, using standard wording for how Taiwan describes its response.
Taiwan has been warily watching the Ukraine crisis, nervous that China may try to take advantage to move on the island.
While Taipei has not reported any unusual movements by Chinese forces, the government has increased its alert level.
So far it appears that China are just continuing to prod. Naturally, events in China will be worthy of close attention.
Subscribe to XYZ on Telegram, Bitchute, Patreon, Twitter and Gab.