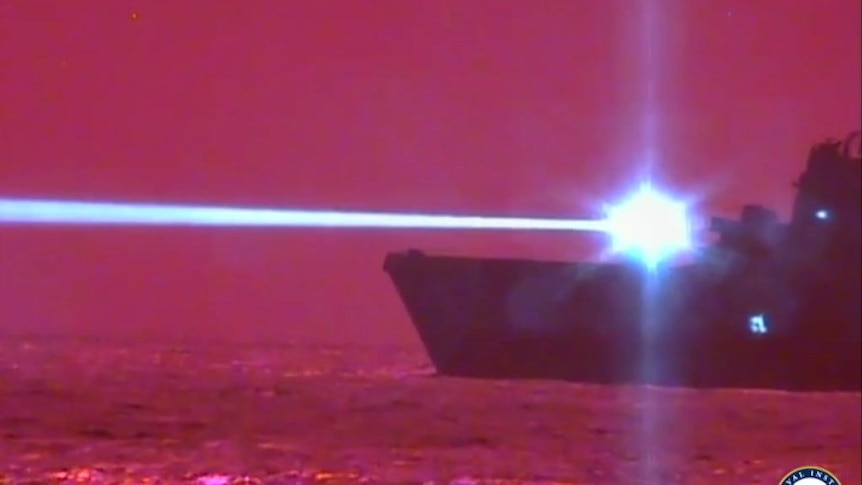 Pew pew.
Prime Minister Scott Morrison says a Chinese military vessel shining a laser at an Australian maritime aircraft was an "act of intimidation" that put Defence Force lives at risk.
Defence says the incident occurred at 12:35am on Thursday, when an RAAF P-8A Poseidon detected a military-grade laser illuminating the aircraft while in flight just north of Australia.
XYZ News has obtained exclusive footage of the incident.
Up to 10 personnel were on board the aircraft when the incident occurred.
The Department of Defence says the Chinese vessel, in company with another People's Liberation Army-Navy (PLA-N) ship, was sailing east through the Arafura Sea at the time.
Mr Morrison said the laser could have disabled the aircraft, putting the entire crew at risk.
"I can see it no other way than an act of intimidation, one that was unprovoked, unwarranted and Australia will never accept such acts of intimidation," he said.
"It was a reckless and irresponsible act and it should not occur.
"We are raising those issues directly through the diplomatic and defence channels."
Defence Minister Peter Dutton told Sky News the incident was an example of "aggressive bullying" by the Chinese military.
"It can result in the blindness of the crew, it can obviously result in damage of equipment," Mr Dutton said.
"It's a very aggressive act and that's why it's right we call it out."
Imagine if we lost a war against China.
Our suburbs would become full of Chinese colonists. They would gain ownership of our vital infrastructure and key resources. Our politicians would become their puppets and would likely implement Chinese-style responses to public health emergencies, such as placing restrictions upon movement, mandating the wearing of personal protective gear and the taking of vaccines, and harsh penalties for those who refuse to comply.
The internet would become less free, with those who breach social norms or who express unacceptable views facing ostracism, sackings, loss of access to financial institutions and even jail. The media would become an instrument of government propaganda and it would be impossible to know what was real and what was an illusion.
Losing a war to China would completely change our way of life or something.
Subscribe to XYZ on Telegram, Bitchute, Patreon, Twitter and Gab.