This is good news, but extremely suspicious.
Victoria Police officer finally charged over brutal assault.#Melbourne #Melbourneprotest #lockdown #COVID19 pic.twitter.com/BNRCSFeJ5G

— XYZ (@itsyourxyz) January 22, 2022
They finally feel safe to replay the footage over and over again:
A Victoria Police officer has been charged with assault after tackling a member of the public in Melbourne's CBD last year.
The senior constable allegedly assaulted a man at Melbourne's Flinders Street Station on September 22, following anti-lockdown and anti-vaccine protests that took place across the city.
Video of the incident, which circulated heavily on social media at the time, appeared to show a male officer approaching another man, who was talking to police, and tackling him to the ground at the train station.
A loud noise could be heard as the man's head appeared to hit the station's tiled floor.
Following a joint investigation conducted by Victoria Police and the Independent Broad-based Anti-corruption Commission (IBAC), it was concluded that the officer acted unlawfully.
He has been charged with recklessly causing injury, unlawful assault and common law assault.
It took four months to figure this out. They could have done it in four minutes. All they had to do was ask some very simple questions:
Had the man committed a violent offence?
Were officers genuinely concerned that he was about to commit a violent offence?
Maybe you could ask a few more. I came up with those two questions and just ran out of ideas for anything more. I mention this because I had a conversation with somebody about this footage way back in September.
You know, four months ago.
I said it was an example of police brutality against ordinary Victorians. He defended the actions, saying we didn't see what happened beforehand.
Well, as I have said, all they had to do was ask a couple of very simple questions and they could have found that out, right back in September.
But they waited until January. Word is that a lot of pressure was placed on the victim to keep quiet. It is highly likely they knew exactly what happened pretty much as soon as it happened, but they reasoned it was safer to delay announcing it for a few months to let the situation cool down.
Let's refresh our memory about what was happening in Melbourne back in September. Back then, the entire city was setting a record as the most locked down city in the world. Unarmed peaceful protesters who opposed this totalitarianism were shot at close range with bullets:
Protester says "You wouldn't do that" moments before Victoria police fire on peaceful protesters. #Melbourne pic.twitter.com/gpijjsUoJy

— XYZ (@itsyourxyz) August 21, 2021
An old lady was pushed over, had her hip broken, then pepper sprayed on the ground:
This is an elderly woman. pic.twitter.com/7cwNmFyu0Y

— Caldron Pool (@CaldronPool) September 18, 2021
Police chased down kids in a park:
Police moved in on Alexandra Parade. Several arrests. Crowd now dispersed, but saying they might gather again. pic.twitter.com/Yl2JspUePV

— Paul Dowsley (@paul_dowsley) October 2, 2021
A guy had the point of a rifle slammed into his spine:
🚨⚠️WARNING ⚠️🚨
GRAPHIC CONTENT
at Flinders St Station

When Shane Patton said they won't hesitate to use force

I think this was his vision 😬😬😬 pic.twitter.com/zpdLDa5ttL

— Dee🌸 (@_Dee_1982) September 22, 2021
They used rubber bullets again:
This isn't footage taken from Hong Kong or France or Ukraine – this is Melbourne, Australia.

Watch this video and tell me you still recognise this country, because I don't.

Police opening fire (with rubber bullets & tear gas) on protestors, with pedestrians & traffic nearby. pic.twitter.com/M4UkcH2jsQ

— Right Side 🇦🇺 (@rightsideaus) September 20, 2021
They deployed special forces:
They had their butts thoroughly handed to them by a handful of tradies:
Now the #tradies have forced the Riot Squad to retreat.#IStandWithTradies pic.twitter.com/a1s4NPJAtq

— XYZ (@itsyourxyz) September 21, 2021
They desecrated the Shrine of Remembrance by shooting kids in the back with more of those rubber bullets:
Police fire on protesters at the Shrine of Remembrance in #Melbourne.#Melbourneprotest #IStandWithTradies #VaccinePassport pic.twitter.com/t5c71fZgDE

— XYZ (@itsyourxyz) September 22, 2021
They even stormed a skate park:
Robocops march through a skate park.#Northcote #MelbourneProtesters #melbournelockdown #COVID19 #coronavirus pic.twitter.com/P56pn9Hovo

— XYZ (@itsyourxyz) September 24, 2021
Victoria Police were completely out of control. They were told by their superiors that they would back them no matter what they did. The Andrews government was desperate to crush any opposition, and the Lying Press had literally been bought off to toe the government line. Victoria Police received no constraints upon their actions whatsoever, thus they escalated the violence.
At some point, a brave advisor would have told Daniel Andrews that if the lockdown continued, Victoria Police would probably murder somebody. It is very likely that that this footage played a part in ending Victoria's lockdown a few weeks or months before Dan, or his handlers, intended.
Since the end of the lockdown, Victoria Police have continued their desecration of the shrine been trying to rebuild their tattered reputation.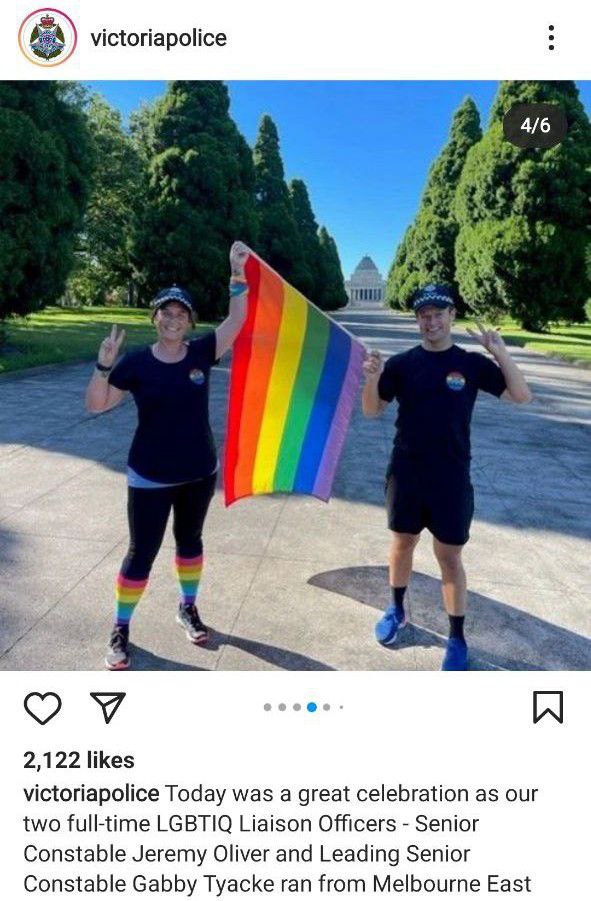 They're doing it wrong.
Subscribe to XYZ on Telegram, Bitchute, Patreon, Twitter and Gab.