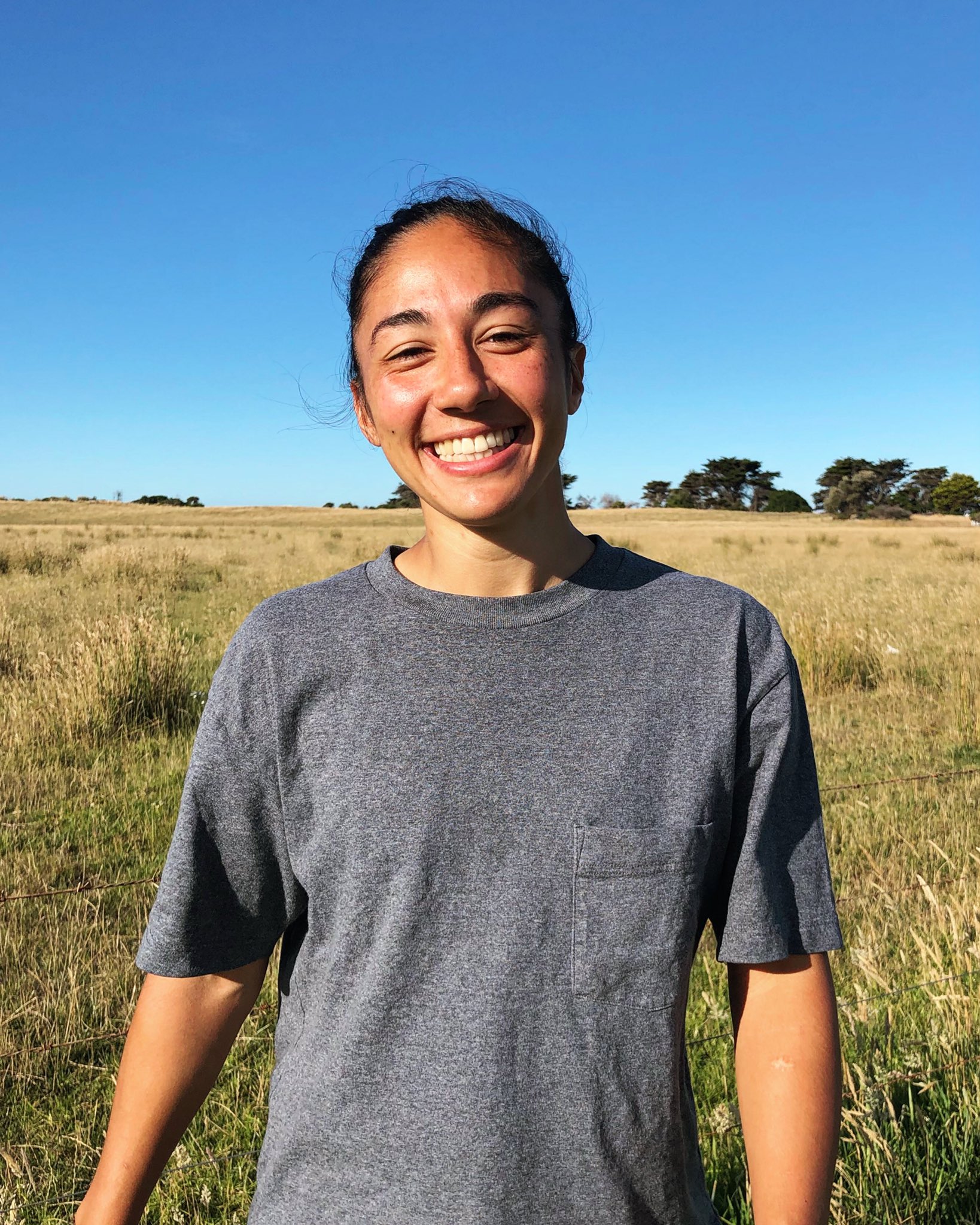 This chick is crazy:
Carlton AFLW star Darcy Vescio has revealed they are non-binary.
Vescio, 28, posted on social media on Wednesday evening explaining their decision to clarify their gender.
"Just popping in to let you know that I am non-binary," they wrote.
Her and who else?
"Sharing this feels a bit daunting but brings me a lot of warmth and happiness.
"I am most comfortable with they/them pronouns and will always respond to Darcy unless in trouble."
Vescio was an AFLW All-Australian in 2021, leading the league in goalkicking for the second time after kicking 16 majors in nine matches.
Pfffft… here's Gary Ablett kicking 14 goals against Richmond in one game.
Anyway:
They follow Gold Coast's Tori Groves-Little in coming out publicly as non-binary.
The idea of being non-binary comes from the growing understanding that gender identity can be fluid, and does not need to follow the traditional binary of man or woman, based on what the person themselves feels most comfortable as.
"There's two parts of being non-binary," Groves-Little told AFL Media last week.
"There's one where you're more gender-fluid where you could wake up and feel more feminine or one day you feel more masculine.
"And there's the second one, which I identify more as, is neither.
"It sucks medically when you've got to put male or female, it just doesn't feel right.
"It's just gender-neutral, I guess. I don't like to identify as either."
The 2021 Australian census included male, female and non-binary gender options, while treating sex separately to refer to which gender a person was assigned at birth.
The AFL updated its gender diversity policy last year allowing trans and/or non-binary players in the AFLW, state leagues and elite pathways providing they meet certain criteria.
This does not make sense. The "W" in AFLW stands for "women". Surely if a crazy woman tells everybody that she is not a woman, and the AFLW is serious about taking her feelings seriously, they can't let her play.
There is of course a giant, strapping elephant in the room: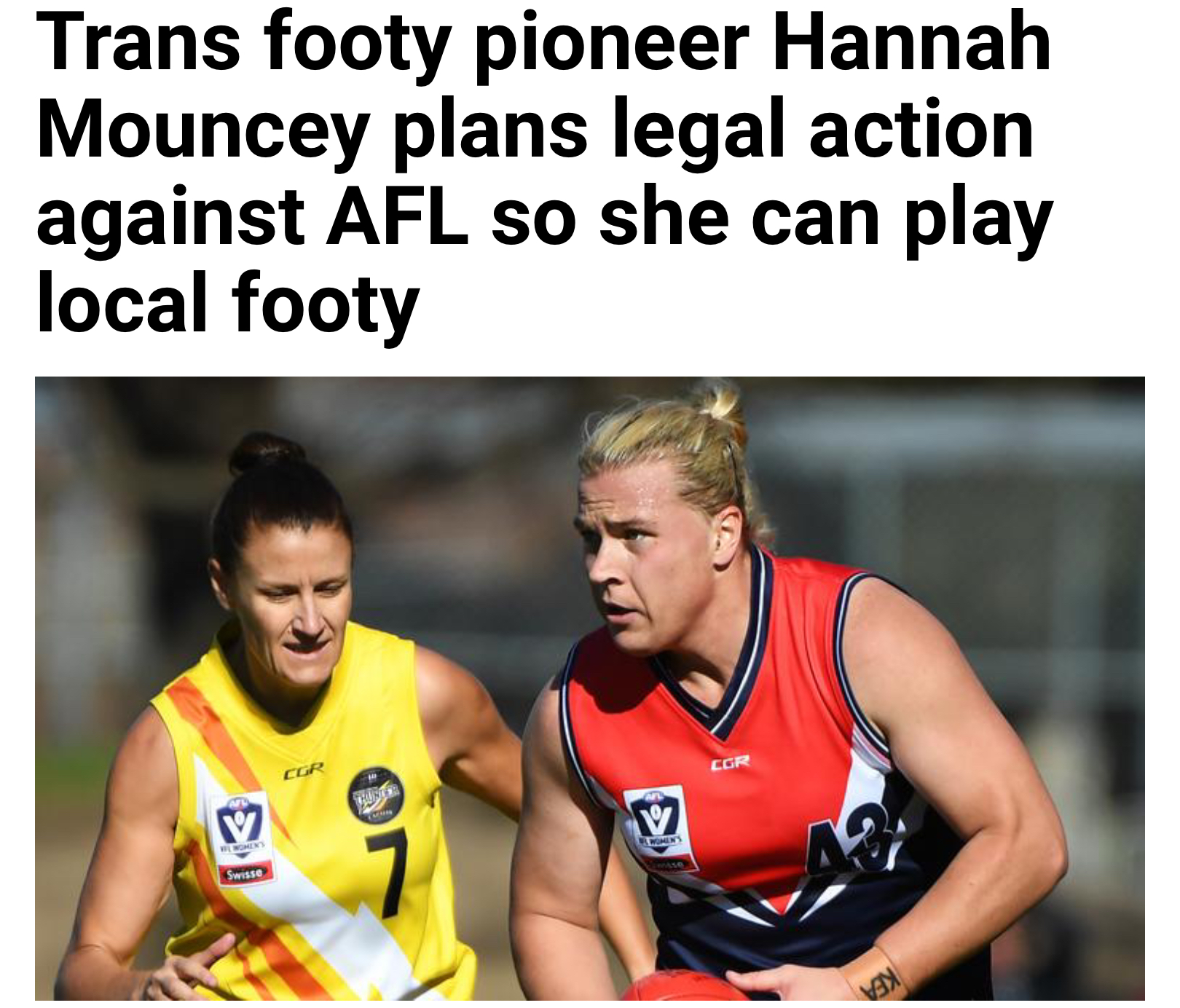 Callum Mouncey has caused all sorts of headaches for the AFLW because he wants to play with the girls but he is really, really big. If he was just a little scrawnier he might just have gotten away with it, but he is just too big for everyone to play make believe. Female footy players are already getting too many horrific breast injuries without an actual bloke shirt-fronting them in the spleen.
What this means is that a man who says he is a woman is not allowed to play footy with women, but a woman who says she is not a woman is still allowed to play with women. Thus for all their virtue signalling towards a fringe, Marxist "gender" theory, the AFLW has asserted the primacy of biological reality.
Don't expect this to make sense. The trans agenda has nothing to do with tolerance, diversity or logic. It is about breaking down our minds and our will so that we will accept any level of tyranny no matter how absurd its justification.
Subscribe to XYZ on Telegram, Bitchute, Patreon, Twitter and Gab.