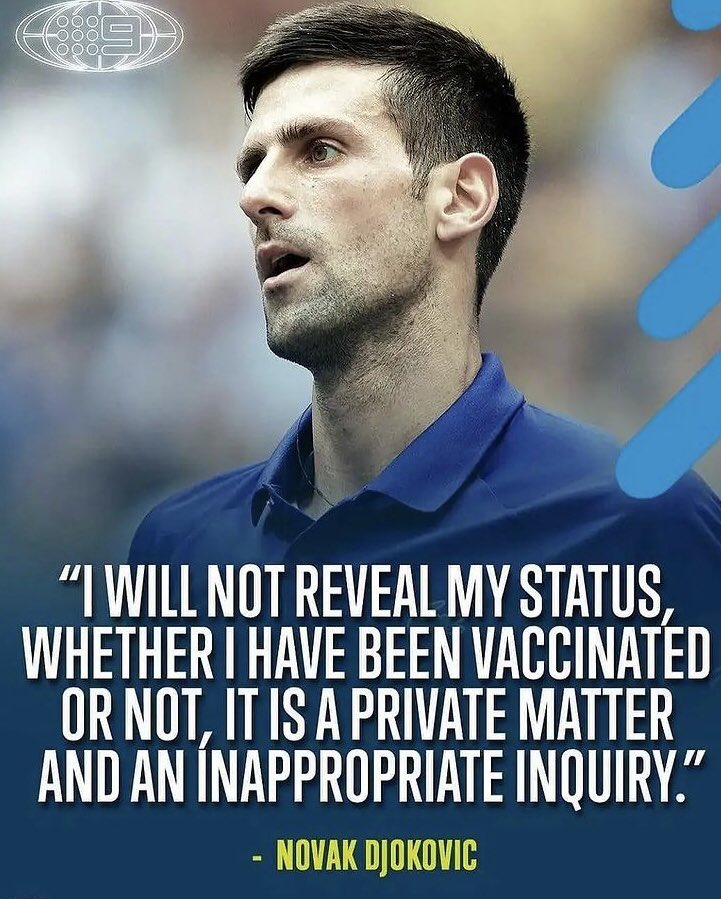 The Eye of Sauron honed in on Novak Djokovic in recent days after he dared to differ slightly from trusted sources and deny the science. You know you're onto a winner when Pirate Pete feels compelled to tell his dozens of readers that you are a very naughty boy.

Refreshingly, Djokovic's stance on refusing to state his vaccine status received support from another high profile tennis player:
US Open champion Daniil Medvedev has leapt to the defence of world No.1 Novak Djokovic amid the ongoing debate over Covid vaccinations ahead of the Australian Open.
Melbourne officials have confirmed that players will not be allowed to compete in the first Grand Slam of 2022 unless they have been fully vaccinated, with Djokovic among those who have expressed scepticism over taking the jab.
Now Medvedev has added to the debate, as he suggested everyone has a right to choose whether they want to accept a Covid vaccine.
"There is a lot of division in the society, not only in sports, but in the whole society, between those who have not been vaccinated and have been vaccinated and that's really scary." said Medvedev.
"That we fell for discriminating against someone if he wants to decide for himself one way or another, whether he wants to be vaccinated or not.
"I am very disappointed with the world society at this moment and the way in which the media transmit and put pressure on all people.
If you are a high profile tennis player, standing your ground works:
It looks like unvaccinated tennis players might be allowed into the country to play the Australian Open after all.
Government officials last week declared international players would be required to be fully vaccinated in order to be granted entry into Australia for the first grand slam of the year in January.
Victoria recently introduced a vaccination mandate for all professional athletes.
That threw the participation of some of the biggest stars in the world – namely Novak Djokovic – into huge doubt, with Djokovic continuing to refuse to reveal whether or not he has had the jab.
However a leaked email from Tennis Australia to the WTA has since emerged on social media which appears to suggest unvaccinated players will be allowed into the country after all.
Leading tennis writer Ben Rothenberg tweeted the email on Monday, which says unvaccinated players will be granted entry into the country but will have to quarantine for 14 days.
"Per email sent to WTA players just now, Tennis Australia has told WTA PC that fully vaccinated players won't be required to quarantine or bubble at all," Rothenberg tweeted.
"Unvaccinated players will be allowed to enter, TA tells WTA, but must do 14 days of hotel quarantine."
The email also states that unvaccinated players must record a negative Covid-19 test 72 hours before departing to Australia and submit to regular testing while in the country.
To decode what just happened:
Tennis Australia mandates the Covid vaccine.
Two of the sport's biggest stars speak out against it.
An email is leaked in order to start a process of quietly finding a way around the embarrassment.
As tempting as it might be to dismiss this as bread and circuses, and one rule for the working class but no rules for the elite, we can see this as a small win for everybody.
High profile people are expected to toe the line on the Covid narrative. When they don't, the system which elevated to them to stardom and wealth turns on them in an instant. Saying no to this kind of pressure means risking everything, and high profile people have a long way to fall.
If Novak can win, it will inspire others in a similar position who have access to millions of eyeballs to do likewise. This can assist in countering the Narrative of the Global Covid Regime.
Subscribe to XYZ on Telegram, Bitchute, Twitter and Gab.