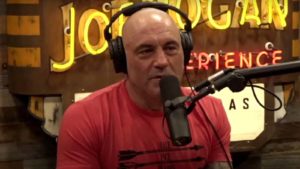 Joe Rogan has been diagnosed with Covid-19 but its not all bad news. He has taken a course of Ivermectin and made a full recovery.
"Throughout the night I got fevers, sweats, and I knew what was going on," Rogan said, adding that he isolated himself from his family once he suspected it could be the virus.
He threw "The kitchen sink" at the virus, including monoclonal antibodies, vitamin-drips and Ivermectin. He then explained that he really only had one bad day and that his recovery was quick after treatment.
Joe Rogan has been quite critical of lock-downs and vaccine mandates. He moved to Austin, Texas to escape California's draconian Covid-19 restrictions that have killed the comedy club scene. He has described California's approach to Covid as "tyrannical" and has been a strong supporter of personal choice instead of Government mandates.
Joe Rogan gave a heartfelt thank-you to "the miracles of modern medicine" for his swift recovery but this did not include any of the experimental Covid-19 vaccines being pushed on the public. Rogan's treatment of Covid-19 involved using Ivermectin, which the mainstream media has demonised after previously calling it a "wonder drug" for various other conditions.
The worst piece of news Rogan had to deliver was that he had to delay one comedy show. Otherwise hes back to normal with his positions on covid and freedom of choice vindicated.
Video: Joe Rogan talks about getting Covid and successfully treating it quickly without having taken the vaccine.
Subscribe to XYZ on Telegram, Bitchute, Youtube and Twitter.