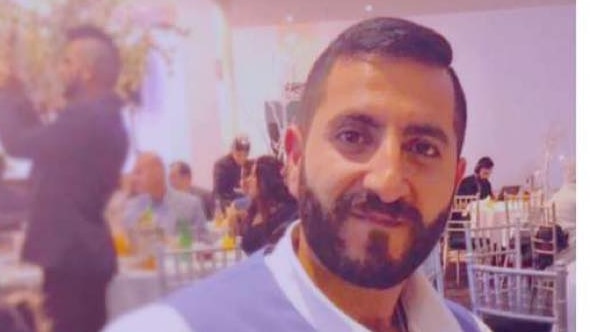 At The XYZ we do our best not to mention the names of Lying Press outlets so as to avoid amplifying their dangerous misinformation and totally wacko conspiracy theories, but occasionally, such as this evening, the public interest demands that we name names.
Australian media has been crowing that a young, unvaccinated man has died from the coronavirus. (The vaccine is a bioweapon, the PCR test is rubbish.) It suits the blackmail narrative – anyone is vulnerable to the coronavirus, and the only way we are getting our lives back is if we all inject the poison.
Crucially the ABC has claimed that the young dead man had no underlying health conditions.
From the ABC:
Friends and family of a Sydney man who died "suddenly" from COVID-19 just months after getting married say the news has left them with "breaking hearts".
Aude Alaskar, 27, collapsed inside the Warwick Farm unit he shared with his wife yesterday….
His relatives said Mr Alaskar, who worked as a forklift truck driver, had no underlying health conditions.
"He was a soccer player, he was a very fit guy. He used to always do sports. He never smoked, doesn't drink," Mr Mnati said.
At no point in the rest of the ABC article are any underlying health conditions listed. However, the Daily Mail UK tells a different story.
From the Daily Mail:
Horrified neighbours heard the cries of a young Sydney man's wife as he collapsed before dying from Covid, they revealed on Wednesday evening.
Forklift truck driver Ady Al-Askar caught the virus from his wife, an aged care nurse, whom he had married just weeks earlier.
But despite barely showing any symptoms, he collapsed in the couple's shower on Tuesday afternoon and could not be revived.
Next door neighbour Mimi Anzures overheard his last tragic moments as relatives discovered him after he collapsed.
At first I heard crying, then shouting and howling,' she told the ABC.
'After that two ambulances came and after a few minutes there were police cars everywhere.'
Mr Al-Askar's cousin Bash Mnati said Ady's symptoms were brief and not severe.
'His head was hurting the day before. He wasn't feeling well.'…..
Mr Al-Askar was said to be anxious about getting vaccinated because he feared it could have long-term side effects.
The 27-year-old had been isolating in his Liverpool unit in Sydney's southwest with his wife, Yasmin, who first contracted the virus and brought it home from work.
The couple were due to end their 14-day mandatory quarantine period on Wednesday and relatives are now questioning whether Covid contributed to his death.
Heart conditions reportedly run in the Al-Askar family, and his cousin, Khalid Thijeel, told Daily Mail Australia he believed it was this that cost the man his life, not the virus.
The rest of the article quickly changes tack to gloat that he was concerned about the side effects of vaccines, but it is too late. You just got sprung, ABC. That goes for the rest of the Australian media who are hiding this fact, you lying, stinking rats.
As for the vaccines, the arab who doesn't even belong here who died of underlying heart conditions had every right to be concerned about their side effects.
From the Lying Press:
A 34-year-old woman from NSW has died after a severe form of blood clotting following the AstraZeneca jab.
The Therapeutic Goods Administration confirmed the death in its weekly safety report.
The woman had her first dose of AstraZeneca and died on Wednesday, the TGA said.
"The TGA extends its sincerest condolences to her family and loved ones. We are in close communication with NSW health who are undertaking further investigation of this case," it said.
All up there were three new cases of "blood clots with low blood platelets" assessed as thrombosis with thrombocytopenia syndrome (TTS) likely to be linked to the AstraZeneca vaccine.
That's a little awkward, on the day Daniel Andrews puts Victoria into a sixth lockdown, Australia has its seventh Astra-Zeneca related death. In 2021 they appear to be playing the game of letting us out for yard time then locking us down hard again. This will break the weak, which is what they want. They want us to break so we take the vaccine.
For some harder stats on the relative danger of the coronavirus compared with the coronavirus, Vox Day notes the figures from Scotland:
From Vox Day:
The Scottish government has reported the following:
A freedom of information request made on the 30th January asked the Scottish Government to reveal the total number of people who had died of Covid-19 since March 2020. To which the Scottish Government responded on the 11th March 2021 with – "The answer to your question is 596 deaths involving COVID-19 has been registered where there was no pre-existing medical condition between March 2020 and January 2021….
The most up to date figures published by PHS and within the report released by on the 23rd June 2021, and they reveal that between the 8th December 2020 and the 11th June 2021 a total number of 5,522 people died within 28 days of having a dose of a Covid-19 vaccine.
So, 59.6 people per month died of Covid (as opposed to WITH Covid), while 788.9 people per month have died within 28 days of being injected with a Covid vaccine. That suggests – it does not prove, but it suggests – that the Covid vaccines may be more lethal than the disease they are supposed to prevent.
There you have it. The cure is worse than the disease.