The coronavirus is a devastating illness which has slaughtered millions, brought the global economy to a crashing halt and changed our lives forever. It is so serious, many people in China were simply dropping dead in the middle of the street.
If ever we needed heroes, now is the time. Jon Rahm is one such hero. A Basque golfer with a hot wife, he is the epitome of the Aryan uberman.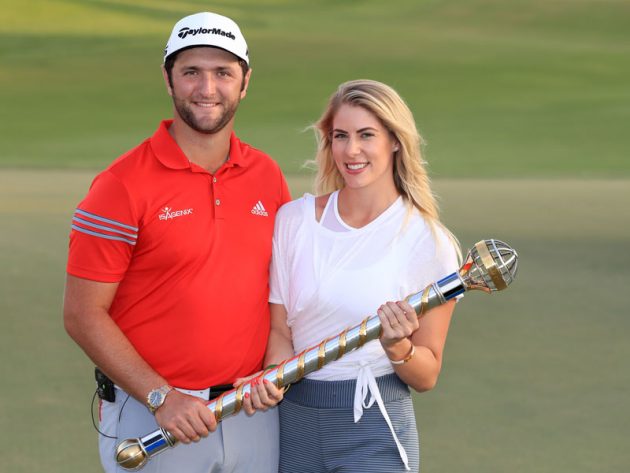 Not only does he have a hot Aryan wife, he nearly won a gold tournament while battling the debilitating illness that is the coronavirus. That's right, the virus which has burnt a trail of devastation so thorough that entire jurisdictions have had to keep their residents under house arrest for months, a virus which would have floored lesser mortals, could not stop this hero from rollicking to a 6 stroke lead on the final day of the US PGA Memorial tournament in Dublin, Ohio.
Here is the horrible moment the killer virus finally brought his brave struggle to a halt:
Surreal TV moment as six-stroke leader Jon Rahm learns he tested positive for COVID and Jim Nantz tries to make sense of it without knowing what Rahm's been told pic.twitter.com/WvD6LmAlxs

— Timothy Burke (@bubbaprog) June 5, 2021
Okay wait, I've framed this all wrong. You're telling me he was fine? This does not make sense. Here is a summary of why he had to pull out from an unnamed Lying Press outlet:
"The US PGA Tour said in a statement it had informed Rahm on Monday he had been in close contact with someone confirmed with Covid-19 and the 26-year-old Spaniard, who was asymptomatic, chose to compete under tighter virus safety protocols, including daily testing and restricted access to facilities.
"Rahm's Saturday test was returned as positive while Rahm was on the course in his third round, the tour said, and a second test requested by a PGA medical advisor also came back positive just before Rahm finished the third round."
So, he was fine. Nobody even knew he was sick. He didn't know he was sick. You would never have been able to tell he had the most deadly disease on the planet from just watching him nearly romp it home in a professional golf tournament.
Kinda makes you question the whole point of lockdowns, face masks, check-ins, vaccines, vaccine passports, turning our entire way of life upside down, and our governments behaving like communist China to make it all happen.
Especially when you find out you have a 99.9% chance of surviving.
It's your XYZ.