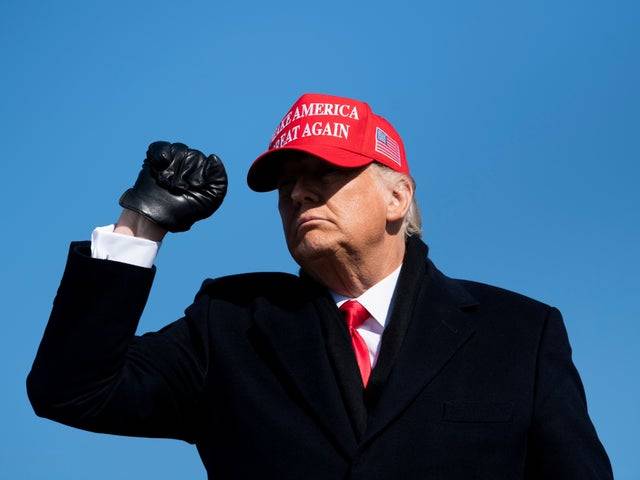 Originally published at National Justice.
Trump is going to win.
That's what the only poll that isn't designed as infotainment for suburban "Karens" — who are actually loyal Democrats — is saying.
Many nationalists plan to vote for Trump, not due to a positive assessment of his first term, but for the same reason people line up for terrible movie sequels: warm and fuzzy nostalgia, sometimes inexplicable. Once upon a time the prospect of electing this man made the people we all hate but who rule us anyway visibly afraid.
Spite for the "coastal elites" in tortoiseshell glasses will likely deliver the day.
But don't expect the same flood of libtard tears this time around outside of maybe low level MSNBC watchers. The real elite, the Jews, now realize that Trump's gun had an orange tip spray painted black the whole time.
Trump began betraying his voters almost as soon as he was sworn into office. The only figures in Trump's populist campaign who survived the 2016 election were Steve Bannon, who was banished after Charlottesville and is now facing federal charges at the hands of Trump's own Department of Justice, and Jeff Sessions, whose political career was destroyed by Trump's calculated malice.
A victory in 2016 by any of the generic GOP hacks who lost during the primary would've been indistinguishable from the last four years of Trump, policy-wise.
Draining the swamp and transforming the Republicans into a worker's party? No. Instead, his cabinet positions were staffed by the swamp scum at the Heritage Foundation.
Deportation force and a wall? He trots out Stephen Miller before any big vote, but nothing was accomplished on this front. Barack Obama removed 50% more illegal aliens in his first term than Trump has. In his first two years of holding the Presidency and Congress, Trump made no effort to present legislation to combat illegal immigration or even increase border security. There are more Asian and Central American illegal aliens in the United States right now than before he took office.
Punishing "LIBERAL DONORS"? Heritage's appointments have helped enable a corporate crime wave not seen in recent memory, with laughable cases of naked insider trading like the "paused" loan to Kodak personally protected by Trump's inner circle. Every multi-national and NGO has been scamming the PPP system, Trump's promise to crack down on this will never materialize. White collar crime prosecutions have fallen to a 33-year low during this administration.
Is it any wonder these "donors" have so much money laying around they can use it to fund Black Lives Matter?
This round of American populism has been defeated by the Swamp conservatives, many who were originally Trump foes and but now gleefully wear MAGA hats and have shoved aside relatively independent alt-light con artists and the organic ethno-nationalist movement. The conservatives we thought we canceled, like the Jews Ben Shapiro, Mark Levine, and Dennis Prager have come back from the dead thanks to Big Tech's massive crackdown on independent media.
The problem for Trump is that conservatism is widely hated, especially by his voters. Trump's tax cut for billionaires is one of his administration's only policy achievements, and it is the most unpopular thing he has ever done.
What will carry Trump over the finish line is the understandable desire to trigger the libs just one last time, in a way that won't get you fired from your job or antagonized by the FBI. The immense power the Judeo-left has amassed by uniting suburban liberals, big capitalists, permanent bureaucrats and antifa under Trump has contributed to white working people becoming atomized, thus demoralized, thus susceptible to Trump's campaign year presentation as The Last White Man.
Seeing the conservative movement peering out from under the mountains of shit we shoveled on them to dominate the Trump-era is testament to the flexibility and tenacity — thanks to Jewish "philanthropy" — of the phony right. The time-sink, money-sink non-issue of abortion, the supposed justification for confirming Amy Coney Barrett to the Supreme Court, has re-emerged as a supposedly important issue. Last year the abortion rate fell to the lowest levels ever, largely due to low rates of sex between young people and the widespread adoption of contraceptives.
But the Koch brothers know what we're really getting in ACB. The notorious "Americans for Prosperity" spent millions to push her through because she will be the most pro-big business justice on the court (she sided with big business 85% of the time during her judgeship), which explains the complete lack of a fight from the Democrats. 15 of the last 19 SCOTUS judges have been appointed by the Republican Party, yet the court has become more pro-business and socially "liberal" anyway.
As Ted Cruz has recently stated, once the election is over and they're no longer under pressure from voters, Trump and the GOP will be returning to business as usual: imposing austerity during an unprecedented unemployment crisis, ratcheting up military tensions with enemies of Israel, and as the Heritage Foundation predicts in its conclusion of Trump v. Biden on immigration, a massive amnesty bill that will introduce a new "merit-based immigration system" — the H1-B program on steroids.
While nobody thinks Trump's "platinum plan for black America" will ever come to be, the mere suggestion will be opening up a debate we should not be having. Explicit no-whites-need-apply social policies are another cultural artifact of the Trump era bound to become acceptable in his second term.
For establishment Democrats, their second defeat at the hands of Trump will be enormously discrediting, but they will profit in the short term from their comfortable position as the opposition party. By running a candidate like Joe Biden, one can only assume they want to lose.
But the Clinton-Biden-Obama-Pelosi nexus, who planned to fill "Sleepy Joe's" spayed cabinet with people like John Kasich, Jeff Flake, and various in-house neo-liberals, will be pressured by actual communists in their party to step aside. The Republican Party will never be able to meet this challenge, instead Trump and Charlie Kirk will be riding a helicopter to Botswana to cut the ribbon on a new bathhouse and dance to the Village People when the next incident occurs and the nation is once again on fire.
The New York Times has turned this election into a referendum on Woke + Wall Street. The majority, even many non-whites, will be rejecting America's new official ideology today.
But whether we get Trump or Biden, we need to organize our own political movement or we will be getting it anyway.