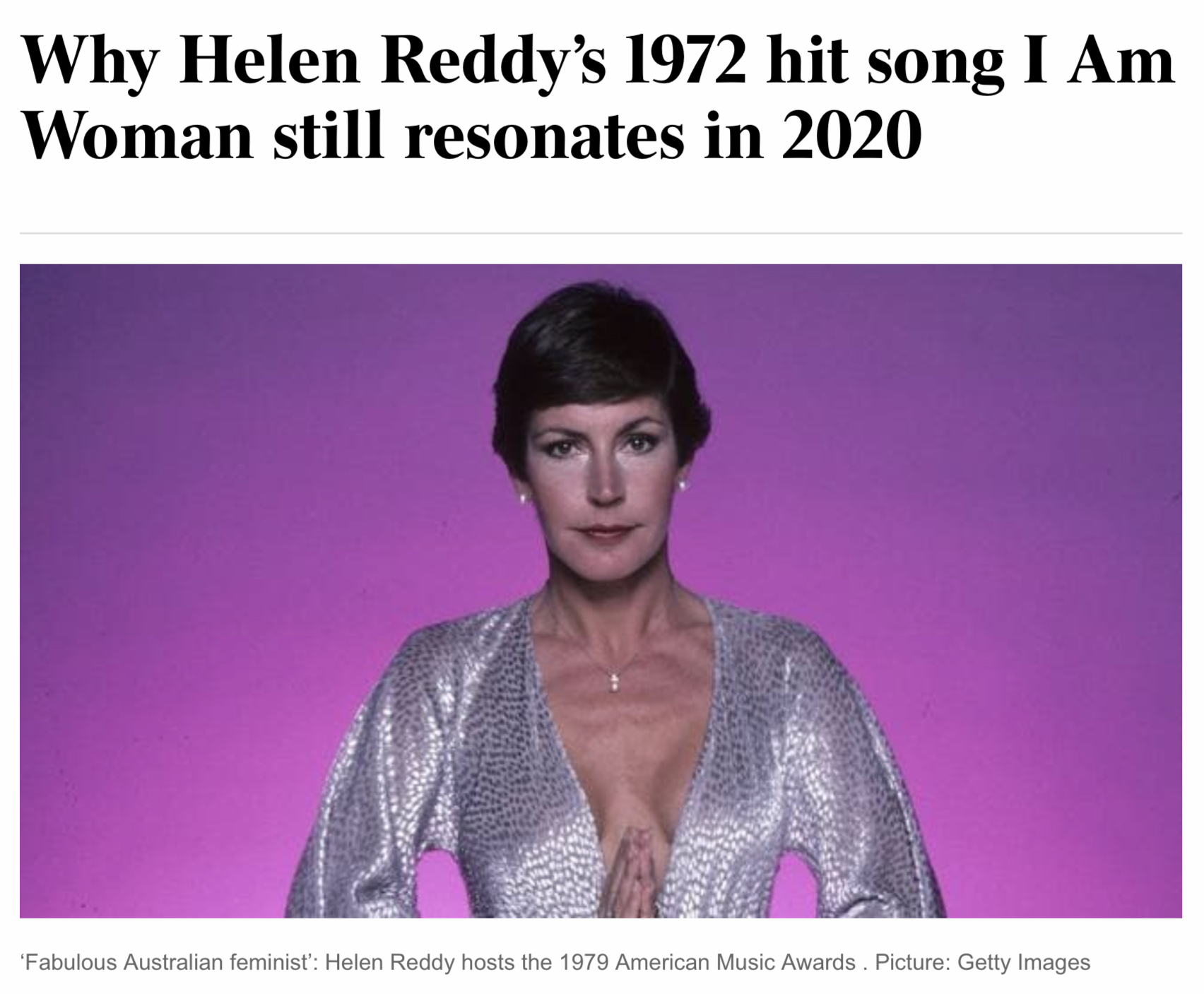 Good.
From the Australian:
When Melbourne-born singer-songwriter Helen Reddy died in Los Angeles on Wednesday, aged 78, several generations of Australian music fans instantly recalled the opening lines to her signature song: "I am woman, hear me roar / In numbers too big to ignore …"
…..
Reddy left Australia for the US in 1966 after winning a Sydney talent quest, but her self-titled debut album did not arrive until 1971, when she was 30.
Co-written with Australian musician Ray Burton, I Am Woman appeared on her debut, but it wasn't until the song featured in the opening credits for a film named Stand Up and Be Counted that it became a hit ­single.
By 1972, it reached No 1 in the US and later won Reddy a Grammy Award, where she famously thanked god "because she makes everything possible".
Melbourne singer-songwriter Deborah Conway was about 13 when I Am Woman was a hit in Australia, where it reached No 2 on the pop singles chart.
"She contributed a huge amount to the Australian music industry," Conway told The Australian. "She was the first woman to leave our shores and make a ­seriously big splash in an overseas market.
"She had one very important song that is still such an iconic piece, because it was such a powerful, stand-alone, very heartfelt anthem."
Its mighty chorus — "I am strong / I am invincible / I am woman" — became a feminist clarion call, both here and abroad.
Feminism makes women miserable, destroys families and subverts the very fabric of civilisation. It is a scourge on the West and must be completely eradicated if we are to survive as a people and return to our rightful place as the strongest tribe.
This bitch's Wikipedia page makes for interesting reading:
In 1968, she married Jeff Wald, a native of The Bronx.[53] She converted to Judaism before marrying Wald,[54]with whom she had a son, Jordan,[b] born in 1972.[55]
In a 1975 People interview, Reddy admitted that her relationship with then-husband and manager Wald was volatile, with the couple having "huge, healthy fights" but that she owed her success (she was then the world's biggest-selling female vocalist for two consecutive years) to Wald: "He runs it all. Naturally when the moment of performance comes I have to deliver – but everything else is him. It's not my career; it's our career."
By 2 January 1981, Reddy and Wald had separated and he had moved into a Beverly Hills treatment facility to overcome an eight-year cocaine addiction, a US$100,000 per year
habit (US$264,931 in 2019)[56].[55] Reddy subsequently filed for divorce, yet withdrew her petition the day after filing it, stating: "After 13 years of marriage, a separation of one month is too short to make a decision."[21] In 1982, after finding evidence of Wald's continued substance abuse, Reddy again separated from him and initiated divorce proceedings, which this time went through in January 1983. They agreed to shared custody of their son Jordan, but later became embroiled in a court battle after both filed for sole custody.[55] Her son later changed his surname to Sommers and became her assistant.[40]
In June 1983, she married Milton Ruth, a drummer in her band; the couple divorced in 1995.[53]
Why would you deliberately subvert the moral foundation of Christendom yet convert to another religion? She set a bad example. "Madonna" was obsessed with Kabbalah a couple of decades later.
It doesn't make sense. I don't see the connection.