The Fake News Media are framing the apparent arrest of Ghislaine Maxwell, and the fact that Jeffrey Epstein did not kill himself, to sit well within the #MeToo Overton Window.
From the Australian:
An actress who accused Jeffrey Epstein of luring her to a fake Victoria's Secret audition and groping her has slammed the authorities for "ignoring" her complaint.
Alicia Arden claims the encounter in California in 1997 left her "terrified" and she reported it to the police, who did not follow it up….
Arden said she visited Shutters Hotel in Santa Monica, Los Angeles, on May 12, 1997, thinking she was meeting Epstein for an audition to be cast in a Victoria's Secret lingerie catalogue.
While inside the room, Epstein allegedly grabbed her, attempted to undress her and told her he wanted to "manhandle" her.
Epstein would regularly assault not only on women but on girls, whom Maxwell actively recruited.
From nEwS.CoM:
"Several times I was in the car with her, and she would ask the driver to stop the car. And she'd dash across to the school or the park or wherever she was going, and she would write down her phone number for a child, a young girl," she said.
"And then I'd see that child at the house. And she'd say, 'She's auditioning.'"
The story Maxwell gave Ms Farmer was that the girls were models. At the time, Epstein claimed to help manage Victoria's Secret, and Maxwell was supposedly his talent scout.
"I thought it was really strange because I did see a couple of girls in braces. And I've never seen a model in braces," said Ms Farmer.
Once in their sphere, Maxwell actively groomed them.
From the Sun:
Court papers state: "Having developed a rapport with a victim, Maxwell would try to normalise sexual abuse for a minor victim by, among other things, discussing sexual topics, undressing in front of the victim, being present when a minor victim was undressed and/or being present for sex acts.
"Maxwell's presence . . . helped put victims at ease because an adult woman was present.
"For instance, Maxwell would massage Epstein in front of minor victims. Many of those massages resulted in Epstein sexually abusing the minor victims. Victims were made to feel indebted and believed Maxwell and Epstein were trying to help them. Ghislaine Maxwell facilitated Epstein's access to minor victims knowing that he had a preference for underage girls."
Maxwell faces four charges over claims of abuse against three girls under 18 — said to have taken place in London, New York, Florida and New Mexico.
Yet the Project had the audacity to interview an apologist for Ghislaine.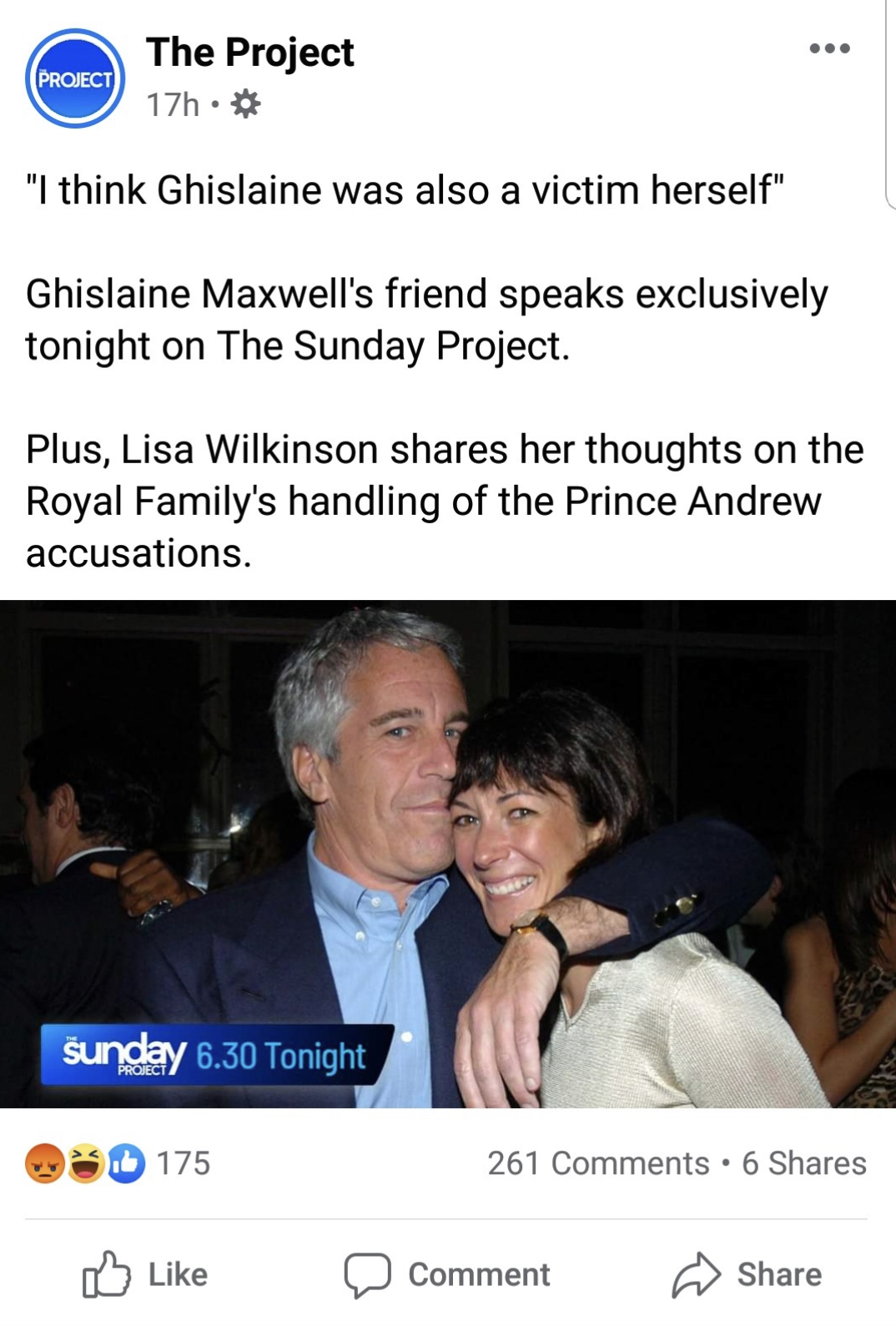 From nEwS.CoM:
Wilkinson started by interviewing a friend of Ms Maxwell, who claimed the British socialite – who had connections with some of the world's most powerful people – was in fact a victim of Epstein herself.
"She was in love with Jeffrey Epstein," said former New York stockbroker Laura Goldman. "It doesn't excuse what she did. She really thought that he would marry her. I feel in some ways he gaslit her.
"He kind of convinced her that he was going to do it at some point and then never did. She didn't see it and kept thinking, if I do one more thing for him, he will marry me. She was also a victim of Jeffrey. You can be a predator and a victim."
Asked whether that excused Ms Maxwell allegedly creating dozens more victims, whose lives were destroyed, Ms Goldman replied: "There's no excuse, absolutely no excuse. I have no problem with her going to jail. My whole point is, though, that the story is more complicated."
According to Ms Goldman, who Wilkinson said had a "chequered past", Ms Maxwell was "very loyal" to Prince Andrew and would never reveal anything incriminating about him.
"She feels very loyal to him, he helped her after her father died. He helped launch her in New York society. And (for) that she will never betray him. I also think she's not sure he did anything wrong. Not saying she didn't. I think she feels he's been a victim in this, too."
That line "he helped her after her father died" is intriguing. Ghislaine Maxwell is the daughter of Robert Maxwell, a Mossad agent. He died in a mysterious yachting accident, and was given a military funeral in Israel. Robert Maxwell was a pivotal player in a Mossad and CIA blackmail operation that has been running for decades. (You can read about this here, here, here, here and here.) Ghislaine Maxwell wasn't Epstein's victim, Ghislaine Maxwell managed Epstein. She carried on her father's work after he was gone.
The Maxwell-Epstein operation is the key to understanding how the West's leaders and elites become puppets for the globalists. Getting incriminating footage taken of yourself is how you gain access to that world. They only let you in if you can be controlled. Maxwell and Epstein were a gateway to becoming a member of the Globopedo elite.
The Jeffrey Epstein did not kill himself story is the gateway to understanding how our nations have been subverted and turned against us by a ruling elite who serve Satan. This is why the narrative must be carefully managed. Bit player Lisa Wilkinson can emote all she likes about how the Queen needs to make Prince Andrew talk, but it will never happen:
Prince Andrew has suggested the photo of himself, Ms Maxwell and a teenage Virginia Giuffre could have been doctored. During a "trainwreck" interview with BBC's Newsnight said he had "no recollection" of ever meeting her.
He also claimed that on the night when Ms Giuffre has alleged she was forced to have sex with him, he was actually at a Pizza Express restaurant in Woking, Surrey for his daughter's birthday.
That infamous interview was no trainwreck, it was agreed to with only one purpose in mind.
If Prince Andrew goes down, he will try to bring them all down with him. One last thing:
Ms Giuffre described a cathartic moment from Maxwell's remote court hearing on Thursday, following her arrest. Coronavirus restrictions meant reporters could only hear the audio.
"A very loud British woman screaming, 'Why is this happening? How is this happening? How could this happen?' And just crying her eyes out," she said, recounting Maxwell's disbelief at the situation.
Apparently coronvirus follows the laws of quantum mechanics, whereby if a reporter verifies that somebody has been arrested by viewing footage of them in court, their grandmother will die of coronvirus.
Has anybody seen a photo of Maxwell recently?