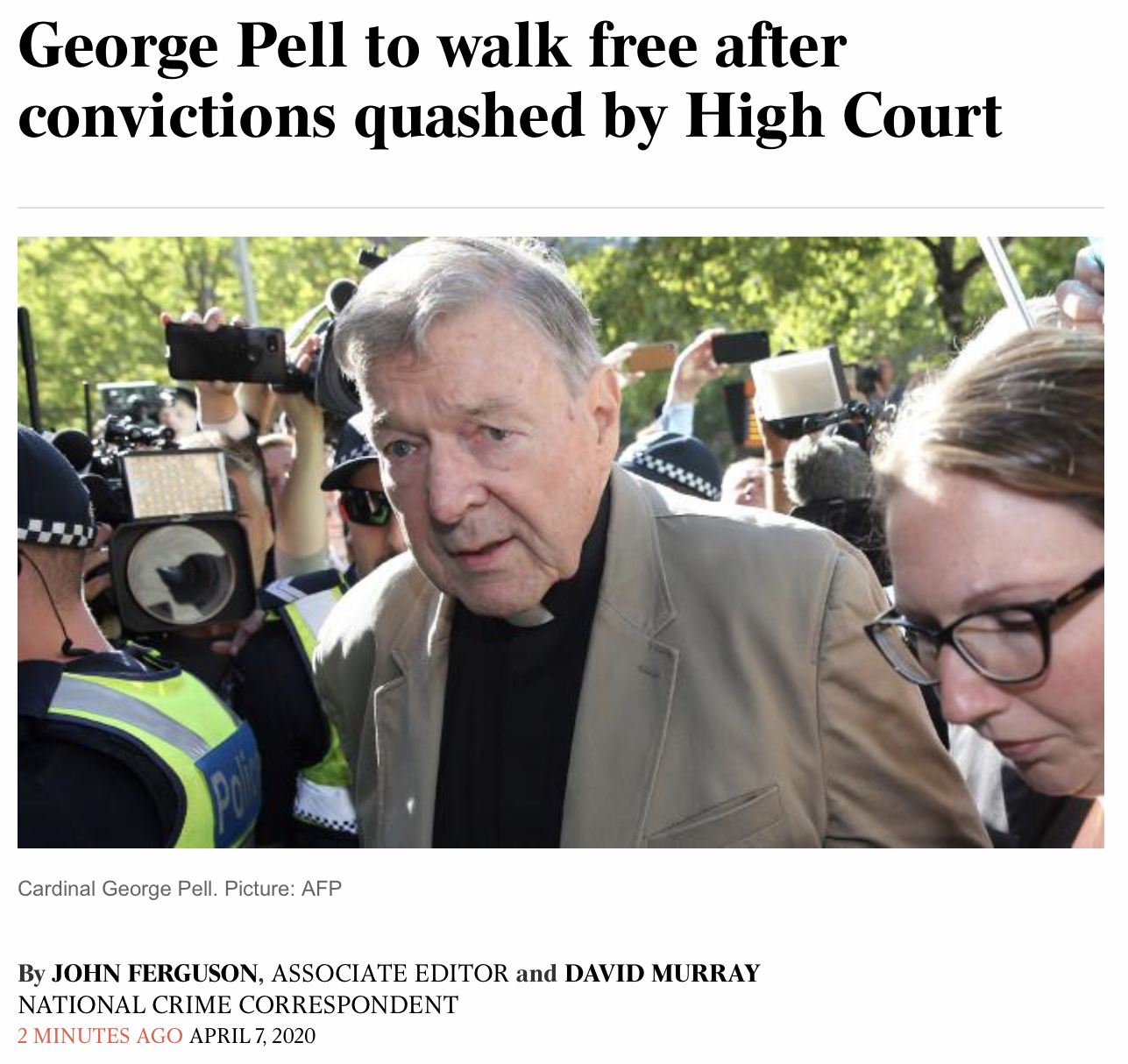 The conspiracy against one of Australia's most influential Christians has been defeated.
From the Australian:
Cardinal George Pell will walk free after 405 days in jail after the High Court on Tuesday ruled in his favour.
It means the cardinal will leave Barwon Prison today, near Geelong, after an extraordinary legal fight to clear his name.
It took High Court Chief Justice Susan Kiefel only about a minute to deliver the history-making decision.
Only about a minute.
She said special leave was granted, the appeal allowed, and that the Victorian Court of Appeal's earlier decision be set aside. In its place, his conviction was quashed….
It was not a major surprise to legal experts who have followed the case in fine detail.
Because the original verdict was rubbish, and all it took was a qualified and unbiased judge to acknowledge this. Adam Piggott covered the topic comprehensively in February last year:
This conviction was never in doubt, not because of Pell's supposed guilt, but because it was preordained. The assault on Christianity in Australia could not ignore the country's most prominent cleric that has ever lived. He is their top scalp, and even though the credibility of the two witnesses borders on farcical, nothing could stand in the way of this result.
The complainant, who cannot be identified, did not give evidence at the retrial; the recording from the first trial was admitted as the complainant's evidence. The recording was available to the public only insofar as it was quoted by the barristers in their examination of other witnesses or in their final addresses to the jury, and by the judge in his charge to the jury. So, no member of the public has a complete picture of the evidence and no member of the public is able to make an assessment of the complainant's demeanour.
Anonymous complainants giving unsubstantiated evidence that is so full of holes it resembles a mosquito net was the best the authorities could come up with, but they wanted their man and they got him.
This hit job should never have had to go to the High Court. It should never have gone to court in the first place but our corrupt elite were determined to have their show trial.
Two can play at that game. God's wrath may turn out to be rather merciful.