The first "Aussie" has died from coronavirus.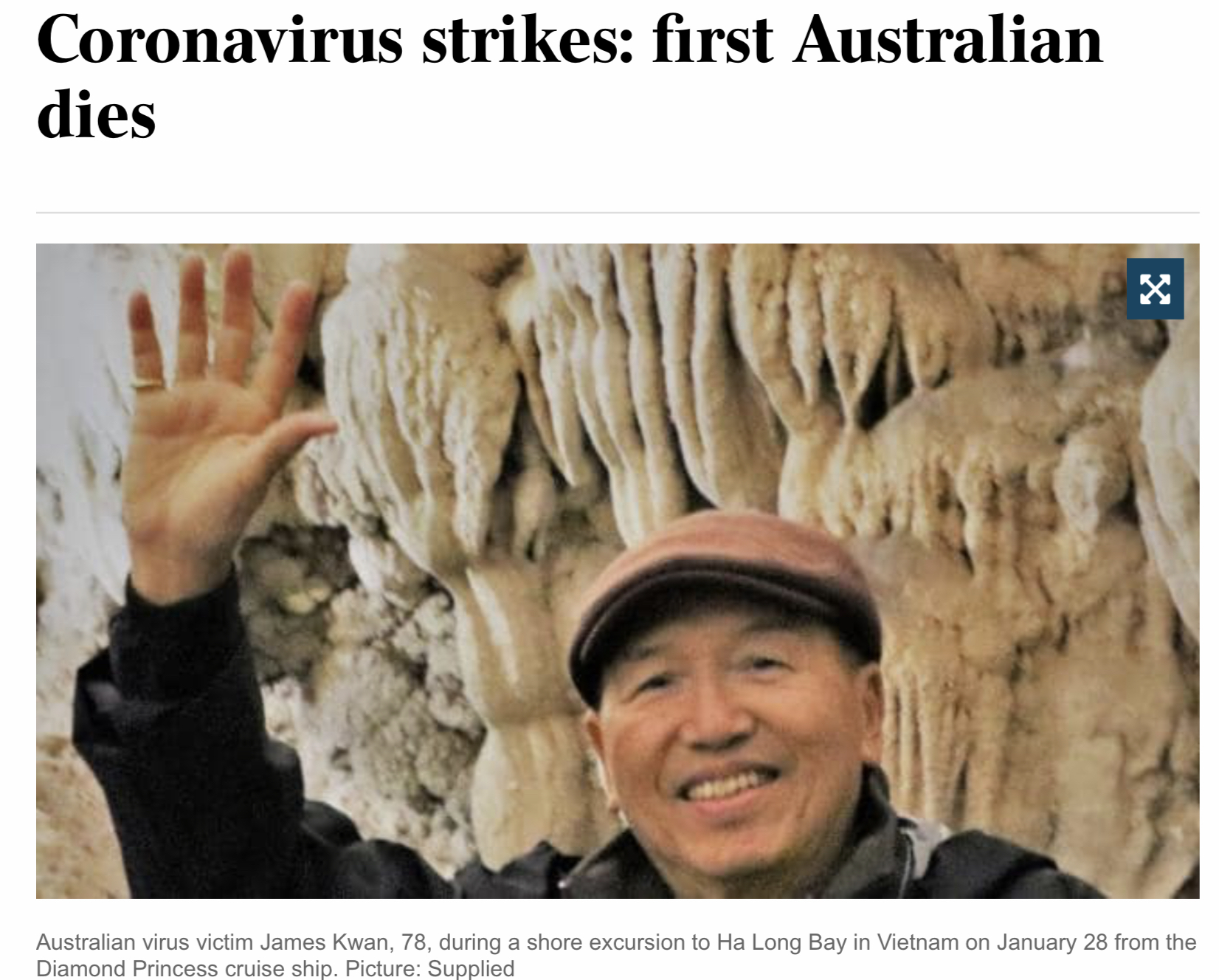 From the Australian:
Retired travel agent James Kwan had just begun a relaxing holiday with his wife Theresa, son Edwin and his daughter-in-law aboard the Diamond Princess cruise ship when a deadly coronavirus outbreak erupted on the liner.
On Sunday, Western Australia's Chief Health Officer Andrew Robertson confirmed the Perth man had become the first Australian to die from the disease.
The 78-year-old and his 79-year-old wife had been among more than 3700 passengers and crew when the liner was placed under a two-week quarantine near Yokohama, in Japan, on February 5 after 10 passengers tested positive to the coronavirus.
As the ship idled in isolation, the disease spread throughout the ship, infecting more than 700 ­people. Mr Kwan was diagnosed about 10 days ago while in quarantine at Howard Springs in the Northern Territory after being evacuated from the ship along with 163 other Australians.
10 became 700. Those people were not put in quarantine for their own protection.
This fits the pattern; governments maintain an air of control, and official figures show the numbers infected are in the tens of thousands and fatalities in the thousands; yet their actions imply that the real figures are much higher. That is how we should read videos such as these:
Now it's here, and all bets are off.
From the Australian:
The coronavirus has claimed the life of its first Australian victim as infections exploded across the globe, piling pressure on the ­Morrison government to consider wider travel bans to contain the health crisis.
With five new Australian cases taking the national total to 28 and fears dozens may have been exposed, Queensland Chief Health Officer Jeannette Young predicted the state would face an "outbreak of the epidemic" within months.
The death of James Kwan, 78, in Perth on Sunday came as the US registered its first fatality, with a man dying in Washington state.
In an escalation of the crisis, a Sydney man in his 50s was being tested on Sunday as potentially Australia's first person-to-person transmission. A woman in her 50s, also from NSW, tested positive with the virus after returning from Iran.
There are about 87,000 coronavirus cases globally and nearly 3000 deaths publicly recorded since the virus outbreak was identified in the central Chinese city of Wuhan….
Australian health authorities are moving to set up the nation's first coronavirus clinic on the Gold Coast following confirmation a 63-year-old beautician who contracted the disease while in Iran had come into contact with up to 40 people. NSW officials also reported a man in his 40s had been diagnosed after arriving from Iran. And late on Sunday it emerged a Melbourne woman had tested positive, also after a trip to Iran.
Queensland health authorities on Sunday urged all people who had returned from anywhere overseas in the past fortnight and who had become ill to seek ­immediate medical advice.
NSW and Victorian health officials issued similar advice but confined it to those who had travelled to high-risk countries such as Iran, Indonesia, Italy, Japan, South Korea and Thailand.
On that boat, 10 became 700.  We're an island.
This last month, virtue signalling has lost its value. Virtue signalling in a **functioning** multicultural society is slow motion suicide. It means your children or grandchildren will end up as the only white kids in the swimming pool.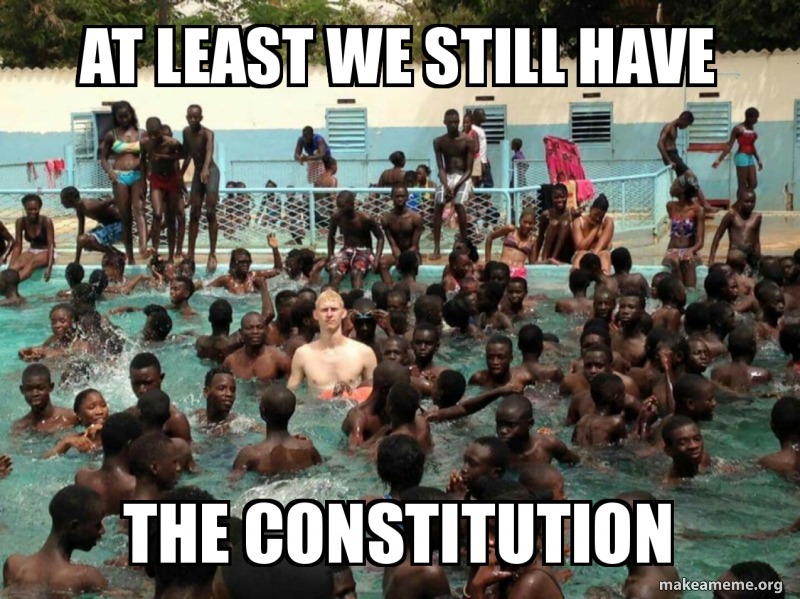 In a multicultural society with coronavirus, the negative consequences of virtue signalling suddenly become a lot more… sudden. It means your kids could die if you take them to a Chinese restaurant. The globohomo elite hate this. It's why a slew of public officials are demanding that we take our kids to Chinese restaurants. If we stop taking our kids to Chinese restaurants, the whole facade of multiculturalism could collapse.
So far, only the truly evil have gone along with it.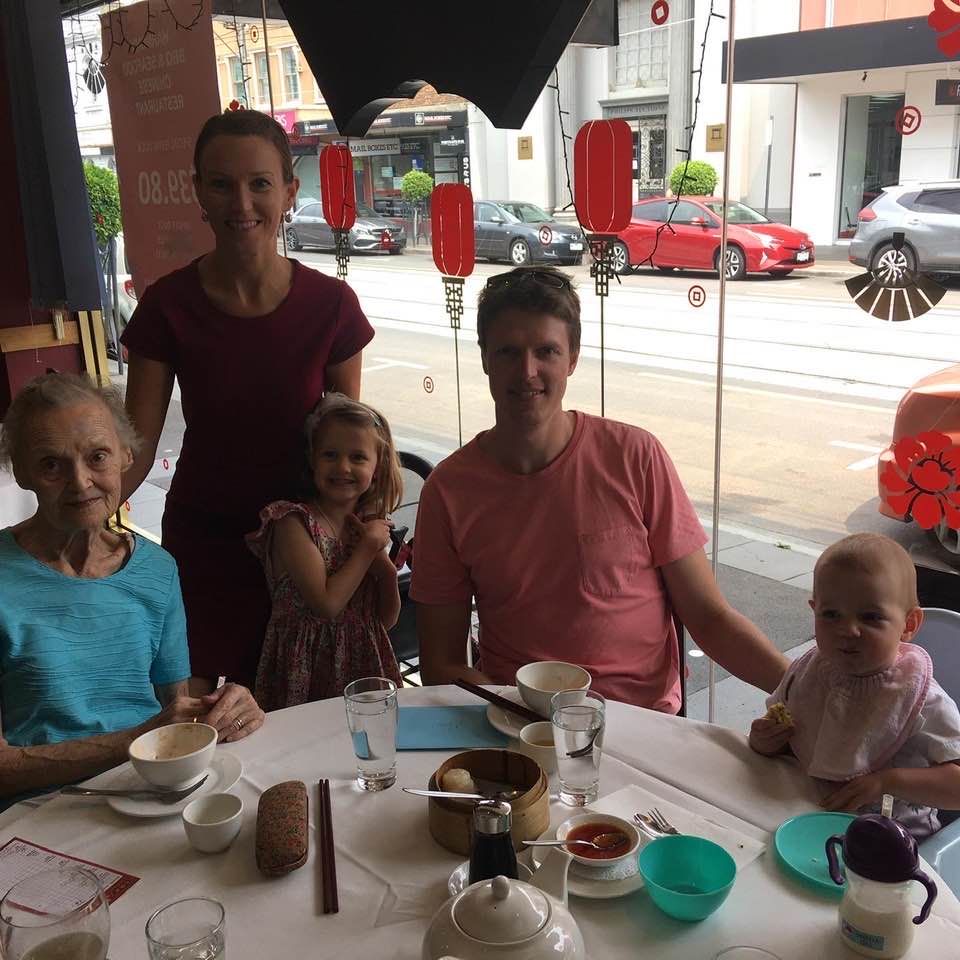 For the rest of us, it has been a welcome return of reality and in-group preference.
Here's where it gets really interesting. The way things are looking, it is highly likely that many of us will get a few weeks' holiday. This is great. The city gets shut down, you stack the freezer and the pantry and just splurge on Netflix. In China, when their government isn't brutalising them, the Chinese are having dance-offs with people the next apartment over:
If you even believe the South China Morning Post.
That's in an ethnically homogenous country. What happens in the most successful multicultural democracy in the world when that initial 2 week shutdown becomes a month or more? When the food runs low and supply chains break down? When the Victorian government's ideological opposition to coal comes back to bite us and the electricity stops? When cell coverage and the internet drops out?
No. More. CCTV.
It is understood that foreign communities living in Australia have considerable stockpiles of weapons.  This matters not one jot. The only thing white people need to change is their mindset. You get a couple of months of hardship, and maybe a massacre or two at the hands of a gang of foreigners in a big city, the softness, the civility, the empathy of the white man switches off due to pure necessity.
The one thing that has protected the people of foreign lands when their gangs of "youths" or their "mentally unstable" "lone wolves" have brutalised the native inhabitants of the West is that we Europeans follow the rules. We expect our police, our courts and our government to do something about it, and we punish those of us who take the law into their own hands in response to foreign brutality. But what happens when our protection is gone and the surveillance is lifted?
The white man remembers his inner brute.
Even if there is only a temporary shutdown here, Australians will be a very different people after it is all over.