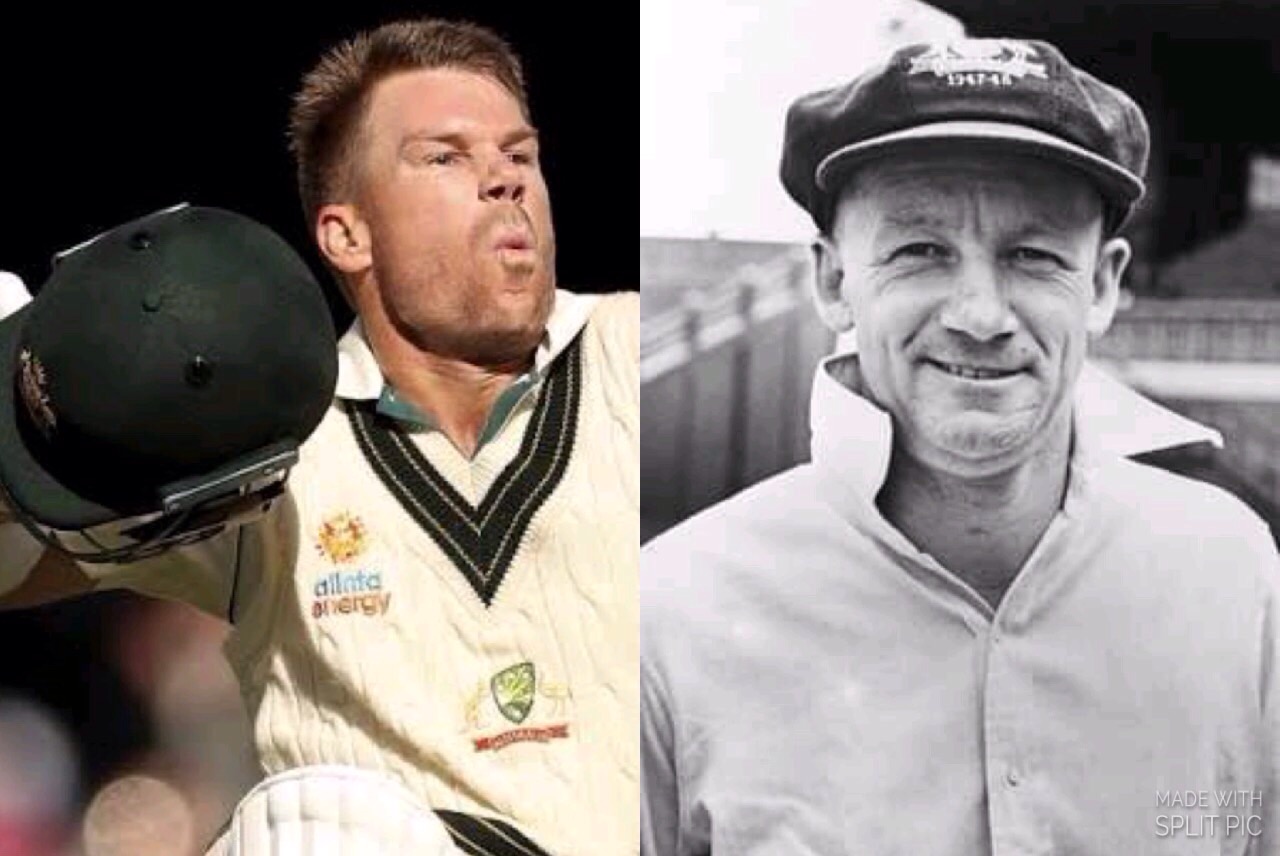 David Warner scored 335 not out against Pakistan at the Adelaide Oval this weekend, surpassing by one run Sir Donald Bradman's highest score of 334.
The "not out" is telling.
If Warner played for any other team in the world the captain would have declared after he reached his triple century, or once the team had made 600. However in Australia the fact that 334 was Don Bradman's record, made against the Poms in an Ashes Test, the fact it had stood as an Australian record for so long (since 1930), and because Don Bradman's average of 99.94 made him at least twice as good as nearly every other batsman who has ever lived, the number 334 has become a part of Australia's folklore.
Basically, you had better have a very good reason for passing it.
Matthew Hayden smashed a then world record 380 against Rhodesia in 2003 at the WACA, an act which could be considered poor form, particularly against such a minnow, but Australia's bowlers were more than confident they could deliver victory. Moreover he put an Aussie back on top, at least for a few months, as record holder.
Conversely, Mark Taylor declared overnight on 334 against Pakistan in 1998, as did Michael Clarke in 2012 against India in Sydney when he was on 325. Although both wanted to beat Bradman's score, given that to win a game of Test match cricket you need to bowl out the opposition twice, they were wary of being seen to place personal glory over team success.
Here is Mark Taylor, who defended Warner's choice to break Bradman's record:
From the West Australian:
"Records are meant to be broken..
"I got to 334 with two balls to go on the second night of that game. And I tried to hit them as David did.
"I tried to hit them for runs and they both were fielding. One was really well fielding by Ijaz Ahmed, who stopped me from going past Bradman's score.
"And if it did go past him, I would have taken the runs.
"And I would have ended up on 335 because the game is not about individual records. The game is about winnings and losing..
"I contemplated because I thought maybe going out to bat for 20 minutes on the third day would put them out in the field again," Taylor said.
"But then I did think if I ended up 341 not out or 343, I was worried people would assume I only went out there to go past Bradman's score."
I love that this is a thing.
This is about more than numbers and statistics, and it cannot be dismissed as sportsball. In treating Don Bradman's record with such reverence, we have an example of our people honouring those who came before us.
Aussie batsman don't have to retire before they pass 334. But we don't have to play Test cricket either, nor watch it. We are forged by our past. We play and follow Test cricket because our forefathers did so. We carry the DNA, the surnames and quite often the first names of our fathers and grandfathers. Globalists have put a lot of effort into demeaning our history and our ancestors but humans instinctively understand that if we reject this we lose a part of ourselves.
We respect Don Bradman and his towering records because they are emblematic of the great generation from which he came. That generation survived The Great Depression and World War 2 but was betrayed when our politicians opened our borders to the whole world.
Bradman's records matter because they were made against England. They matter because we as Australians were primarily from English, Irish, Welsh and Scottish colonial stock and we forged an identity as Australians from this. Beating the Poms was a way of identifying ourselves as distinct from the British, but we take the Ashes so seriously because it is a way of honouring our genetic heritage.
In a couple of decades all of this will be lost. Australians of British stock, ie Australians, are not reproducing at replacement levels and we are becoming hopelessly mixed with other ethnicities. Hundreds of thousands of people immigrate to Australia every year, mostly from Asia. If we are not already a minority in our own land we soon will be.
Think of how much your suburb has changed in the last 20 years, or even 10 years. So will go the Aussie cricket team.
Soon the Australian team won't be comprised of Smiths, Warners, Taylors or Clarkes. It will be Kumars and Mohammeds, and the team will be owned by Chens. If you think they'll give two hoots about giving a Sudanese refugee a fair go you're dreaming. They will all field as badly as the Aussies did on Sunday, or worse, as badly as Usman Khawaja. And none of them will give a stuff about Don Bradman's 334.
Don't try telling me you know a really good Indian bloke who speaks with an Aussie accent and sinks beers with you at the pub. In a couple of decades time, none of them will speak with an Australian accent. I know. I teach kids and have grown up with kids who don't speak with an Aussie accent, and the more of them who come here, the less inclined they'll be to fit in.
If you're a tradie, you're building houses and apartments for the people who will replace us. If you're a banker, you're funding the people who will replace us. If you're a farmer, you're feeding the people who will replace us. If you're in the army, you're defending a government whose policy is to replace us.
If we want to keep Australia and remain Australian, we have to remove ourselves from the system which has been designed to replace us. We cannot vote our way out of this mess. If we want our children to grow up hearing stories about Don Bradman, the Anzacs, Ned Kelly and Captain Cook, we are going to have to move away from the Kumars and Mohammeds, starve the cities and prepare to defend ourselves.