I just waded my way through a flowery piece by Wayne Smith of the Australian to discover the solution to Australian Rugby Union's woes:
"It was too hot for beanies and scarfs but they certainly wore their gold jerseys proudly as they milled in their expectant thousands in the forecourt of Oita Stadium, all those supporters who had travelled to Japan to support the Wallabies."
He goes on like this for several paragraphs before getting to the meat:
"First up, it has fatally narrowed the scope of any review to examining the look of any future Wallabies coaching and management structure. Instead, it should be empanelling some of the most distinguished minds in Australian rugby to draw up a shortlist of contenders for the head coaching role. At the very least, these "eminent persons" should be setting out the requirements of employment."
Structures. Got it. Pick smart people to pick the best coach. Got it.
"It should also be re-examining decisions made by RA in recent times, especially the determination made a year ago to reappoint Wallabies coach Michael Cheika through to the end of the World Cup."
A lot of words to say they picked the wrong coach.
"That the review process even involves RA chief executive Raelene Castle and director of rugby Scott Johnson is sheer madness. Castle has been the victim of some vicious press and social media trolling and many of her "crimes" — her handling of the Israel Folau matter, for example — were not of her making.
"It is hardly likely she would have sacked Australia's foremost and highest paid player without a firm directive from the RA board. Indeed, one wonders how much of the criticism directed at her is simply because she is a woman acting in a role that has always been a male preserve.
"But she is making herself impossible to defend."
Wayne, just get out of Raelene's arse.
"Johnson, too, has some tough questions to answer. Is Glasgow Warriors coach Dave Rennie, the New Zealander heavily rumoured to succeed Cheika — who resigned as coach following the Wallabies' loss to England last weekend — a personal friend? And how did that play out in him getting the job?"
Possible nepotism in picking the new coach. Got it.
"It may also be time for Australians to review how they see the World Cup and its importance in the overall rugby calendar. Peaking, or at least attempting to peak every four years, but in the meantime maintaining a win ratio of only 38.63 per cent… is effectively unsustainable."
We need to win more. Got it.
He almost gets it here:
"Officials point confidently to the fact that for the second year running participation numbers are up. Granted, the public has become wary of such numbers, and with good reason. They are massively inflated by the growth of women's rugby which is starting from a low base."
Keep going Wayne.
He even gets into some nostalgia. Could he be going there?
"It wasn't just that the under-18 side beat their New Zealand counterparts. It was the manner in which they beat them, pummelling them in defence and carving them up with a skill that evoked faint and fading memories of that wonderful Australian Schoolboys side of 1978, the one that featured the Ella brothers, the one in which Wally Lewis was merely a bench player."
It's almost like I feel something stirring, something I haven't felt in years, like I am getting in touch with my ethnic identity which spans back through the generations and connects me to something bigger than myself.
But no. He looks the truth right in the eyes…
"These are the players — backrowers Fraser McReight and Harry Wilson of Queensland, prop Angus Bell and Will Harrison of NSW and his halves partner Michael McDonald of WA, Victorian centre Semisi Tupou and NSW flyer Mark Nawaqanitawase — who will start flooding into the Wallabies over the next couple of seasons.
"…for the Queensland Reds the under-20s stars could just become the finishing touch to a young side — the bulk of which has been locked in place for the next four years — that will include new Wallabies sensation Jordan Petaia along with James O'Connor, Izack Rodda, Taniela Tupou, Lukhan Salakaia-Loto, Isaac Lucas and Tate McDermott."
…but then runs in completely the opposite direction:
"And while the critics might accusingly point to the fact that three of the four Super Rugby coaches are foreigners, there is another way of looking at it. Yes, Reds coach Brad Thorn was born in New Zealand and played 59 Tests for the All Blacks but he also played 200 games for the Brisbane Broncos and eight league — or Super League — Tests for Australia. So, too, with Dave Wessels, the Melbourne Rebels coach. His mild accent might betray his South African roots but he has become an Australian citizen. And with Brisbane-born Dan McKellar heading up the ACT Brumbies, the only real foreigner is the Tahs' new coach, Rob Penney."
This is the problem with the civic nationalist argument. Eventually your insistence that being Australian just means you speak with an Aussie accent, like vegemite and respect our culture falls apart, because it isn't based on anything of substance. Then, all you are left with is a piece of paper.
National identity is based on blood, and blood alone.
Civic nationalism is paper nationalism is multiculturalism is genocide of an original Australian identity borne out of a century and a half of British settlers who carved out a new identity in the southern seas. Now we are pissing away the legacy of our ancestors who built a civilisation and a people out of nothing but bush. For a piece of paper that says some guy is a citizen.
After another brief mention of the Folau case, Smith spends the rest of the article wondering how Rugby Australia are actually going to make some money. He wrote nearly 2000 words. He could have saved a lot of trouble if he had just looked at the photo.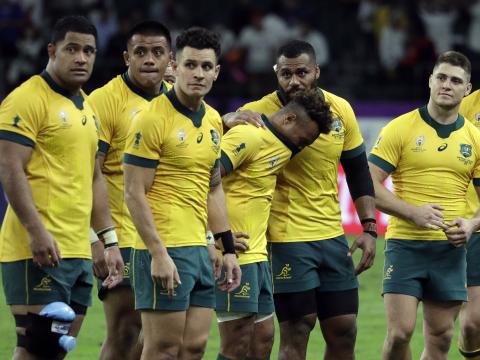 Every single point Wayne Smith has made is completely moot. We just need Real Australians to play for Australia again.