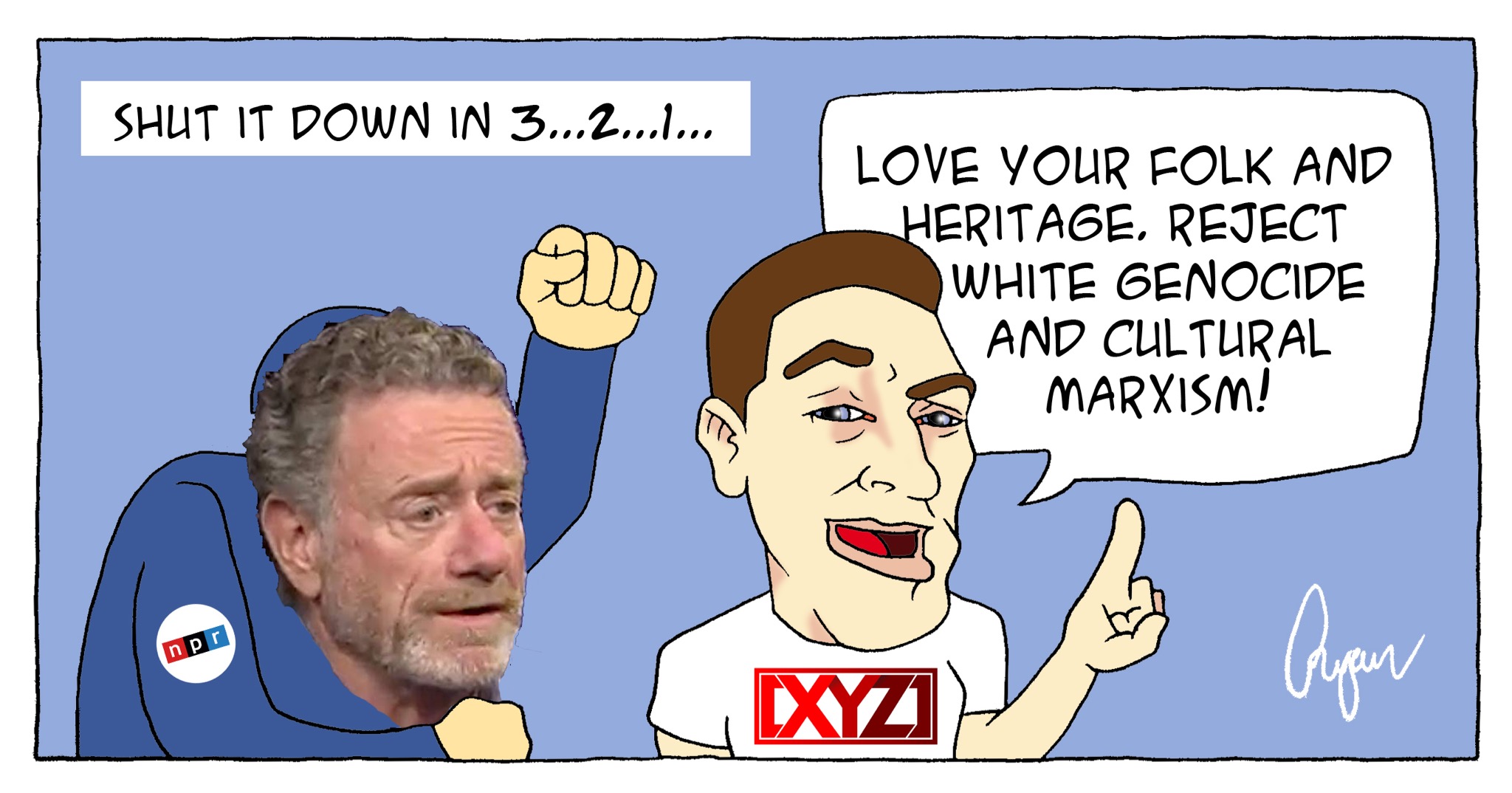 National Public Radio (NPR), the American legacy media outlet run by CEO Jarl Mohn (Every. Single. Time), dished out this loaded headline today:

NPR reports:
"White supremacist, white nationalist, white extremist, sovereign citizen, anti-government, Patriot [movement], neo-Nazis, skinhead. What else?" Jensen asked two of his colleagues, Elizabeth Yates and Patrick James.
"I've seen 'anti-federalist' recently," Yates said. "We also deal with a lot of just specifically anti-Muslim or anti-immigrant," James added. "Kind of xenophobic cases."
That list, rattled off on the spot, is nowhere near exhaustive, but it shows the complexities of trying to better understand far-right violence, which federal authorities say is the deadliest and most active form of domestic extremism. The labels the researchers use to code attacks are part of a wider debate over what to call the far-right threat — and how politics plays into that debate.
Firstly, if NPR considers it a "threat" to be persuaded by convincing fact-based arguments, such as Judeo-Islamic values being antithetical to White Christians or the SPLC knowingly lying about White genocide, then I suggest they dose up on their Haloperidol and head to their nearest Far-Left safe-space.
Because what Mohn's minions fail to acknowledge is that the momentum for the so-called "Far Right" is largely fuelled by Far Left fanaticism being given carte blanche control over the corporate controlled noosphere in cyber-space.
Whether it be praising abortion (aka infanticide), giving cross-sex hormones to "transkids", glorifying STDs, romanticising drug abuse, opening the borders to hostile foreign invaders, rallying to redistribute wealth from producers to mouth-breathers, or framing "minor attraction" (paedophilia) as a part of the "sexual liberation movement", the Far-Left seeks wholesale communism while chanting "tikkun olam".
But fear not, polite BBC asset Louis Theroux is being deployed to psychoanalyse those of us with a bad case of "authoritarian personality" disorder:

ABC reports:
Louis Theroux has forged a career interviewing wacky fanatics and weird extremists, but the award-winning documentarian concedes far-right groups have now become more insidious than ridiculous.
"They have been risible, and I have regarded that as one of the reasons it's been acceptable to talk to them," he told the ABC.
"There's a sort of nativist, or what they call ethno-nationalist politics, that's become mainstream political discourse and I think that's worrying."
FYI Louis was the guy that propelled Lamb and Lanx Gaede to international fame/notoriety.
Food For Thought.
To obtain your FREE copy of Trading HEMP for Hitler link to the audiobook (as read by Political Pundit and Radical Agenda host Christopher Cantwell) or e-mail us at A481Designs_Publications@outlook.com.