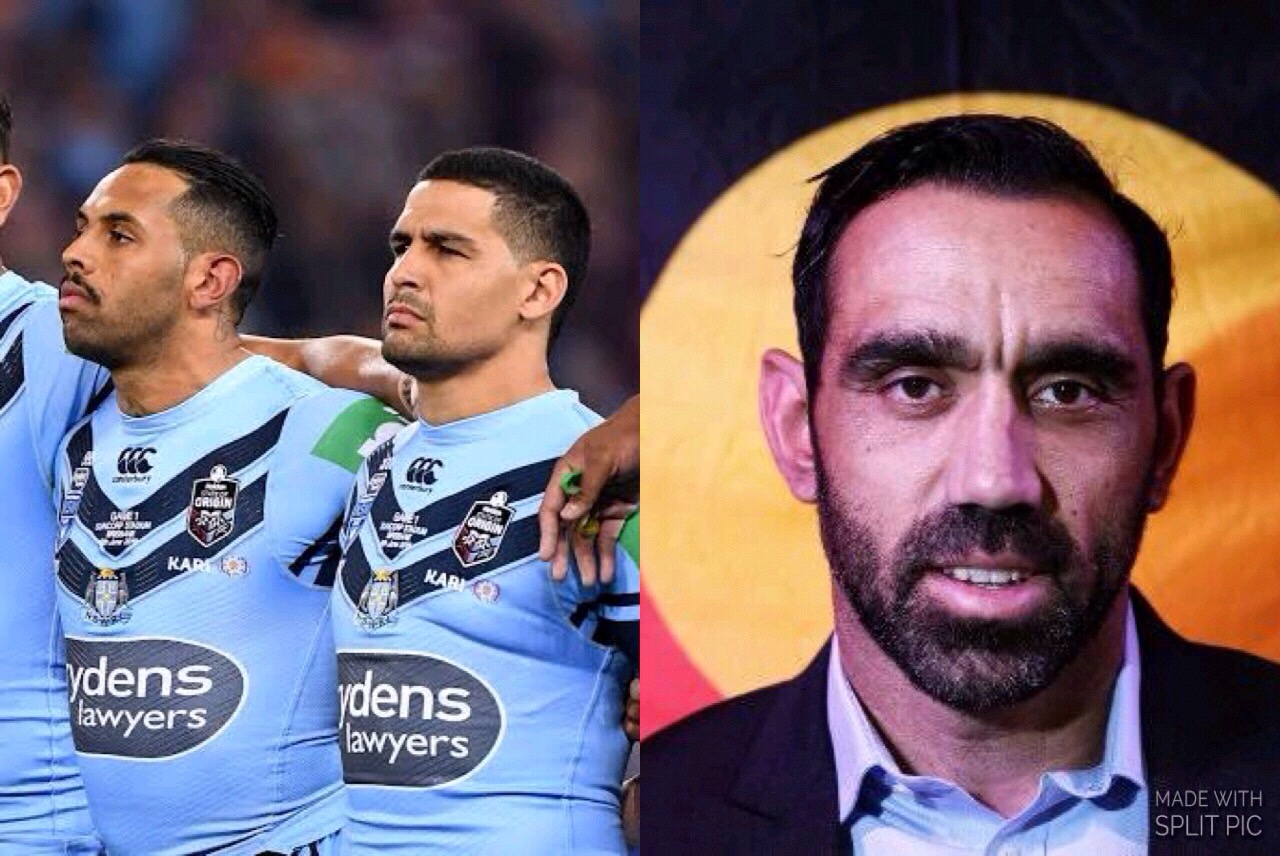 Apparently the best way to sustain your brand is to deeply insult your most loyal fanbase. On this logic the AFL is bound for glory.
A few years ago a middle range footballer who told real Australians "just remember whose land you're on", who called the Australian Constitution "racist", who internationally humiliated a teenage girl who called him a mean word, and who danced an aggressive so-called "war dance" at opposing fans who were expressing their displeasure at his cheating, spent the last few seasons of his career getting booed by every crowd at every game he played.
When so many people display their unhappiness at you, most people would be inclined to take a good hard look at themselves and come to the conclusion that the common denominator was in fact, well, themselves.
Not so Adam Goodes.
Nor the AFL. Perhaps emboldened by the parasite establishment's success at purging dissent from mainstream social media, the AFL are now leading the charge in purging dissent from the public sphere.
From news.com:
Former AFL superstar Adam Goodes' upcoming documentary 'The Final Quarter' has captured the attention of football players and fans across the country.
Set to premiere at the Sydney Film Festival on Friday night, the documentary highlights the final three seasons of Goodes' career in which he suffered racial abuse and discrimination.
The movie has already prompted plenty of discussion about the league's inaction during the booing saga that preceded Goodes' retirement in 2015 but also racism and Australian society.
It has sparked emotive responses from a range of audiences during advanced screenings, with Goodes finding it very difficult to watch.
On the day the film is set to make its public premiere, the AFL has offered up an "unreserved" apology to the former player acknowledging the league's inaction during the period.
But the reaction to the league's apology has been slammed by fans of the game who were quick to point out it has come four years too late.
Let's break the fourth wall for a moment. Compare the way yours truly framed the information that the AFL has given an "apology" to Adam Goodes for the fact that middle Australia hates his guts, with good reason, and was prepared to let him know in the most Aussie of ways; with the way nEwS.cOm has suggested that the reason we think Adam Goodes is a wanker is cos we're just "racist". This Deplorables You Name It approach is par for the course and works in hand with gaslighting on two fronts:
That a large proportion of fans thought the treatment of Adam Goodes was unfair – trust me, we didn't.
That the AFL didn't do anything about it at the time – this is absolute rubbish, as the AFL went into full nanny corporation mode at the time and has only escalated its moral posturing since.
This is how the left operates. It holds a monopoly over the ability to tell us the story of our past, and is thus able to present the past in the way it wants us to remember it. It presents the Adam Goodes booing saga as story of a fringe minority of racists forcing an "institutionally racist" AFL to get with the times, rather than middle Australia fighting back against the Cultural Marxist totalitarianism of the left which won't even let us have our own weekends to ourselves to be free of their nagging.
The fundamental challenge Goodes posed to Australian national identity with his line "just remember whose land you're on" reached its logical next step last week when the American version of #TakeAKnee predictably reached our shores.
From the West:
A push to change Australia's national anthem gathered momentum tonight as indigenous rugby league players staged a silent protest during State of Origin.
NSW's Cody Walker, Latrell Mitchell and Josh Addo-Carr and Queensland's Will Chambers refused to sing Advance Australia Fair moments before the big game.
They had said prior to the match that they would protest the anthem, arguing the line "young and free" ignores the history of Aboriginal people.
Ten players in total did not sing, including Josh Papalii, David Fifita and Kalyn Ponga for Queensland and Payne Haas for NSW.
It is not known if all were protesting. The anthem followed a welcome to country by retired league legend Johnathan Thurston.
The players have found support from politicians on both sides of politics, including senior Labor frontbencher Tanya Plibersek.
Ms Plibersek tweeted yesterday: "I love singing the national anthem, and I sing it with pride. But if we can make a small change to recognise our country's incredible 60,000+ years of continuous culture, then let's just do it."
Last night, Ms Plibersek said: "'Strong and free' is one suggestion that's been put forward, a small change like that is worth having a look at."
"I'm sure we can have a respectful discussion about this across party lines and, importantly, with First Australians."
Liberal MP Craig Kelly also supported the stance and said replacing the phrase "young and free" with "strong and free" could go some way to addressing the problem.
What a bunch of either pathological liars or bloody idiots. This again is how the left operates. One minute they say they only want to make a small change which no reasonable person could oppose, next minute they are championing a small boy in drag who strips in a homosexual bar for money.
I'd give Advance Australia Fair less than a decade to live, and sport will be used as the primary weapon in its destruction. It is also another front in the war to change the date of Australia Day or to abolish Australia Day completely. The end goal is to abolish Australia.
Our only option is to kill the administrations of the sports we love so that we can keep the sports that we love. If we are very lucky the guest worker sent by God, Israel Folau, will do that to Rugby Australia by bankrupting them for their overreach. If the Matildas can press home their demand for equal pay they may just do the same to an Australian soccer administration who have been pushing diversity longer than any of them.
If sport wasn't an important part of our national identity and way of life, the left wouldn't have tried so hard to infiltrate it, to subvert it, to kill it and to wear its dead carcass while insisting it was as strong as ever. This is why we should fight to take back the games we love.