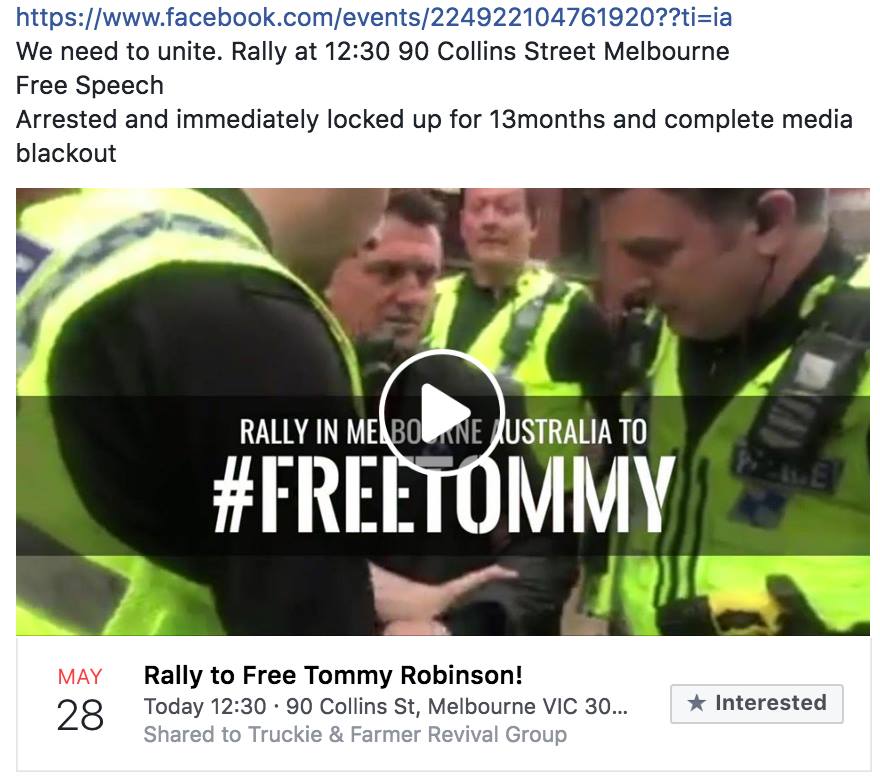 Today, Monday 28th of May, rallies will be held at British consulates in Australian capital cities in support of Tommy Robinson, who was jailed for 13 months while reporting from outside a courthouse in Leeds, where accused members of a Muslim grooming gang were to be sentenced.
Here is a list of the times and locations of the planned protests:
Sydney -12 Noon @ 1 macquarie Pl Level 16 Sydney, Australia 2000
Melbourne – 12.30pm @ 90 Collins St Melbourne Vic 3000, Australia
Perth – Time TBA @12/251 Adelaide Terrace. Perth WA 6000
Canberra – 12 Noon @ Commonwealth Ave, Yarralumla ACT, 2600
Brisbane – 12 Noon @ 100 Eagle St, Brisbane Cty QLD 4000
Adelaide – 12 Noon @ Parliament of South Australia.
Senator Malcolm Roberts has promoted the events on Twitter, with the apt observation that the UK has fallen.
Australia Wide Rallies In Support Of Tommy Robinson

A complete media blackout was enforced in the UK ensuring the details of Tommy's arrest, court appearance (within 3hours) and 13 month conviction was hidden from the public.

The UK has fallen. pic.twitter.com/M4CMUdVEbt

— Malcolm Roberts (@MRobertsQLD) May 27, 2018
The Melbourne rally is being advertised on Facebook, and you can also sign a petition at change.org to implore the British government to #FreeTommy.
It's your XYZ.