Yesterday, rallies were held in major Australian cities in support of Tommy Robinson, who was arrested while reporting on an Islamic rape gang in Yorkshire on May 25.
In Melbourne, a crowd estimated at 250 attended a lunchtime rally organised by the Australian Liberty Alliance. These were strong numbers considering the short timeframe involved in organising the rally. The crowd was addressed by Avi Yemini:
There was no Antifa presence, with the few wallies silly enough to voice their support for Robinson's arrest being easily shouted down by the crowd. We also have footage of the rally held in Sydney courtesy of InfoWars:
The following passage from The Unshackled provides a good summary of the views of the crowds, the reason for Robinson's activism and the likely reason for his political arrest:
"People are worried about the UK and they are worried about what will happen in Australia if we keep going down the same road. The UK has 12 Muslim Peers  in the House of Lords and roughly 1700 mosques built. That's a lot of mosques. Australia has about 340 with ongoing campaigns to build more and more. Ed Husic, our first Muslim MP was sworn in by the Quran.
"People are worried that if we keep catering to Muslim immigrants they will keep asking for more just like in the UK and Germany where they have their own schools and police forces. They have now graduated to having laws changed to arrest people who speak out against their ideology, people like Tommy."
Like his arrest, mainstream media coverage of the rallies in support of Tommy Robinson in Australia has been non-existent.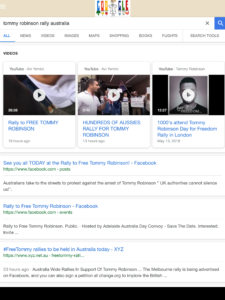 It is thus up to grassroots supporters to spread the word about his arrest and to find a way to pressure the UK's government into securing his release.