It has been beautiful watching the MSM and political elite in Australia attempting to discuss the majority No votes in nine electorates in Western Sydney.
From the Australian:
"NSW Labor MPs face a political headache as the state returned the lowest Yes vote in the nation, which means the wishes of voters in at least nine Sydney electorates may be ignored by their MPs in Parliament.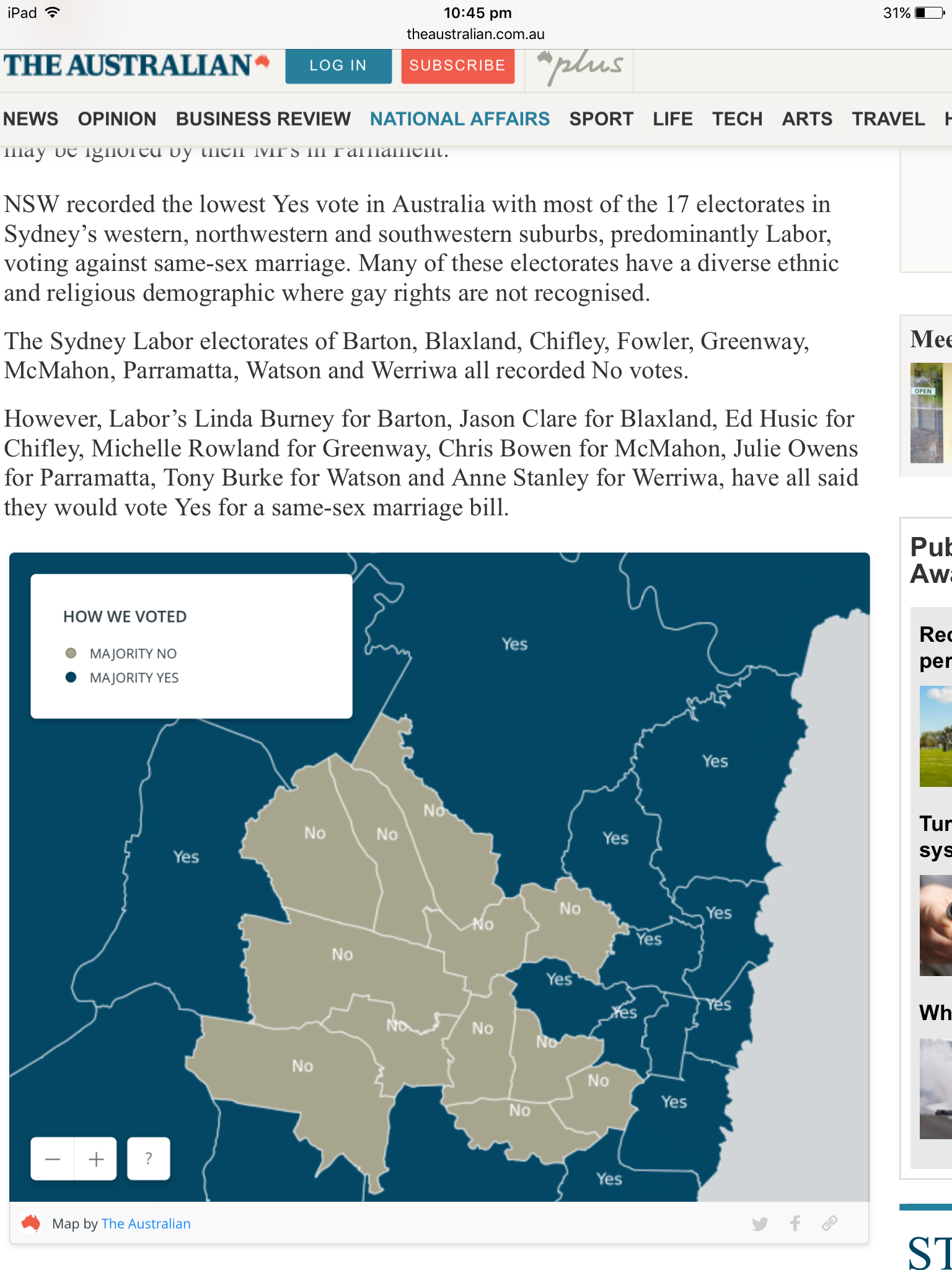 "NSW recorded the lowest Yes vote in Australia with most of the 17 electorates in Sydney's western, northwestern and southwestern suburbs, predominantly Labor, voting against same-sex marriage. Many of these electorates have a diverse ethnic and religious demographic where gay rights are not recognised."
Cultural Marxism is so ingrained in this country that even the evil-right-wing-Murdoch-press has to speak in code when it comes to the fact that Western Sydney is full of Muslims.
From the SMH:
"The same-sex marriage survey has exposed sharp differences in attitudes between Sydney's east and west after more than 1.1 million voters across the city voted against any change to marriage laws.
"Sydney had three of the five highest yes-voting electorates in the nation (including equal top), as well as the seven electorates with the highest no votes."
Where could they be?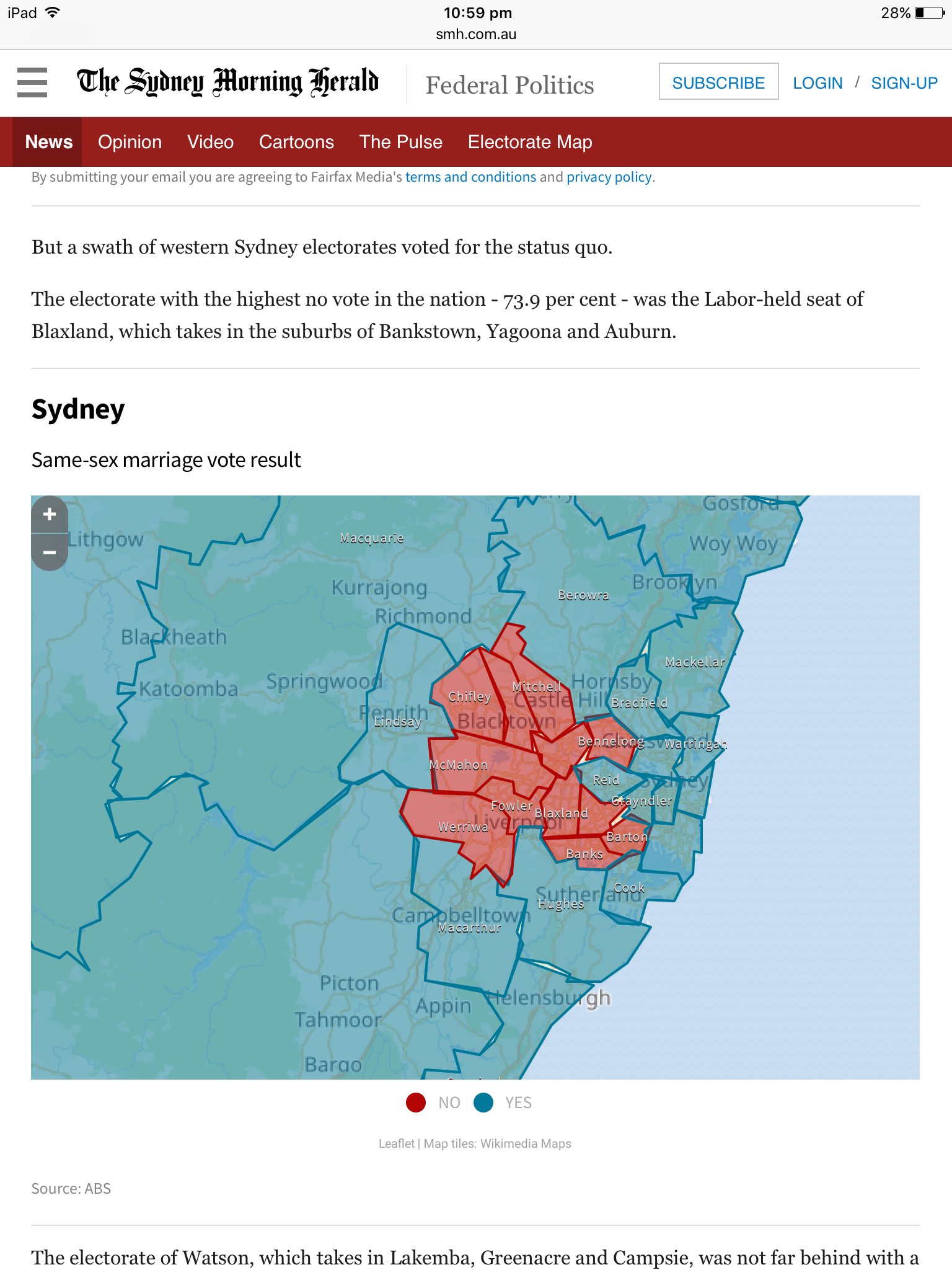 "Overall, 17 of Greater Sydney's 29 federal electorates returned a majority yes vote, while 12 had a majority of no voters. The city-wide yes vote – 55.29 per cent – was more than 6 percentage points below the national figure and 10 percentage points lower than Melbourne.
"The wealthy eastern region of the city responded with a resounding yes. The inner-city electorate of Sydney had a vote of 83.7 per cent – the equal highest in Australia (with the electorate of Melbourne)."
Must be a class thing. We need to educate the proles.
"Prime Minister Malcolm Turnbull's seat of Wentworth was next highest with 80.8 per cent followed by the inner west's Grayndler with 79.9 per cent.
"In former prime minister Tony Abbott's electorate of Warringah the yes vote was a crushing 75 per cent – the 10th highest of Australia's 150 federal electorates."
Crushing. Take that, Tony. Sorry about ripping your gay sister's jacket. I know we have on occasion used her as a weapon against you, but you see, we only care about winning. It's nothing personal.
"But a swath of western Sydney electorates voted for the status quo.
"The electorate with the highest no vote in the nation – 73.9 per cent – was the Labor-held seat of Blaxland, which takes in the suburbs of Bankstown, Yagoona and Auburn."
Honestly, we're baffled as to why.
"The electorate of Watson, which takes in Lakemba, Greenacre and Campsie, was not far behind with a no vote of 69.9 per cent.
"The western Sydney seat of McMahon, held by shadow treasurer Chris Bowen, had Australia's third highest no vote at 64.9 per cent.
"The survey results showed 1.1 million Sydney-siders voted no while 1.37 million voted yes.
"Demographic factors help explain the sharp differences across the city.
"Census data shows that electorates with a majority of no voters also have a large share of the population with a religious affiliation.
"In the electorate of Blaxland, for example, just 14 per cent of the population opted for "no religion" in last year's census.
"There was a similar low "no religion" share in the seats of Werriwa, McMahon, Fowler and Watson, which all returned a strong no vote in the marriage survey."
Religion. Demographics. Don't you hate them? We should ban religion and demographics because religion and demographics are homophobic.
"The 2016 census showed 29 per cent of the population of the Blaxland electorate identified with Islam, 36 per cent with Christianity and 8 per cent with Buddhism.
"Electorates with a strong majority of no voters also tended to have a significant share of the population born in non-English speaking countries."
I'm not even a real journalist, but I am pretty sure the term they use for taking sixteen paragraphs to get to the key factor in an important social and public policy issue, and placing that key factor in close proximity to two red herrings, is called "burying".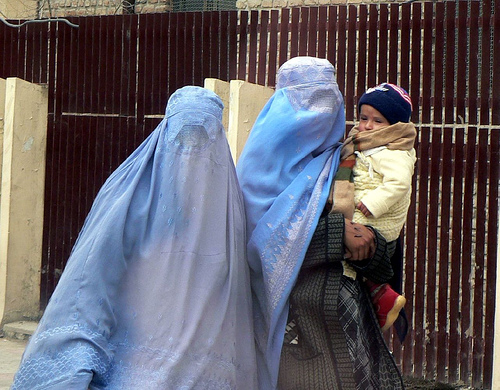 These people, they come to our county and they refuse to learn our language, so that when we try to get them to vote for SSM they can't understand us. I guess this is the price we pay for Australia not having a culture of its own.
From the Conversation at their ABC:
"More than 7.8 million people voted "yes" to same-sex marriage (61.6% of clear responses) beating the 4.9 million "no" voters (38.4% of responses). But New South Wales had the lowest "yes" vote as a result of western Sydney electorates with high immigrant populations voting against."
It's those immigrants. We're being swamped by homophobic immigrants.
The ABC's PM program on 774 Melbourne did acknowledge the strong Islamic sentiment against SSM in Western Sydney, but they did their best to make it seem like a complex issue with lots of interweaving factors.
It's not.
By every principle the left holds dear, either gay marriage is "racist" and "islamophobic", or Islam is "homophobic".
Pick.