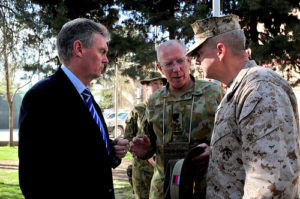 In Senate estimates this week, Senator Pauline Hanson asked the head of ASIO, Duncan Lewis, if the terrorist threat to Australia was being "brought in" via the refugee intake. His response to the question was as follows:
"I have absolutely no evidence to suggest there's a connection between refugees and terrorism''. He added there was ''no evidence'' to suggest that children of refugees were more likely to become adherents of radical Islam.
Unfortunately Senator Hanson did not follow up her question with numerous examples that would have contradicted Lewis's response. I have no idea what Hanson's advisers are doing with their time but they certainly aren't providing much guidance. Andrew Bolt has published a comprehensive list of possible examples that Hanson could have used. Bolt finishes with this statement:
"So what on earth is Duncan Lewis saying – and why?
"Did he mislead Hanson and a Senate committee?
"Or is our ASIO boss blind to the facts – and to a clear and present danger?
"Please explain."
Bolt's extensive list of examples is excellent work, but his conclusion is simply old tactics. It's not enough to ask why Duncan Lewis is misleading the Senate committee. We need to go further than that and work it out for ourselves. Only when we do this and individuals such as the head of ASIO are confronted by our elected politicians with these extremely uncomfortable questions will we begin to see any progress towards undoing the damage that is being done to this country.
Duncan Lewis as head of Australia's secret service department is tasked with protecting Australia from foreign and internal terrorism. When we define Australia in this context then we mean Australian interests, borders, assets, and lives.
The reason that Lewis responded in the way he did to the Senate estimates is because his top priority is his career. His personal fortune is more important than the fortunes of Australia and of Australians, even though he is tasked with such a sensitive and vital responsibility as being the head of ASIO.
For those wondering why Lewis is able to so confidently make the claim that there is no correlation between the refugee intake and terrorism, it is because ASIO, the federal police, and police services in general around the country have the latitude to define what is or is not terrorism. The attacks and outrages that Australia has been subjected to are defined as 'lone wolf extremists' or other such nonsense. Our police forces have gone from upholding the letter of the law to defining the letter of the law, and even in some circumstances to advocating for new laws to be passed that they may then enforce.
Duncan Lewis is not just a disgrace to his position. He is an active #collaborator with the forces that seek to undermine this great country. If there was any justice in this land then he would be treated as such.
This article was originally published at https://pushingrubberdownhill.com/, where Adam Piggott publishes regularly and brilliantly. You can purchase Adam's books here.
Photo by ResoluteSupportMedia