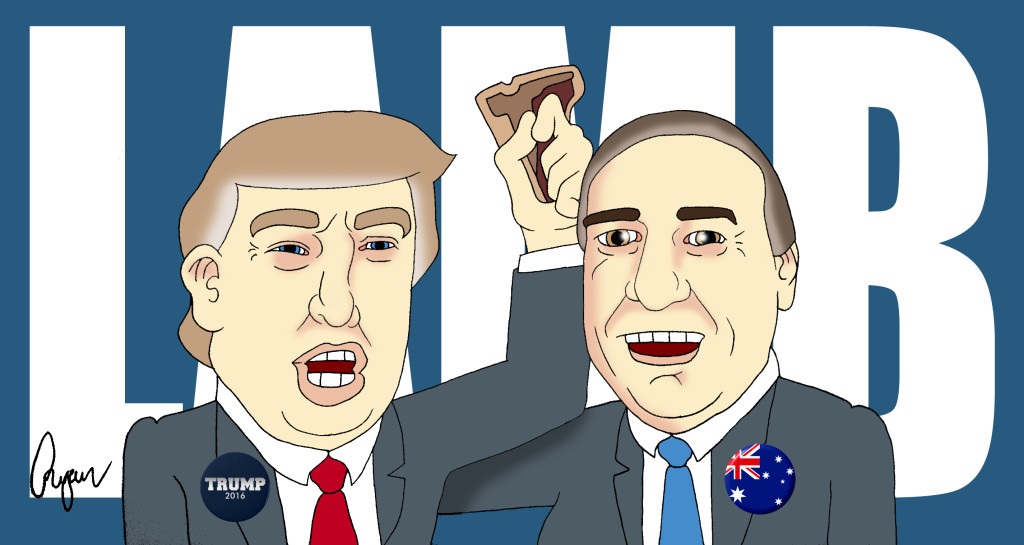 Back in August last year I'd written about a fair dinkum scientific discovery into making lamb an even healthier meat than it already is, by introducing polyunsaturated oils into livestock feed.
Yes nothing says dinky di more than lamb on your plate during Australia Day celebrations.
Naturally this message will be spruiked far better by our tough talking spokesman for Meat and Livestock Australia (MLA), Sam Kekovich.
Sam Kekovich, who has been considering throwing his hat into politics, is to Australia what Donald Trump is for America, a bloody legend preaching truth.
While I contemplated drawing Sam launching his size 12 up the rear-end of those un-Australian Leftards who defaced Cook's cottage with the word "SHAME" on a past Australia Day, I thought I'd take the high road and draw him with Donald J. Trump.
Get some lamb on your fork this Australia day, and get ready for the election year ahead!
Food for thought.