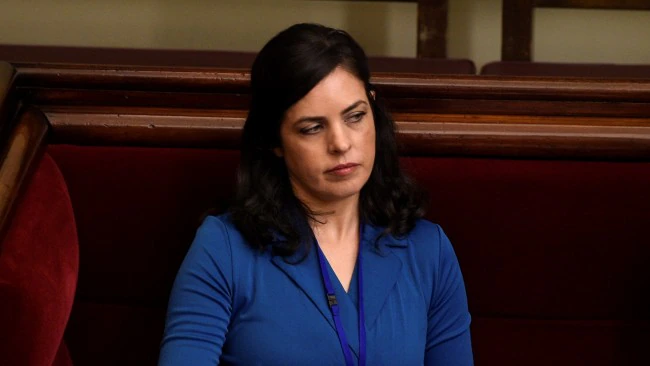 It's like watching a failed suicide attempt by a a tranny who is such a loser they can't even kill themselves properly.
Actually, the tranny is the perfect metaphor for the Liberal Party. They are not one thing or the other, just a mutilated husk which has neutered any hope of producing anything of value:
The Liberal Party stands for everything and nothing. Faced with a decision on whether to keep or expel a member for breaching the Party's principles, they chose neither, because they have no principles:
Moira Deeming has been suspended by the Victorian Liberal Party over her involvement in an anti-trans protest rally which was crashed by a group of neo-Nazis.
Ms Deeming addressed the Let Women speak event on March 20, which saw transgender exclusionary activists and LGBTQI+ advocates clash before Nazi sympathizers hijacked the event.
It should be noted that had NSN not attended, the Let Women Speak event in Melbourne likely would have gone the way of the event in Auckland.
Wild scenes in Auckland as a woman, Posie Parker, is mobbed by transgender activists.

— Ian Miles Cheong (@stillgray) March 25, 2023
Liberal leader John Pesutto put forward a subsequent expulsion motion condemning Ms Deeming for allegedly organising, promoting and attending the anti-trans rights rally headlined by controversial British activist Posie Parker.
Ms Deeming publicly denied any extremists associations and condemned the demonstrations, which included a group of men performing the Nazi salute.
The two-hour Liberal Party meeting at Parliament House on Monday resulted in a nine-month suspension for Ms Deeming.
The Opposition leader told reporters he proposed the suspension after Ms Deeming provided new information in the early hours of Monday morning.
"We had an extended, very lengthy and very emotional party room meeting," he said.
"That new information contained important concessions. And those concessions were in the form of a condemnation of the type of conduct referred to in the dossier."
Mr Pesutto said his proposal was met with unanimous support as part of a "change in culture" under his leadership.
He added he was pleased with the outcome which provided consequences, including the loss of Ms Deeming's position as whip, as a result of the conduct.
The Herald Sun revealed the former school teacher issued a last-minute plea to her colleagues on Sunday afternoon, urging them to vote against the motion.
"I respectfully write to ask that you vote against the motion to expel me from the Liberal Party Parliamentary team because I am innocent of these charges," she wrote in an email.
"I am a brand new MP and deserve the chance to learn from this, and because guilt by various degrees of association is not a standard that any one of us can avoid transgressing."
Ms Deeming expressed regret and said she had learned "many painful lessons" from the controversy that ensued following her attendance at the women's rights rally.
It's so stupid. Moira Deeming has basically been suspended for saying that women have vaginas.
One must ask, what is even the point of the Liberal Party? It's basically the Labor Party without the organised crime links.
Time for the Liberal Party to get out of the way.
Subscribe to XYZ on Telegram, Bitchute, Twitter and Gab.