So you think you've got your woke bases covered when you don't celebrate Australia Day on January 26 and you do a "welcome to country" but then a white aboriginal tells everyone on social media you're doing it wrong.
From the Daily Mail:
Reality dating show The Bachelor has been called out for paying their respects to the wrong Aboriginal tribe in its Welcome to Country.
Host Osher Günsberg made the faux pas on the first episode of the hit Channel 10 series on Monday night.
'I want to acknowledge the Yugambeh people, the traditional owners of the land we are standing on this evening,' he said.
'I want to pay my respects to their elders past, present and future, members of the longest living culture on earth, and I hope that it's on these abundant lands that we see the thrill of first connections.'
Cringe. They're just asking for a white aboriginal to step in and piggyback off their stunt for free diversity points:
An Aboriginal man, who goes by the name Kombumerri Bee, revealed the host had accidentally named the wrong custodians.
'I'm not Yugambeh,' he said in a TikTok video. 'I'm from the Gold Coast. I'm Kombumerri Ngarahngwal.'
The reality dating series was filmed on the Gold Coast, in Queensland, which is part of Kombumerri country.
'Yous have just acknowledged the Logan River, Albert River language,' the man said.
'That's not our people. That's sad that yous done that to us. It's disenfranchising that yous have done that to us.'
Has it occurred to anybody that purported maps defining the "borders" between one aboriginal tribe and another are probably not set in stone?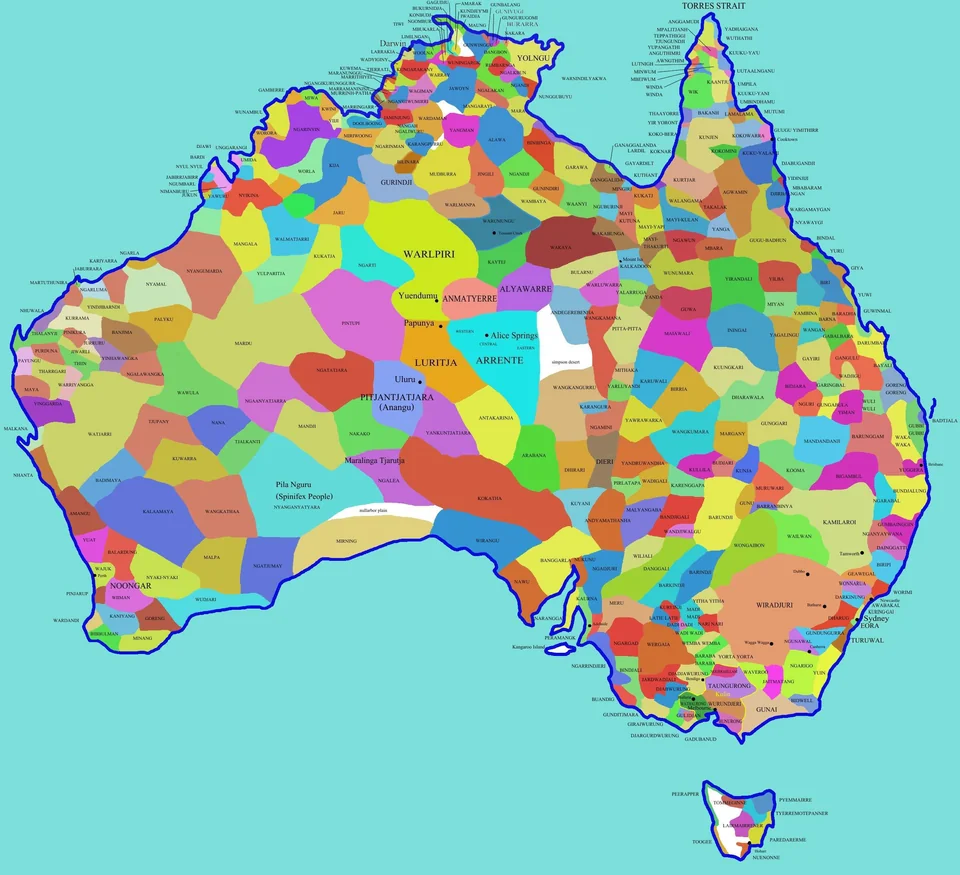 There is likely a great deal of uncertainty regarding said "borders". If enough power is transferred to aboriginal activists that these "borders" really start to matter, the civil wars triggered by border disputes could be quite beautiful to watch.
Regardless, check out the guy who purportedly "called out" the Bachelor:
He looks totally blazed.
The problem of white people claiming they're aboriginal in order to gain economic, political and social benefits has become so bad that the white people who got in early on the aboriginal racket are getting worried they'll lose their piece of the pie. Even though the mainstream Lying Press is now openly acknowledging that the fraud is real, no acknowledgement that Andrew Bolt was right has ever been made.
Anyway, the schadenfreude factor is high on this one. Channel 10 and Paramount ANZ, the parent company of the Bachelor, are woke up to the eyeballs:
The error comes after Network 10 made headlines in December when it informed staff it would not be acknowledging Australia Day.
Staff were told they could have the option of coming into work on the public holiday.
Parent company Paramount ANZ's chief content officer, Beverley McGarvey, and co-lead Jarrod Villani referred to Australia Day as 'January 26' only in an email sent to all editorial and programming staff.
The executives told staff it was 'not a day of celebration' for Indigenous people.
'At Paramount ANZ we aim to create a safe place to work where cultural differences are appreciated, understood and respected,' the pair wrote in the email, The Australian's Media Diary column reported.
'For our First Nations people, we as an organisation acknowledge that January 26 is not a day of celebration.
'We recognise that there has been a turbulent history, particularly around that date and the recognition of that date being Australia Day.'
The pair said staff could choose to work through the national holiday if they didn't feel comfortable celebrating it and could take another day of leave instead.
Aside from the so-called "voice to parliament", Australia Day is the next big target of the aboriginal identity politics industry. This episode is merely another reminder that there is no endpoint to so-called "reconciliation", otherwise known as extortion.
White people are forced to make humiliating concession after humiliating concession and governments guarantee infinity dollars to white aboriginal extremists. White people will play act ridiculous "welcome to country" ceremonies only to be told it's not enough and we need to do more.
We must stop this.
Enough running around trying to please everybody else. We need to reconnect to our White identity and be proud of our ancestors and who we are today, with the aim of securing our existence for the future. We must collectivise and turn back to God.
Subscribe to XYZ on Telegram, Bitchute, Twitter and Gab.