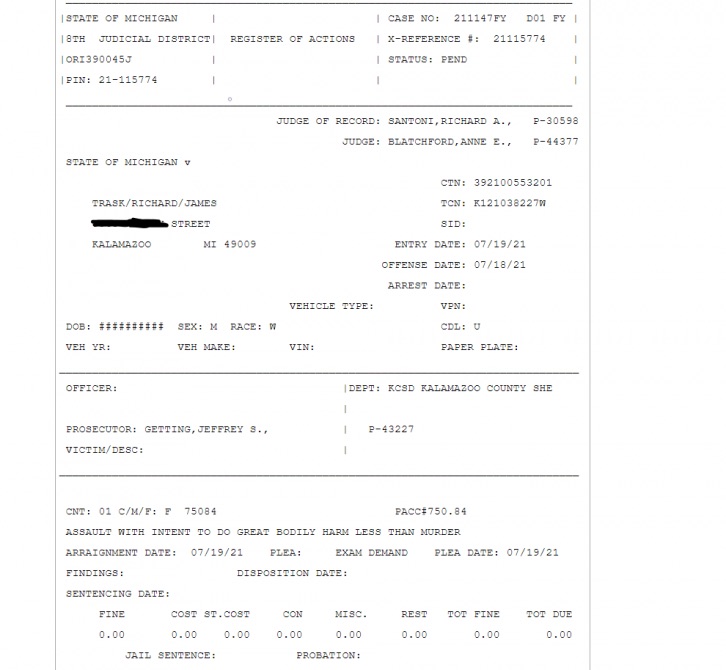 From National Justice.
Federal prosecutors woke up to more bad news related to their case against Michigan-based militia members who they allege are right-wing domestic terrorists that were plotting to kidnap Governor Gretchen Whitmer.
According to court records obtained by National Justice, 39-year-old FBI Special Agent Richard James Trask II was arraigned today for an act of felony domestic violence against his wife in Kalamazoo's 8th District court.
Agent Trask was granted bond despite the seriousness of his charges but the court has prohibited him from possessing a firearm, putting the fed in a very odd situation.
Trask, who played a major role assisting the militia plot investigation, is the most active FBI figure in the case. He has testified in court on the state's behalf and played a vital role in constructing the narrative for the media to run with against the defendants.
With his arrest yesterday, the FBI suffers another black eye to its credibility in the politically charged case set to go to trial in October. Last March, prosecutors were forced to indict their own informant in the investigation due to his outrageous criminal conduct while operating as a paid snitch on behalf of the Bureau.
An egregious spousal assault case looming over their lead investigator's head means the defense can now argue in the court of public opinion that the FBI agent who set the Wolverine Watchmen up is a greater threat to the community than the supposed "terrorists" he helped entrap with the help of at least 12 paid informants.  According to studies on men who murder their wives, approximately 1/3 of them were previously arrested for domestic violence.
If agent Trask is convicted, he could face up to 10 years in prison under Michigan law.
The FBI, which likes to perform for the press to tip the scales of justice in their "domestic terror" arrests, is refusing to make any public statement on the serious accusations against Trask. They have not even said whether he will be stripped of his duties to protect the wider public.
Trask joins a wave of FBI agents who, in the last few months, have been arrested or sued for raping, extorting, shooting, and terrorizing women, children, and the mentally handicapped.
The most recent scandal for the Bureau is an Inspector General report that discovered the FBI's Indianapolis branch deliberately ignored reports of abuses by serial child molester Larry Nassar's, who abused girls on the Olympic gymnast team he served. Instead of pursuing the allegations, Special Agent in Charge W. Jay Abbott tried to get a job for himself on the Olympic Gymnastics Committee.