On Sunday morning I listened to day 4 of the Australia vs India Sydney Test Match on the car radio, and I got to watch a bit of it on the telly in the afternoon. I have had very little time to watch the cricket this summer, and even less chance to watch us bat well, so it was pleasing to see Smith, Labuschagne and Green all perform.
In the morning session as Smith passed his fifty the radio commentators openly described the go-slow tactics of the Indian team. They dawdled between overs, had numerous conferences mid-over, and regularly called out the ground staff to attend to the popping crease. A few Aussies in the crowd dared to start a slow hand clap.
Tactically this made a lot of sense for the Indian team. Australia's two best batsmen were in on a good wicket and they finally had form. The faster Australia scored, the more formidable its lead. This in turn could give Australia the chance to declare earlier to give itself more time to bowl the Indians out, and be more aggressive with both bowling and field placements.
Basically, when it comes to Test cricket, wasting time is Rearguard Action 101. Whatever.
In the middle session I watched young Cameron Green pass his fifty. He was a little lucky but I have been generally impressed with his technique and temperament. The Indians were still carrying on about the popping crease, and the commentators seemed at pains to point out how reasonable the Indian bowlers' concerns were.
Once Green passed his fifty, his skipper and captain Tim Paine must have told him "Mate, if you want your maiden ton you had better get it soon, I'm declaring at tea." Green smashed three massive sixes in a row and several other boundaries. He hit the ball as cleanly as anyone I have seen.
Obviously, dramatic measures were called for.
The fine leg fielder threw his hands up and pointed at the crowd, the Indian captain stopped his bowler mid run-up, and the entire Indian team demanded that SOMETHING MUST BE DONE.
What followed was a prime example of the new totalitarianism which now dominates Australia.
Police officers, wearing their stupid corona masks of course, harassed and intimidated every patron in the section of the stand behind the triggered Indian fielder. Eventually they found a few white guys sitting next to each other, figured that they fit the appropriate demographic and thus must be the culprits, and escorted them out of the ground.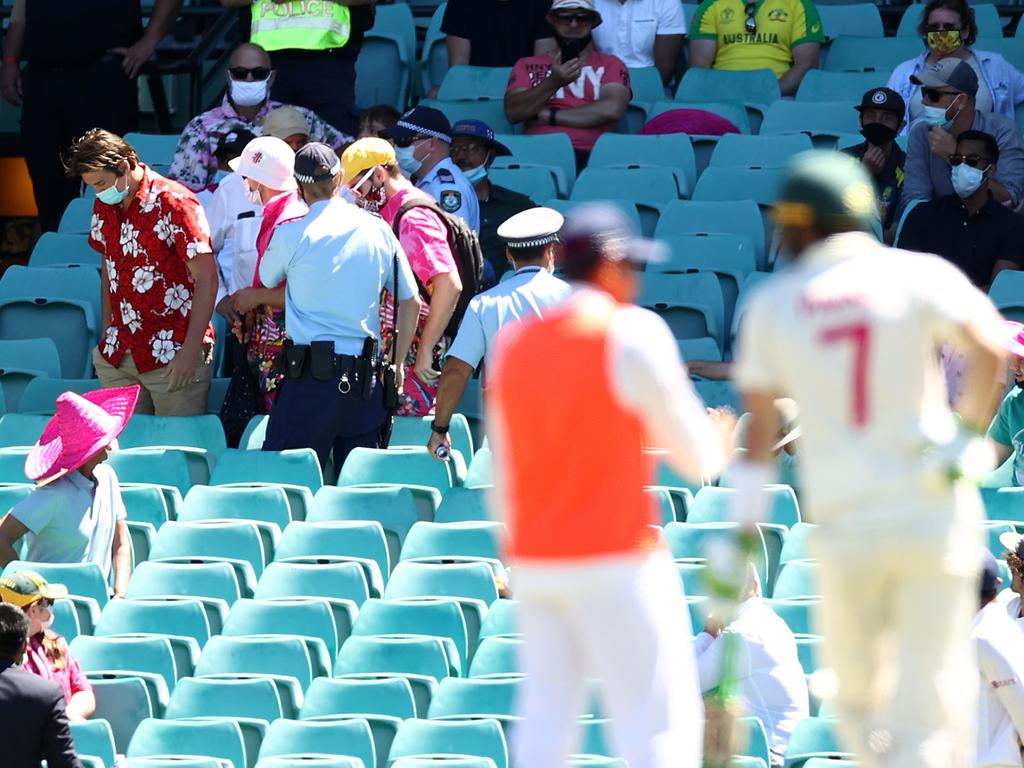 When play resumed Green hit a couple more boundaries, including a cracking hook for six, before finally nicking one to the keeper for 84, and Paine promptly declared.
None of this excuses Green for his dismissal, nor does it excuse the Australian bowlers' failure to bowl India out on the last day. I don't know if the guys really did say something or not. Maybe "racist" sledges had been thrown all day but the Indians finally decided to make a big deal of it at the crucial moment.
I am simply calling bullshit on the whole thing.
We live in a giant fake-reality TV show where everything is staged, and sadly this cancer has eaten up the things I used to love. Foreign teams now know that they can use the charge of so-called "racism" at any time to intimidate the Australian team and the Aussie crowd in order to give them an edge. They know that no cricketer, commentator, official or so-called "journalist" in Australia is going to call them out on it.
It is an edge we have allowed them by falling for the Jewish trick that is "racism". What used to be understood as an ethnic group having a stretch of land to call their own, where they could live separately from other ethnic groups, ie, a country, is now considered "racism" and is verboten. Any attempt to reestablish this fact, whether by pointing out to a foreign fine leg fielder that we can smell him from the 20th row, or voting for a political leader who promises to merely slow down the replacement of our people, is verboten.
Voting is't going to get us out of this mess. Nor is sledging at the cricket, although every little bit helps. What is crucial is that we form our own physical networks and communities, get fit and get active.