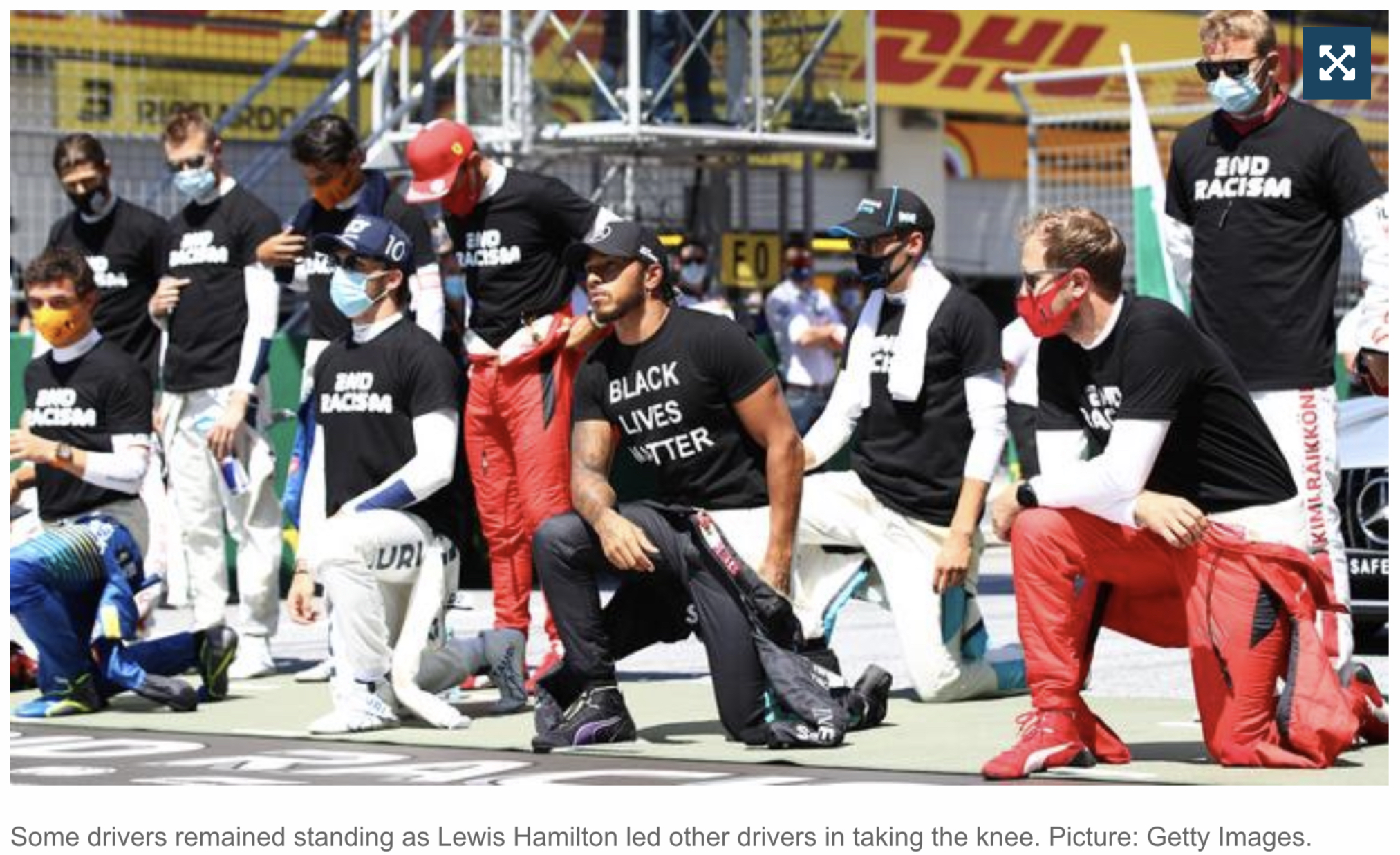 The gutted remains of the F1 season began in Austria this weekend. As predicted by many, the sport used this occasion to rub itself in infamy as it kowtowed to the latest Marxist craze; the guilt-tripping, white hating, exploitative extortion racket that is BLM. This was led by the sport's one and only half black star, a man who has had every possible advantage since the beginning of his career. Many of those advantages were enjoyed by him alone. The motivation for those unique advantages we will simply leave to the mysterious four winds as it is impossible to pin down exactly why Lewis Hamilton got pushed to the front at every step on his journey to F1 stardom and impossible riches. It's a mystery.
The drivers took a knee on the start line. Well, not all the drivers. Six drivers refused to participate in the posturing. For now, they still have the option to choose. If epic bully Hamilton has his way, however, they won't have that choice for very long.
For several weeks Hamilton – the only black F1 world champion in the history of the sport – had been pressuring his rivals to speak out about racism. His team, Mercedes changed the livery of their cars from silver to black for the rest of this season.
Hamilton wrote: "I know who you are and I see you," in a social media post two weeks ago. Then, after the drivers' meeting on Friday where the drivers failed to come to an agreement about taking the knee, Hamilton said: "I just described that silence is complicit and there is still silence in some cases."
Insidious threats to get with the program or else. Hamilton knows who you are; he sees you. You better get your white knee down fast, honky, or there gonna be trouble in the old town tonight. He took to wearing a ball and chain around his neck while mooching around the paddock on the weekend. The utter absurdity of such a privileged individual carrying on as if slavery was something that only ended a few weeks ago and which he personally had to survive, is a complete insult to every other driver on the grid and to every fan of F1.
Many of the F1 races take place in countries which are less, how shall we say, inclined to pander to blacks. You won't see BLM on the streets of Abu Dhabi, for example. And I doubt that the Russian grand prix will put up with this nonsense. I suppose when the cars go to those races that trouble makers such as Hamilton will suddenly suffer collective amnesia. If only such a condition could be permanent.
The six drivers who didn't take a knee were, Charles Leclerc, Max Verstappen, Carlos Sainz, Daniil Kvyat, Kimi Raikkonen and Antonio Giovinazzi. I had no doubt at all that Kimi would put up with this nonsense. Notice also the presence of the Italian drivers. Italians were fed up with African invaders some time ago already. BLM is about as popular in Italy as pineapple on pizza.
Riccardo went down on one knee though which is rather disappointing. He is the 'good guy' of the F1 grid, so I assume he thought it would help things if he got with the program. It won't help at all. All it does is mark you as being a future extortion target. It's the same as saying sorry to SJW harassers. As soon as you do that, you're doomed.
So once you take the knee you will always be on your knees. That's the entire point. You can't take it back. It will brand you, as if you were a slave. The only correct choice is to literally stand up for your own freedom.
Originally published at Pushing Rubber Downhill. You can purchase Adam's books here.