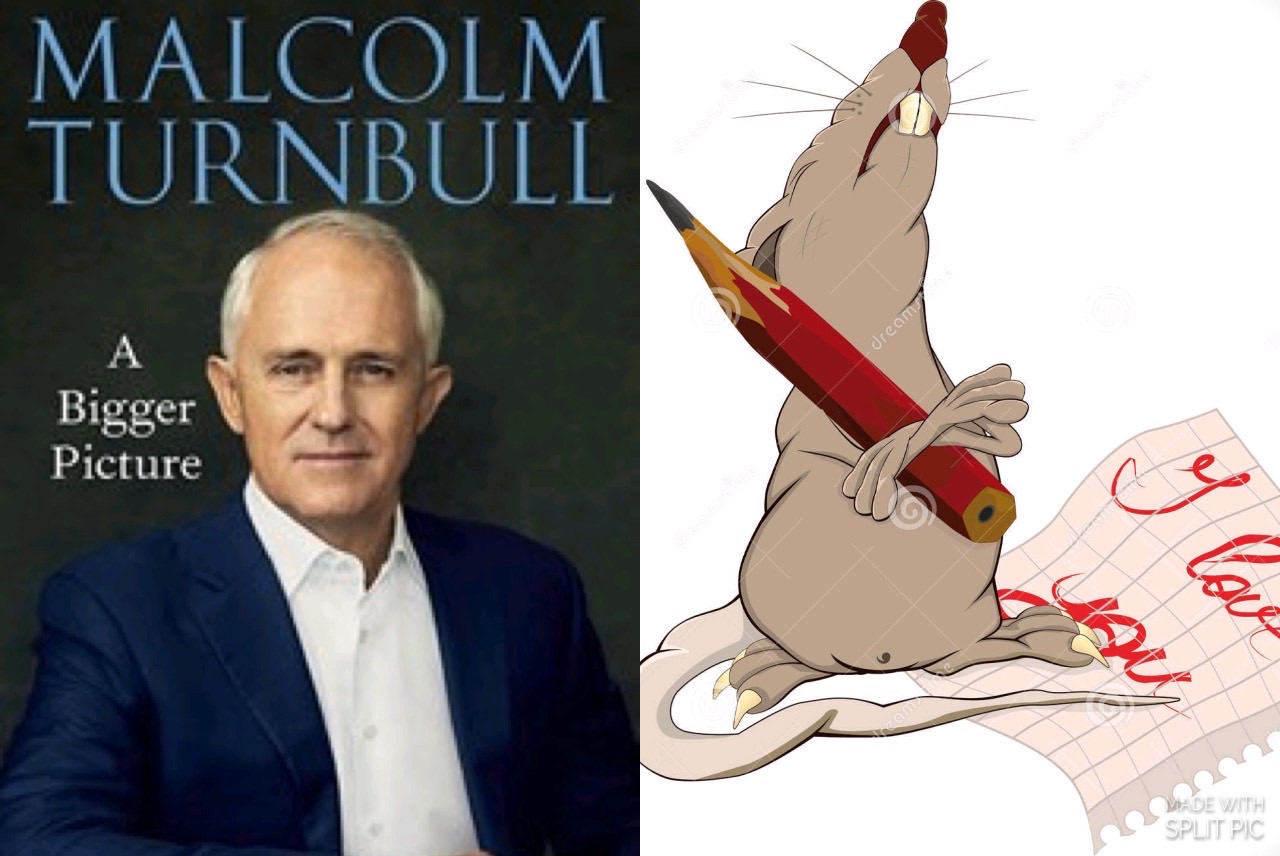 Malcolm Turnbull claims to have brokered the deal to establish communist blog the Guardian Australia. This revelation only compounds his already well established treason.
From the Australian:
Mr Turnbull has credited himself in 2012 with introducing left-wing millionaire Graeme Wood to then Guardian UK editor Alan Rusbridger, as well as helping to recruit two senior Canberra press gallery journalists to establish an Australian digital version of the British publication….
Mr Turnbull wrote that he had begun to "despair" about the state of journalism in Australia, with shrinking newsrooms and editorial standards that "were dropping to loopy standards of the twittersphere". "I wasn't especially concerned about the political slant of one outlet or another, but more about the fact newsrooms were shrinking … Gina Rinehart was threatening to buy Fairfax — no doubt so its newspapers could emulate her ultra-right-wing views."
That Gina, she's so edgy, I hear one time she actually shared a meme online.
The former prime minister, communications minister and journalist claimed it was he who convinced Rusbridger to set up The Guardian Australia during conversations in June 2012.
"I suggested to Alan Rusbridger, editor of the UK's Guardian, that he should establish an Australian edition … we exchanged some rough numbers and he concluded he'd need $20m of underwriting for three years."
Mr Turnbull wrote he brokered the $20m deal between Rusbridger and Mr Wood, the founder of travel firm Wotif who was on "the political left" and had been a generous donor to the Greens.
He wrote that he was not able to fund the deal himself "given my political role". He claimed he persuaded Mr Wood to drop left-wing digital start-up The Global Mail and fund The Guardian Australia instead. "It (The Global Mail) wasn't going to make it. So, I suggested to Graeme he drop The Global Mail and instead use his fortune to bankroll an Australian edition of The Guardian.
"Once Graeme Wood was on board, I introduced Rusbridger to two seasoned Canberra political writers, Lenore Taylor and Katharine Murphy (aka Murpharoo). He sent his deputy, Kath Viner, to Australia to be the first editor."
Joins the Liberal Party. Helps to establish an Australian branch of what even the Australian refers to as a "Green-Left activist British website". It's treason.
Understandably, the response from nominally conservative members of the Liberal Party has been savage:
Federal Housing Minister and Assistant Treasurer ­Michael Sukkar said the revelation had raised questions about the former prime minister's ­motives for ­wanting to start a progressive news outlet in Australia.
"Malcolm Turnbull freely admitting that he helped establish The Guardian confirms what many in the Liberal Party have thought for a long time … that he was the most left-wing prime ­minister Australia has had since Whitlam," Mr Sukkar said. "It also partly confirms another belief that he simply used the ­Liberal Party as a vehicle to fulfil his own ambitions to become prime minister … and not because he subscribed to the values of the party.
"I will also be interested to read his recollections of the disastrous 2016 election campaign where the government lost (a net) 14 seats, losing many great Liberal MPs who Turnbull chose not to even acknowledge in his cringe-worthy election night speech."
Liberal senator Eric Abetz said: "Nothing surprises me about revelations of Mr Turnbull helping left-wing causes like The Guardian. He then lacks the self-awareness to understand why those of us on the conservative side of politics questioned his judgement and motivation. It's really quite sad."
I wouldn't question his judgement. It is clear that his motivation was his own self-aggrandisement. In this respect his judgment was quite sound.
A senior cabinet minister told The Australian the admission by Mr Turnbull in his memoir, A Bigger Picture, was "unbelievable".
"I have been wrong all along. I thought he should have joined the Labor Party," he said.
"It turns out he should have joined the Greens."
Yes.
Let's focus for a moment on the "unbelievable" aspect of Turnbull's revelation. Given he is a narcissist, it is entirely possible that he is lying in whole or in part. Lenore Taylor's response gives credence to the latter:
However, Taylor wrote on Thursday that Mr Turnbull's account skipped over a long process of establishing The Guardian after the introductions to Rusbridger, claiming it took almost a year. "Turnbull's recollection skips over a long and complicated process that followed those initial introductions, after which Turnbull had no further involvement as far as I know. I had some early conver­sations with Rusbridger … and then waited; first to hear from Rusbridger about whether his discussions with Wood had amounted to anything, then to meet Viner when she came to Australia."
Of course, Taylor could be attempting to cover her own trail as well. The fact that this episode is news now in 2020 and not in 2012 means that there are journalists in this country who knew that Malcolm Turnbull played a role in establishing the Guardian Australia. It would have been one hell of a scoop, but clearly personal and political motivation matter more to them than the truth. Treason again.
It is also possible that there were members of the Liberal Party who knew this. It must be stressed however that even if the purportedly conservative party had not been so incompetent to have been subverted, and then led, by "the most left-wing prime ­minister Australia has had since Whitlam", that the Liberal Party is guilty of treason to the Australian people regardless. Liberal and Labor are a political duopoly who maintain the status quo of constant mass immigration, and they work in tandem to ensure that nothing is allowed to halt their economic Ponzi scheme.
Finally, it is remarkable that in the last 13 years Australia has been cursed by not one but two self-obsessed political chameleons who led the Liberal Party, the Labor Party and the country. It is a blessing that neither are in charge now. While many would suggest they deserve a traitor's punishment, personally I think this is too good for them. I can think of no more fitting punishment than to force Malcolm Turnbull and Kevin Rudd to co-isolate with each other for the rest of their lives.