Racism caused the holocaust. Josh Frydenberg said so.
Congratulations to @DanielAndrewsMP & @JamesMerlinoMP for taking the initiative & strengthening Holocaust education in Victorian schools.

Racism & hate stem from ignorance which is why education, particularly of our young, is so important. pic.twitter.com/vxn8mlA1tn

— Josh Frydenberg (@JoshFrydenberg) February 25, 2020
How do you explain this, then, Joshua?
An Ashram is a place of worship for many Indian religions such as Hinduism. @JoshFrydenberg & the Coalition today mocking Hindus in #qt. #auspol pic.twitter.com/bxBcytKLrB

— David Marler (@Qldaah) February 27, 2020
We all understand that criticising a religion is racist. Josh Frydenberg's comments appear to lampoon the practices of Hindus. This is racist. Racism caused the holocaust. The chosen defence for this racism in the halls of parliament is that Joshua was mocking Westerners who culturally appropriate the trappings of a foreign religion.
Lighten up he was using it in the context of many westerners who go to Ashrams to be enlightened ?? wasn't disrespectful
Faux outrage again to score political points …so predictable

— Sam Davis (@SamDavi99667843) February 27, 2020
Yet the alternative to adopting the cultural practices of another people is to celebrate and affirm the cultural practices of Westerners, which is racist. Racism caused the holocaust. Thus the defence of Frydenberg's racism in parliament is itself deeply racist. This hasn't escaped the notice of one of Australia's most important anti-racist institutions.
From SBS:
Australian Hindus are demanding an apology from Treasurer Josh Frydenberg for his "demeaning" references to the Indian religion during an attack on Labor.
In an attempt to goad Labor's treasury spokesman Jim Chalmers during Question Time on Thursday, Mr Frydenberg made repeated clichéd references to Hinduism and other Indian religions while criticising the Opposition's idea of potentially pursuing a New Zealand-style "wellbeing budget".
"[Labor] are inspired by their spiritual leader, the member for Rankin [Jim Chalmers]," Mr Frydenberg said while making hand gestures used during meditation.
"I was thinking yesterday, as the member for Rankin, [came] into the chamber fresh from his Ashram deep in the mountains of the Himalayas … barefoot into the chamber, robes flowing, incense burning, beads in one hand, wellbeing budget in the other, I thought to myself: '[what] yoga position the member for Rankin would assume … to deliver the first wellbeing budget?'"
The treasurer went on to name a series of yoga poses.
Video footage of the Question Time antics shows Prime Minister Scott Morrison, Nationals leader Michael McCormack and other senior Coalition figures laughing during Mr Frydenberg's tirade.
He even had an A4 printout of someone doing a yoga pose, so it was clearly premeditated.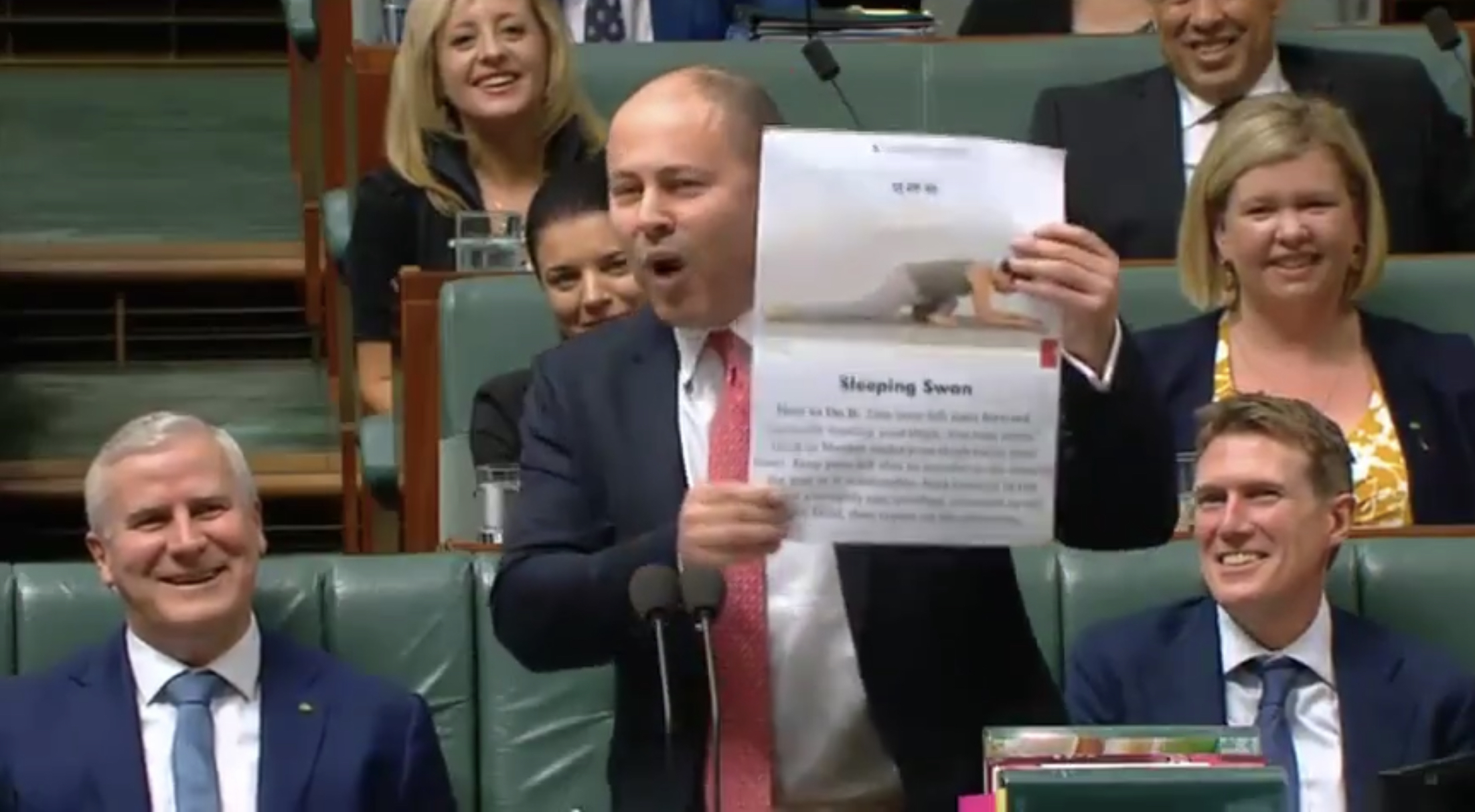 I can't believe they got this next passage past the gatekeepers:
On Friday, Hindus around Australia condemned the treasurer.
"Why was he trying to be demeaning towards Hindus in trying to counter the opposition? Would he dare to [do that] with other religions? I condemn his behaviour," Ram Ramaswamy told SBS News.
"Hindus who are naturally aligned with the Liberals will have to rethink our alliance. Let these politicians understand they cannot take a peace-loving community for granted."
Mitra Desai said she was deeply offended by the treasurer's "insult".
"Painful still is the fact that this wasn't just an offhand ignorant statement made in passing … it was deliberate well-rehearsed mockery and insult of Hindu practices. Would he dare to draw similar comparisons with other Abrahamic practices?" she said….
Mr Frydenberg, who is Jewish, has been outspoken in recent months about the need to curb anti-Semitism.
On Wednesday, Mr Frydenberg commended a curriculum change in Victoria that will see secondary school students required to learn more about the Holocaust.
"Racism & hate stem from ignorance which is why education, particularly of our young, is so important" Mr Frydenburg tweeted in response to the announcement.
These are the people who have thrice prevented discussion in parliament of a bill giving Australians the right to vote on immigration numbers and content.  No wonder their float at the Sydney Homosexual Mardi Gras got attacked last night.
This is what happens when @LiberalAus supports the gay community. their float is stopped by activists.I watch the parade every year but last night it was the fully woke parade.the original message lost is full of activism and we are now in a era we cant even question it #auspol pic.twitter.com/oYhs0EiqQM

— 🎀кєℓℓιє🎀 I SEE DUMB PEOPLE 🇦🇺 (@kelliekelly23) February 29, 2020
We believe there is a meme for this.
The left understand that the Liberal Party's commitment to Liberal values only exists to the extent that they think it is electorally sensible.  It's time the right understood that they take the same approach to traditional values.  There is no democratic solution.