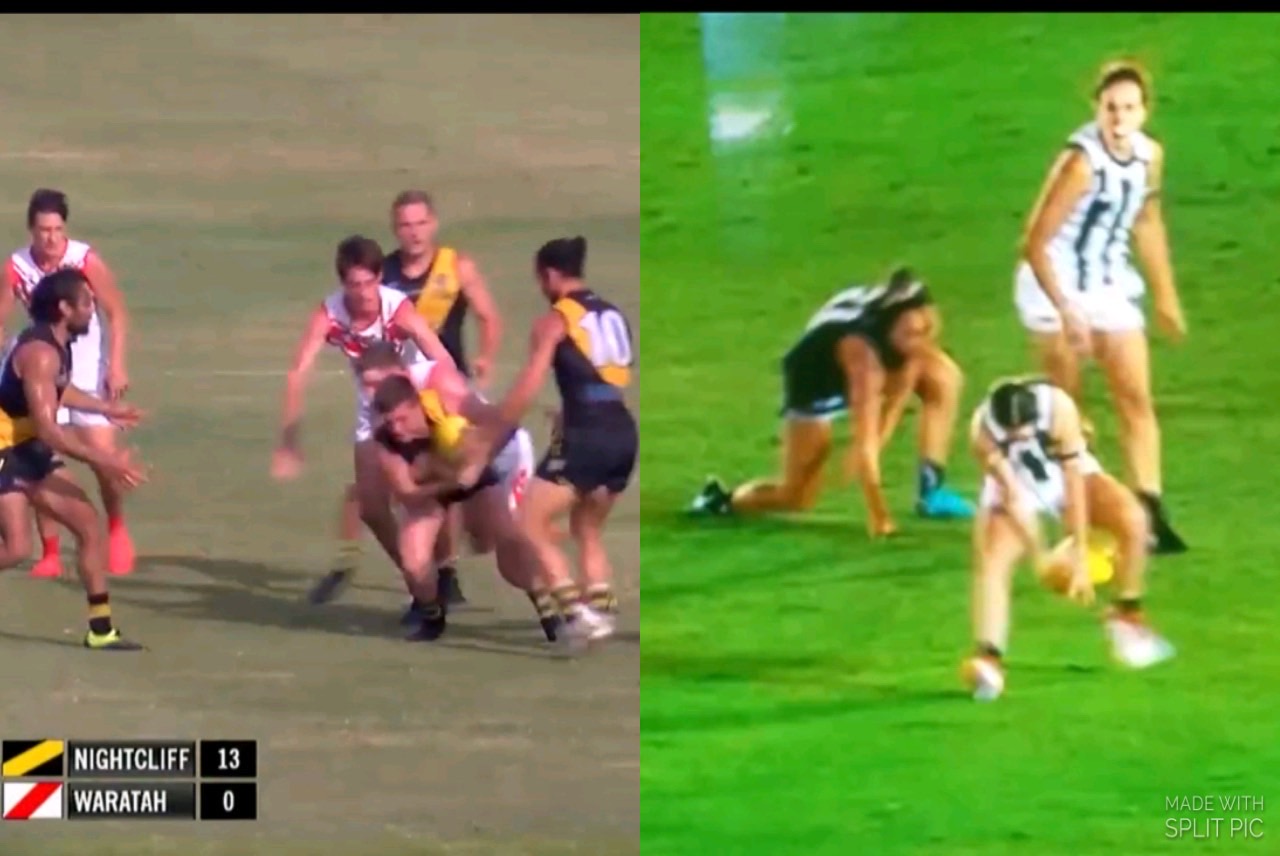 Guest
We've just come out of summer, and in the sport-obsessed nation of Australia, despite the sweltering February heat, it was apparently footy season again.
Well, actually, Australian Rules football has traditionally been played in Darwin in summer, as it's considered the "wet" season up there. A few years ago, the NITV channel began weekly broadcasts of Northern Territory Football League (NTFL) games. (At the moment, you can catch them on Sunday afternoons).
Beginning every season in October, after the AFL season has been completed, the NTFL season begins. The grand final is every March. What an opportunity it would have been for the AFL's broadcast partner Foxtel and their 24/7 Fox Footy channel to have snapped up the broadcast rights to live NTFL games, featuring Darwin's best players, many with AFL, SANFL, WAFL or NEAFL experience.
With no live AFL season games for many months, and actually having a 24/7 channel, Fox Footy instead merely broadcasts replays of old AFL games. Being one of the AFL's media minions, Fox Footy has obviously adopted a policy of giving absolutely no promotion whatsoever to any state league in Australia, as state leagues are obviously regarded as competitors to precious brand "AFL". So no news, score updates, league ladder positions, promotional shows, or video footage of the NTFL is permitted. (A similar policy is obviously in place for the SANFL, WAFL, TSL and NEAFL in winter). Instead, the AFL is the ONLY important league in Australia to the people who run Fox Footy, and that's what they want the public to believe also.
As you would expect from any elite men's state league in Australia, the standard of football of the NTFL is good. Many of the men can actually kick the football 50 metres. No there's not the big crowds, but if you're a footy fan seeking a summer footy "fix", check out the NTFL on NITV. Unlike the hyper-speed, hot-potato football of the now ridiculously-professional AFL, there's a bit more time to "smell the roses". The former AFL players in the NTFL may lose some of their speed and running power, but they certainly don't lose their ball skills.
But typically, the AFL and their media minions care nothing for "grass roots" football in Australia. The game can die in Darwin, the country towns, or in Tasmania for all they care. All that's important to the AFL is their precious corporate "brand". Never mind the roots, as long as the flowers are blooming.
So alas, instead of promoting the NTFL, come February, the Australian public are now being saturated with one of the AFL's favourite pet projects – the AFLW – a national "Women's League". No doubt the AFLW is perceived by the AFL as another opportunity to promote brand "AFL", their clubs and rivalries, as well as striking a blow for feminism and "gender equality" by making more women feel "included" in a traditionally extremely masculine sport.
We have already seen the AFL over many years seek to impose and propagate an ultra-PC political and social activist agenda. Their deification of Aborigines has been blatant. There's been endless virtue-signalling, a yearly "Indigenous Round", a "Dreamtime" game, constant "Welcome to Country" tributes, acknowledging "traditional owners", and the AFL has even actively campaigned for a specific mention for Aborigines in the Australian constitution – of all things.
There's also been breast cancer awareness promotions, Motor Neurone Disease awareness (because a former senior coach contracted MND), a "Pride" game (to promote homosexuality), saturation "anti-racism" campaigning, and a charity for Bone Marrow Failure promoted (because a relative of two high-profile players was affected). Now the AFL is using its enormous power and influence to further the radical feminist social agenda of wanting to help increasingly masculinise women. All in the name of "equality", of course.
Perhaps in our dumbed-down modern age of glorified sport, the AFL and their media minions really do believe that playing in a football premiership is the very pinnacle of human accomplishment, and that any glory men can have, women simply must have as well. (Or they're cruelly missing out on grounds of "gender inequality").
You see, gentle reader, the human female is both more adaptable and more versatile than the human male. They also tend to be substantially more nurturing, and more giving. But the human female is also vastly more malleable than the human male – a point that has been very well understood for years by corporations, marketers, advertisers, educators, entertainers, producers, broadcasters, pimps, porn barons, and others responsible for shaping and moulding our females.
Hence how women are portrayed in the media is important. Very important.
Just when Australia desperately needs its fit, healthy young white women doing what nature intended them to do during their most fertile and energetic adult years – breed and raise healthy white babies – we now have the powerful AFL and its media lackeys suggesting that a career as a footballer will offer them the best in life instead. (Of course once their window of fertility and child-rearing is over, women have the rest of their lives to concern themselves with careers, should that be their inclination).
All of this is a tragic manifestation of a dumbed-down, dystopian society that simply isn't valuing either femininity or motherhood in the way that it ideally should. Meanwhile, be in no doubt that the promotion of elite women's sport in Australia is coming from the very top.
In 2017 the then Turnbull government gave a $30m taxpayer-funded grant to commercial TV broadcaster Foxtel "with the aim of boosting women's, niche and emerging sports". Meanwhile in 2018 the WA State government began granting $250,000 per year to "to enable the State's grassroots clubs to revitalise change rooms" originally designed for men.
Then in 2019, the Morrison government promised a huge funding injection, pledging to spend $150 million to build female change rooms at cricket and football grounds.
"With more and more women playing sport we need to make sure they're supported from entry level as young girls all the way through to elite-level competition, including in once male-dominated sports," Mr Morrison said, unashamedly pork-barreling just before an election.
The reality is that society doesn't really need women to play football – just like we don't need them to be electricians, engineers, airline pilots, special forces soldiers, garbage workers, firefighters, submariners, oil riggers, or dozens of other jobs.
We don't need women to do all of the things that men can do. We DO need women to do all of the things that men CAN'T do. We don't need women to be try-hard second-rate men. We DO need women to be women. Or better still, ladies. Or even better still, "trad wives".
In a future enlightened, more racially conscious society, white Australian women will once more understand that child-bearing and child-rearing is fundamentally their most valuable role in life. But in our dumbed-down, dystopian, hyper-materialistic, upside-down, attention-seeking modern liberal society, we've so often forgotten the basics.
If women do feel the urge to play sport, let's encourage them to shine in fields where they are comparable or better than men. Let's encourage women in sports where they can display their flexibility, agility, beauty and grace. Let them do cheerleading, figure-skating, gymnastics, ballet and other forms of dance, as well as diving and synchronised swimming. We certainly don't need women to be brutes on the football field.
Back when Australia was a more sensible society, we understood that women were not supposed to play Australian Rules football. They don't do it very well anyway. In its first few seasons, the AFLW has been marred by a number of serious knee injuries, very low-scoring games, a lack of kicking power from the female players, and reports of "boring tactics".
In a women's match in Adelaide in 2018, Margaret Varcoe, sister of current AFL player Travis Varcoe, was killed playing Australian Rules football.
The sooner the harebrained scheme of women playing football is ended, the better.